Cynthia St. Aubin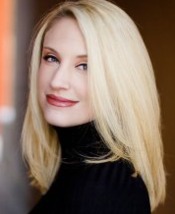 Blogging at Fresh Fiction
Cynthia St. Aubin | Author-Reader Match: CORNER OFFICE CONFESSIONS
May 24, 2022
Instead of trying to find your perfect match in a dating app, we bring you the "Author-Reader Match" where we introduce Read More...
Cynthia St. Aubin wrote her first play at age eight and made her brothers perform it for the admission price of gum wrappers. A steal, considering she provided the wrappers in advance. Though her early work debuted to mixed reviews, she never quite gave up on the writing thing, even while earning a mostly useless master's degree in art history and taking her turn as a cube monkey in the corporate warren.
Because the voices in her head kept talking to her, and they discourage drinking at work, she started writing instead. When she's not standing in front of the fridge eating cheese, she's hard at work figuring out which mythological, art historical, or paranormal friends to play with next. She lives in Colorado with the love of her life and three surly cats.
Interviews for Cynthia St. Aubin
Jennifer Vido | Jen's Jewels Interview: BLUE BLOOD MEETS BLUE COLLAR by Cynthia St. Aubin
Blue Blood Meets Blue Collar
April 21, 2023
Log In to see more information about Cynthia St. Aubin
Log in or register now!
Series
The Case Files of Dr. Matilda Schmidt | Jane Avery | Tails from the Alpha Art Gallery | Kane Heirs | Texas Cattleman's Club: Diamonds & Dating Apps
Books:
Keeping a Little Secret, December 2023
Texas Cattleman's Club: Diamonds & Dating Apps #6
e-Book
Star-Crossed, November 2023
e-Book
Bazaar Girls, September 2023
Townsend Harbor #3
e-Book
Brewbies, July 2023
Townsend Harbor #2
e-Book
Trapped with Temptation, July 2023
e-Book
Blue Blood Meets Blue Collar, May 2023
The Renaud Brothers #1
Mass Market Paperback / e-Book
Nevermore Bookstore, April 2023
Townsend Harbor #1
e-Book
Bad Boy with Benefits, November 2022
The Kane Heirs #3
Mass Market Paperback / e-Book
Secret Lives After Hours, September 2022
The Kane Heirs #2
Mass Market Paperback / e-Book
Corner Office Confessions, June 2022
The Kane Heirs # 1
Mass Market Paperback / e-Book
Love Binds, November 2021
Tails from the Alpha Art Gallery #4
Paperback / e-Book
Which Witch Is Wicked?, January 2021
The Witches of Port Townsend #2
Paperback / e-Book
Love Lies, November 2020
Tails from the Alpha Art Gallery #3
Paperback / e-Book
Love Sucks, May 2020
Tails from the Alpha Art Gallery #2
Paperback / e-Book
Love Bites, April 2020
Tails from the Alpha Art Gallery #1
Paperback / e-Book
Unlovable, February 2020
e-Book
Private Lies, April 2018
Jane Avery #1
Trade Size / e-Book
Which Witch is Wild?, October 2016
The Witches of Port Townsend #3
e-Book
From Hell to Breakfast, August 2015
e-Book
Disordered: The Complete Case Files of Dr. Matilda Schmidt, Paranormal Psychologist, July 2015
e-Book
Unbearable, July 2014
The Case Files of Dr. Matilda Schmidt #4
Paperback / e-Book