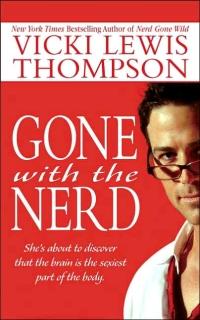 Purchase
She's about to discover the brain is the sexiest part of the body...
The Nerd Series
St. Martin's Press
June 2006
Featuring: Zoe Tarleton; Flynn Granger
400 pages
ISBN: 031294022X
Paperback (reprint)
Add to Wish List

Hot movie star Zoe Tarleton gets piles of money but no respect because she always plays a beautiful bombshell. When she gets the chance to play a geeky chemist working on a formula to combine weight loss, sexual potency, and anti- aging in one powerful pill, she is determined that this role will open up her career. Zoe may be too hot to understand her character, but she has a plan: her ultimate nerd lawyer Flynn Granger can teach her the ropes.
Flynn agrees to help Zoe out, but he's strictly business about it--his girlfriend is a Harvard professor and he plans to propose the next weekend. But when he sees Zoe in an outfit she considers nerdy, he realizes he's taken on an impossible task--she's just too cool to change. As they rehearse scenes in a secluded California cabin, they'll have to embrace their alter egos and fight the growing attraction between them. And they'll have to dodge an increasingly unstable stalker who wants to end their relationship...and Zoe's life.
Comments
No comments posted.

Registered users may leave comments.
Log in or register now!