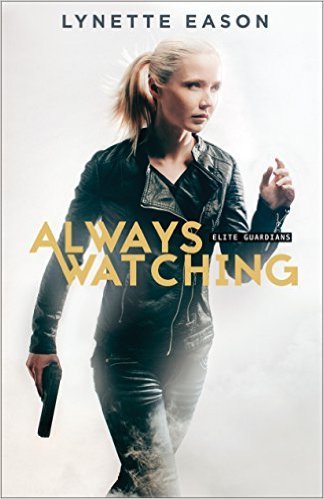 Purchase
Olivia Edwards's skills as a bodyguard are pushed to the limit as she must protect talk show host Wade Savage and stay out of a killer's path.
Elite Guardians #1
Revell
February 2016
On Sale: February 2, 2016
Featuring: Olivia Edwards; Wade Savage
336 pages
ISBN: 0800723260
EAN: 9780800723262
Kindle: B012H102DO
Paperback / e-Book
Add to Wish List

The bodyguards of Elite Guardians Agency have more than just skill and prowess in common--they're also all women. When it becomes clear that popular psychiatrist and radio personality Wade Savage has a stalker, his father secretly hires Elite Guardians in order to protect his son.
But when Wade's bodyguard is attacked and nearly killed, agency owner Olivia Edwards must step in and fill the gap. Olivia's skills are about to be tested to the limit as Wade's stalker moves from leaving innocent gifts at his door to threatening those closest to him. Olivia has the feeling that she's next on the list. And to complicate things even further, she realizes that her heart may be in as much danger as her client.
Elite Guardians
Comments
22 comments posted.
Re: Always Watching

My favorite ways to decompress are to read or to cook.
Have always loved both, and the cooking has to be to a
radio playing in the background.
(G. Bisbjerg 1:47pm February 13, 2016)
Books and postcards
(Marissa Yip-Young 2:19pm February 13, 2016)
I have so many favorite things:

Reading.
Sports.
Animals-dogs and cats in particular.
Music.
(Edward Washington 4:22pm February 13, 2016)
Reading, walking in the sunshine, beach vacation, and my
grands.
(Sharon Berger 7:20pm February 13, 2016)
Discovering a new author whose voice resonates with me...my animals, flowers, swimming and my fantastic family....
(Kathleen Bylsma 8:08pm February 13, 2016)
I love working in my yard. I find it very relaxing and lets me forget any troubles I might have.

But as a suggestion to you for a trip not to miss, the most interesting and beautiful place I ever visited was the Banff Springs Hotel in Banff, Alberta, Canada. The hotel is a huge castle originally built as a stop on the Canadian Railroad. At the back of the hotel is what is called "The Million Dollar View" which includes a waterfall, stream, beautiful golf course surrounded by huge Christmas-tree-like trees and gorgeous mountains. The employers of the hotel wear kilts and a bagpipe player plays out front daily. The daily buffet must be seen to be believed. My daughter insisted I take pictures of that buffet. The town of Banff Springs is delightful and in walking distance of the hotel for shopping as are marvelous free gardens. Tours to other Canadian towns and attractions can be arranged for at the hotel. The whole area is fabulous. It makes for a dream-come-true vacation.
(Gladys Paradowski 11:51am February 14, 2016)
Some of my fav things are reading, my pets, my nephew, and enjoying a quiet day outside.
(Colleen Conklin 12:16pm February 14, 2016)
My favorite things include reading, beaches, warm weather, and being
around my family and loved ones.
(Lily Shah 1:24pm February 14, 2016)
One of my favorite things is reading of course. I love waking up early with a cup of tea and snuggling on the couch and reading when it is quiet. I also love spending time with my 11 grandchildren and my furry friend Mikki!
(Debbie Northcutt 2:05pm February 14, 2016)
My favorite things...spending time with my husband, six children, and newly born grandson...watching my teenage daughters work with and show their lambs...snuggling with my seven year old while she reads to me...reading in a bubble bath...walking the beach looking for that perfect sea shell...so many things. Thanks for the question...made me stop and think about the positives in life.
(Amy Morgan 4:24pm February 14, 2016)
Lots of my fav things are line dancing with my group of ladies where we go to nursing homes and different clubs and organizations and events to preform . Then I love to get in bed and read at night . I play games on the computer and I can shop and look all day with a friend in the mall .
(Joan Thrasher 5:45pm February 14, 2016)
Reading helps me relax. I have to have at least an hour of reading time each day.
(Kelly Powell 5:45pm February 14, 2016)
My favorite things, 1)spending time with my boys 2) walks
with my husband 3) snuggling up in a comfy chair with a
great book
(LaRonda Atchison 12:03pm February 15, 2016)
I'm not a television watcher per se, but I ditto your HGTV
picks. Yes to the ID channe forensics and crime detection.
Lately my daughter and I have caught more movies on Hallmark.
I'm a reader, writer, and Bible teacher, so research and
learning new things is a real kick. Especially when I learn
more about the Kingdom of God. Worship and praise is one of my
absolutes. I'm composing again, and the new songs to My King
are the ultimate joy.
(Lonzine Lee 3:08am February 15, 2016)
Reading, travel, cats, music, my family (not necessarily in
that order)
(Donna Antonio 2:49pm February 15, 2016)
books and a lot of music and chocolate
(Ann Unger 9:43pm February 15, 2016)
comicons and bookfairs, crafting and crochet and while he rarely joins me in my pursuits he readily pays for them...
(Kelly Knapp 9:43pm February 15, 2016)
Reading a good book on the front deck.
(Martha Crutchfield 2:37am February 16, 2016)
Favorite thing curl up with a good book and a cup of hot tea
(Patricia Wagner 11:06am February 16, 2016)
Reading and listening to my grandchildren talk about everything.
(MaryEllen Hanneman 2:42pm February 16, 2016)
My favorites things are my family(especially grandchildren),
friends, reading, working in the garden and flower garden.
(Jane Komppa 4:03pm February 16, 2016)
I love reading and making loop potholders. I also like being quiet.
(Melinda Marks 8:35pm February 18, 2016)
Registered users may leave comments.
Log in or register now!