Purchase
Secrets and Sins: Chayot
Naima Simone
Some sins refuse to let go...
Secrets and Sins #4
Entangled
August 2014
On Sale: August 4, 2014
Featuring: Chayot Grey; Aslyn Jericho
210 pages
ISBN: 1633750388
EAN: 9781633750388
Kindle: B00LRXRSJK
e-Book
Add to Wish List

Romance | Romance Paranormal | Erotic
Six months after concert pianist Aslyn Jericho survives an attack at the hands of an obsessed fan, she is still trying to resume a normal life, despite the paralyzing fears that have stolen her ability to play and perform. Enter her gorgeous and mysterious neighbor with news that threatens to send her spiraling back into her nightmares. Her stalker has returned. And he wants Aslyn.
Months after security specialist Chayot Gray's darkest secret was exposed to the world, he's struggling to cope with the fallout. Shame and guilt threaten to consume him, and he longs for the anonymous, numb existence he's known for two decades. Then he discovers a masked figure lurking outside his neighbor's home. The pain-filled shadows darkening Aslyn's eyes call to him, and her loveliness stirs a desire he didn't know existed. Now Chay must conquer his inner-demons in order to save her from a madman determined to finish the job he started…
Secrets and Sins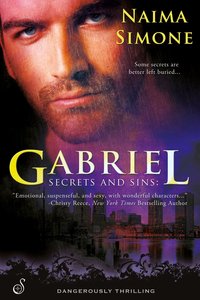 Secrets and Sins: Gabriel
#1.0
Kindle | BN.com | | |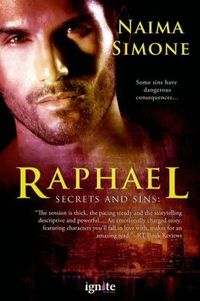 Secrets and Sins: Raphael
#3.0
Kindle | BN.com | | |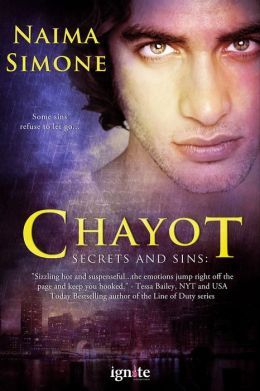 Secrets and Sins: Chayot
#4.0
Kindle | BN.com | | |
Comments
14 comments posted.
To date, I've stayed away from those books - not because I'm
a prude, but because the luck I've had with them haven't
been good. The love scenes in the books I've picked have
been written so primally, that instead of having me get into
the book more, they make me break out in laughter instead!!
The description in itself, along with the dialogue is so
dumb, it sounds like a 2-year-old wrote it!! Currently, I
am reading a book named Trust: A New Beginning by Cristianne
Serruya. I'm only partially through it, and have come
across a pretty smokin' hot sex scene, if I may say so
myself, and I'm pretty picky!! So here's a book for you to
look through, if you would care to, since you asked. I'll
have to give yours a try as well.
(Peggy Roberson 9:56am August 5, 2014)
Oh no, Peggy! I'm torn between feeling bad and laughing at
your description. Okay...I'm laughing. I admit it. LOL!!
There are some really good books out there with emotional,
sexy, and still primal love scenes. Those were just five of
some truly fabulous books I've read. Stick with me. I'll
hook you up. :-) But, I'm definitely adding Trust: A New
Beginning to my list. I haven't heard of it before, and I'm
always on the look out for new books and new-to-me authors.
So thank you for both stopping in AND adding to my TBR pile!
:-)
(Naima Simone 10:34am August 5, 2014)
Shoot....you just made me spend a fortune.
(Incy Black 10:46am August 5, 2014)
LOL!! Incy, my bad! But you'll be thanking me in the end! Hee-
hee! Now your check book...hmm...not so much. LOL!!
(Naima Simone 10:55am August 5, 2014)
Wonderful post Naima! and you so hit the nail on the head in
your writing. I love love your sex scenes...all emotional
and oh gosh so damn sexy! I am the same...my books need to
have that hotness going on. LOL. and your list! I read the
Linda Howard and Tessa Bailey and damn you are right!
Scorching. I am off to get the rest of book on this list
now. :)
(Stacy Reid 11:38am August 5, 2014)
Oh by far these are some of my FAVORITE love scenes in books!!! I
remember when Nora Roberts wrote some of my faves, but with age I've
gotten spicier!!! Lol!!! So when chomping on Crunch 'n Munch (y'know
because I don't smoke) I love the books if Thea Harrison too!!! Oh man!
Hers leave my ears smoking! And looking at my husband like "you could try
this right?!?!"
(Nefertari Yancie 11:43am August 5, 2014)
Hi, Stacy!!
And your book, The Duke's Shotgun Wedding, does have all
that hotness and wonderful emotion going on! I can't wait to
get my greedy little paws on The Irresistible Miss
Peppiwell!!

Another Son of Morning reader! Yes! *Jersey fist pump* Isn't
that scene one of the best EVAH?? And Tessa Bailey...she
makes me fan myself even as I'm laughing or tearing up. Once
you check out the other books, let me know what you think!
:-) Thank you for coming through, Stacy!! *hip bump*
(Naima Simone 11:45am August 5, 2014)
ROTFL!! Thank God I wasn't swallowing coffee at that moment,
it could've been reeeaaally messy!! Nefertari, you're so
right!! Oh heck yeah! Thea Harrison is awe-SOOOME!!! And--I
have to confess--has left me shooting my own hubby some
side-eye... Snicker! Thea Harrison has humor, heat, emotion,
depth...she's amazing! Thanks for coming by and adding to
the convo! Fabulous addition to the discussion!

Hiiiiii, Theaaaaaaa... *pinky crinkle*
(Naima Simone 11:47am August 5, 2014)
Yes, yes, and yes!! I totally agree on the love scene
requirements of a book. I admit, when I read a book's blurb
by a new author and am intrigued, I will skim the reviews
first before buying to make sure they talk about the heat
level. Sigh...Son of the Morning. LOVE, love, love!
Oh, and I'm with Incy, you just demolished my book
purchasing budget! LOL Must buy the rest of the those. :)
(Jessica Lee 11:52am August 5, 2014)
Hi, Jessica!
ANOTHER Son of the Morning reader! Whoo-hoo!! :-) It was
fierce, wasn't it? Unique in that it was almost primal and
tender at the same time. Luuuuuuv it. As a fan of your
books, Jessica, I know you agree on the love scene
requirements. Hee-hee! And again, you're welcome! *evil
cackle* Your credit card might have a hangover but you'll
love me in the morning! LOL!! Thank you so much for coming
over!
(Naima Simone 1:17pm August 5, 2014)
Hmmm.....that would beeee ANYTHING! But I am a huge fan of Lorelei James, Suzanne Brockmann, Jennifer Ashley, Maya Banks, Laurell K. Hamilton, Sherrilyn Kenyon, Linda Howard and many more!
(Jan Douglas 9:22pm August 5, 2014)
Hi, Jan!!
Oh I agree with ALL of your picks! The one that flashes
right into my head is Maya Banks' Fever with Jace and
Bethany. Sigh. Oh how he loved her. And Maya Banks wrote all
that dominance, passion and possessiveness he felt for her
in each and every love scene. If my husband was that
forceful with me, I would be the star of the next Snapped
episode, but dang! I was such a believer in Fever. Loved it!
Thanks for stopping by and adding to the convo! As well as
the list of TBR books. Snicker.
(Naima Simone 9:56pm August 5, 2014)
Tessa Bailey's Brett and Hayden in Asking For Trouble are definitely in my
top 3. The scene where the answer to all his questions was his name?
Crazy hot! Another one of my top 3? Naima - your Selig and Caitlin in
Sweet Ultimatum! The car sex scene was so very hot! Take a bow for that!!
My other one? Lara Adrian's Midnight Breed series is full of hot scenes. My
favorite of them is the first one - Kiss of Midnight's Lucan and Gabrielle.
Their first time together was a scorcher!
(Marta Petrocelli 3:21pm August 6, 2014)
Scenes on the beach or by windswept cliffs like in Wuthering
Heights.
(Alyson Widen 3:59pm August 10, 2014)
Registered users may leave comments.
Log in or register now!