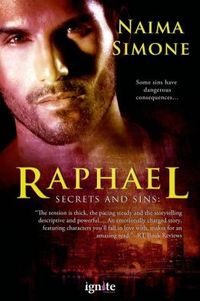 Purchase
Secrets and Sins: Raphael
Naima Simone
Secrets and Sins
Entangled Ignite
May 2014
On Sale: April 28, 2014
Featuring: Raphael Marcel; Greer Addison
ISBN: 1622665368
EAN: 9781622665365
Kindle: B00JI129P6
e-Book
Add to Wish List

Romance Erotica Sensual | Romance Suspense
When Greer Addison finds her future husband in bed with another woman, she runs…right into the arms of dark and dangerous Raphael Marcel. Angry and hurt, she throws caution to the wind and spends a hot night with the sexy security specialist. But when her fiancé is found dead, Greer becomes the main suspect of a crime she can't remember.
Raphael is stunned and suspicious when Greer shows up on his doorstep claiming she's carrying his baby. Worse, she's the target of a stalker bent on making her pay for a murder she doesn't recall. As Raphael begins to trust Greer, they must race against the clock to uncover a killer.
Because Greer's memory is returning...
Secrets and Sins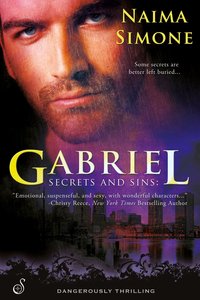 Secrets and Sins: Gabriel
#1.0
Kindle | BN.com | | |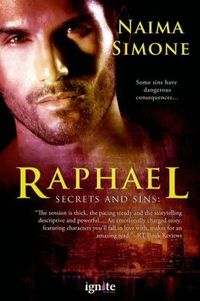 Secrets and Sins: Raphael
#3.0
Kindle | BN.com | | |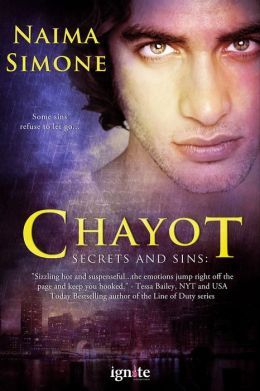 Secrets and Sins: Chayot
#4.0
Kindle | BN.com | | |
Comments
54 comments posted.
I'm really not much of a cusser myself, because of the way
I've been raised. After having my mouth washed out with
soap, and being raised to be a young lady, I never really
got the hang of it. As I got older, I have used the d**n
word, and occasionaly put the G word in front of it, always
apologizing to God after using it. I also use the word s**t
when I screw something up, or something goes wrong, as I
think a lot of people do. As for the F-bomb, I have to be
really on my last nerve, and people know this, because I
personally find that word to be revolting, and always have.
I find the meaning of the word to be something beautiful,
and not turned into something from the gutter, but that's
just my opinion. Your books sound like something that would
probably give me a permanent, or in other words - "curl my
hair," so I'd love to read them and find out for myself. I
got a kick out of your posting, and I'm sure I'd get a kick
out of your books, too!! Thank you for making me chuckle
today, considering my Father just passed away a week ago,
and I'm still mourning his passing.
(Peggy Roberson 10:45am May 3, 2014)
Hi, Peggy!
I'm so sorry for the loss of your father. I can only imagine
your hurt. And if my post gave you some laughter in the
middle of your mourning, then my job here is done! I can
pack up and go home right this minute. :-)

Thank you so much for coming by, staying to read, and
leaving a comment. Have a beautiful Saturday, Peggy!
(Naima Simone 12:20pm May 3, 2014)
Firstly let me say that I'm not a great swearer (i believe in the US you
would say "cusser"). I recently took a quiz on FB on "how many slang
words for penis you know"! I got the grand total of 16 out of 65! At this
point, i should like to thank Shannon West and Jessica Lee for increasing
my verbal and mental skills to achieve this grand total of 16, without their
effort, i would be drowning in the depths of around 6! The mostly used
swear word for me is "bollocks". If i drop something "bollocks", if i forget
forget something "bollocks", i'm sure you get the picture! Oh! before i go,
whats "d*#n"? I thought it stood for "darn" but thats not swear word, so
just wondering?
(Lorraine Lesar 12:33pm May 3, 2014)
Lorraine, you've come to the right place to ask what certain
curse words are...ahem. *Grinning* It's "damn". One of my
personal faves. It's not as offensive as some, but still
gets the point across. Hee-hee! 16? Shoooot, that's good
because I didn't know there were 65 slang words for penis!
Damn! See? There, I go. :-) I've heard people use "bollocks"
before. I think that would be on the level of damn...that's
just my professional opinion. LOLOL!!

Thank you sooo much for coming by and adding to the convo!
You always make it interesting and fun!
(Naima Simone 12:44pm May 3, 2014)
I sympathize with your "potty mouth." We had similar experience with our first child, when he was 3. We were driving somewhere with my aunt and uncle, and our baby starts saying dumb f**k over and over. Horrified, my husband, who was the potty mouth in our family, looked at me, then at my aunt, and said, "He said dump truck." Yeah. Dump truck. LOL! I gave him points for quick thinking. With children grown, I don't watch it now, but should, since sometimes your #2 slips out. :-)

On a more character based discussion, I do think alpha heroes curse. A touch hero who says "darn!" wouldn't work for me.

Love your covers, have the books in my enormous TBR pile.

Great post!
(Virginia Kelly 1:09pm May 3, 2014)
After being a carnie off and on for 20 years and driving 18 wheeler for 6 1/2
years, I can probably cuss enough to make a sailor blush. There is truly
nothing like a good go round when it is rightly deserved.
(Dianna Fryer 1:16pm May 3, 2014)
My mother says she learned early on to watch what she said around a
child. I was still an infant when she was changing me and said 'sure shot
yourself good this time, didn't you Dianna' to which I promptly looked at her
and said, clear as day, SHIT....
(Dianna Fryer 1:20pm May 3, 2014)
Thank you, Ginny!
And thank you for stopping in! :-) Huge hug!
(Naima Simone 1:26pm May 3, 2014)
LMAO, Dianna!!
Okay, hold on, I'm still laughing... That is HILARIOUS!!
I'm. Cryin'.

Whew! Oh heck yeah, Dianna! A carnie AND truck driver? I bet
you could teach me a thing or two! LOL! I mean, truly. It's
a stress reliever, right? My sister--who has a mouth that's
a nice shade of royal blue--always says, it just adds that
little bit of "something" to a sentence. LOL!

Thank you for stopping by and giving me a HUGE laugh! Any
lingering guilt I had over the incident with my son has now
been officially vanquished...
(Naima Simone 1:30pm May 3, 2014)
Having lived as long as I have, I have heard and said all of the words on Raphael's list, some more than others. My favorite at the moment is to lob a "b***ch" at one of my co-workers. Of course, I say it with the utmost affection. They know I love them. And I don't take offense when they lob it right back.
(Debbie Kelly 1:43pm May 3, 2014)
Congrats on the newest book in the series- it is awesome Naima! I learned all my potty words from my dad. Growing up he took me to play bingo and I was surrounded by curses from people not winning. (I was 9 the first time he took me to play- back then you obviously did not have to be 18 or older) I continued the tradition as I grew up. I was constantly told that I was either a sailor or a trucker in a previous life. One of my favorite parts of the movie Christmas Story was when Ralphie was helping his dad change the tire and he lost the nuts and swore "oh fudge". I do enjoy the F*** word because it can be used creatively in so many different ways. When I became a mother, I had to change that bad habit and quickly. I am now the master of creative curse words- "Fracker nacker son of a snacker" is my most used one. I do also say "pickle juice" a lot. My kids 7 & 4 will from time to time get frustrated and use one of my sayings. It makes me chuckle because it is so cute to hear them use my words and not really know what the meaning behind them truly is. One day I will share with them and maybe they will keep the tradition going when they have their own kids.
(Christine Arcidiacono 1:43pm May 3, 2014)
F**ktard. Nuff said. I use this one while driving.
(Donna Antonio 1:58pm May 3, 2014)
Hi, Debbie!
Yeeaahh, b***ch is one I use...mostly with my twin sister.
LOL! MOST of the time, it's affectionate. Hee-hee! The most
recent one was kind of half & half. We went to see The
Hobbit: Desolation of Smaug together. She'd already seen it
and was going with me again. First off, we are both
TERRIFIED of spiders! Like hate, hate, hate! So this one has
like a jillion in them. She was supposed to be warning me
when they were about to make an appearance. And she did. I
was feeling real magnanimous toward her because she let me
know when and how long. So, from behind my fingers I asked
her, Is it over? No, not yet, she whispered. And I'm all
like, cool, cool. After another few minutes I asked, Is it
over? She nodded, Yeah, you're good. I sighed and lowered my
hands just as this HUGE, BIG A** MOTHERF**KIN' SPIDER JUMPED
ON THE SCREEN!! I screamed--probably those words--and then
hissed, B**ch!! at her. At which she grinned. So come to
think of it...maybe not so affectionate. LOLOL!!!

Thanks so much for coming over and joining in the convo,
Debbie!! You've added to my list! :-)
(Naima Simone 2:06pm May 3, 2014)
Christine, you have me rolling over here! I LOVE that scene
in A Christmas Story!! ROFL!! He's like, "Oooooooh, fuuuuuu-
-" LMAO!! And then when he threw his friend under the bus,
Swartz' mother was like, WHAT??WHAAAT?? LOL! Oh man, that
was so funny! I came up with substitutions for curses, too!
Like son-of-a-sea-biscuit. Soot. But ""Fracker nacker son of
a snacker"? ROFL!!! That's too cute and clever! I can just
hear what your kids are going to say when they're older and
find out what their sayings really mean. "My mom is. The.
Coolest. EVAH!!" LOL!

Thank you for coming over and joining in! And thank you so
much for reading RAPHAEL! MUAH!!
(Naima Simone 2:15pm May 3, 2014)
LOL!! Donna, I do believe I used this one in a book
recently. Not gonna lie, Sunday drivers will drag--well, not
drag--a curse out of me faster than Justin Bieber! And it's
usually the same thing.. What the f***??!!

Thank you sooo much for stopping by and adding to the list!
:-)
(Naima Simone 2:20pm May 3, 2014)
Hi Naima
Happy Saturday. My potty mouth words would be Sh$t and da#n.
I'm not a big fowl language user. And, to be honest I don't
care to hear anyone who is cussing every few words. It is just
as bad as those nuts who use "like" every few words. That
drives me bat Sh:t crazy.
See ya soon.
Ginger
(Ginger Robertson 2:53pm May 3, 2014)
LOL! Ginger, I have a friend that I really curb my language
around because she doesn't curse at. All. So I get you on
that one. Not meaning I don't slip sometimes, because I do.
:-) But did you know "bat s**t crazy" is one of my favorite
terms? Hee-hee! Just thought you should know...

Thanks a TON for coming by and adding to the convo, Ginger!
I hope to see you at the Readers Luncheon in November!
*hint! hint! nudge! nudge!*
(Naima Simone 2:59pm May 3, 2014)
I used to used bad words -- however I have a 6, 5 and almost 2 yr old running around occasionally - so I've gone to doodlebug
we had FUN in ATLANTA eh Naima??? Novel EXP???
(Pamela Faye Howell 3:59pm May 3, 2014)
Naima,
Happy Saturday To You! It is funny
that you ask this question or bring
up this topic. I normally do not
curse, however if occasion calls for
it, I'm game. Lol! I do have some
profane terminology that when I use
it, I must say that I feel good. I
feel as if a load has been taken off
my shoulders and I have made my
point. My favorite profane
terminology would be
[email protected]%#h or son of a [email protected]#%h. Something
about the insult of a mother.....
boy oh boy. (I know it is wrong,
tthis is my vice :-\ ) For that
reason, my ultimate swear word is
[email protected]#%[email protected]#%@r!!! For me, I am hitting
below the belt. I am intending to do
damage with words. For that reason,
characters who talk like this are
bad a$$, bad boys, in my opinion,
and I love it. As long as it isn't
over done. When it is over done, the
character tends to sounds ignorant.
(Davina Bell 4:11pm May 3, 2014)
Known for my exceptionally inventive potty mouth when feeling
inspired... let's just say I love them ALLL! I'm especially
fond of emulating the rather irritating Robin and starting my
litany with Holy *insert creative vocabulary* Batman!!!!
(Carla Benson 5:02pm May 3, 2014)
B - beautiful
I - intelligent
T - talented
C - cunning
H - horny

Where is the negative????
(Dianna Fryer 5:34pm May 3, 2014)
Hi, Pam!
Doodlebug. *snort* And God bless you! With 6, 5 and almost
2 year-old kids, you probably don't have the breath to
curse! LOL!! And yes, we did have fun in Atlanta!

Thank you for coming through, Pam!! *waving*
(Naima Simone 5:54pm May 3, 2014)
Hey, Davina! *full arm wave*
LOL! I have to agree, there are times for me when it is a
pure stess-reliever! Like, &%$*@#[email protected]#!! Whew. That felt
good. Carry on now. Snicker! For me, I don't have a specific
one that I say when I'm mad--probably because any one or
combination can come out of my mouth at any time. :-) That's
so bad to admit... But it's usually the voice inflection
behind the curse that lets a person know if I'm well and
truly pass mad and on to "I'm gonna cut you!" territory!
LOLOL!! Now I KNOW that was bad to admit!

Thank yooouu, Davina, for coming by! You HAVE to sit at my
table this year! Please tell me you're coming to the Readers
Luncheon! Don't make me let one of the above words fly! :-)
(Naima Simone 6:01pm May 3, 2014)
I like tht Dianna,I will have to
remember that!(writing it down)
(Davina Bell 6:02pm May 3, 2014)
You know I am, Madame President!
Lol!
(Davina Bell 6:04pm May 3, 2014)
HAHAHAHAHAHAHAHA, Carla!!! A woman after my own heart! And
yeeesss, on the old Batman show, Robin was a-nnoy-ing!! And
some cartoons, now that you mention it... :-) I'm stealing
this one, Carla! Snicker! See the things I learn on a
Saturday afternoon???

Thank you for stopping by and expanding my cursing
repertoire! LOL!!
(Naima Simone 6:09pm May 3, 2014)
Dianna, you need to throw a disclaimer before you post
something like that! I'm laughing like a loon and my husband
is looking at me like, What the hell?? LOLOL!!
(Naima Simone 6:10pm May 3, 2014)
Yaaay!! *dancing* I know by the time I leave the luncheon my
stomach is going to be hurting! In a good way. :-) Can't wait
to see you, Davina!
(Naima Simone 6:26pm May 3, 2014)
I love f**k! It's a noun, verb, adjective, adverb, pronoun,
etc. It is so versitile in every situation. But I have to
admit, I have to clean it up also. Babylove wanted
(adamantly) to watch Rudolph the Red-Nosed Reindeer for the
upteenth million time. As I stomped upstairs to get the dvd
(interupting my reading of one of JR Ward's Black Dagger
books), Hubs asked what I was doing. "Going to get f**king
Rudolph" came my reply. Then I heard a tiny voice repeat,
"F**king Rudolph." I knew it was time to clean it up.
(Caragh Byford 6:52pm May 3, 2014)
Caragh, I am falling. Out!! Oh my Lamb, you have forever
changed Rudolph for me! Now, every time I see it I'm going
to think of of that "F**king Rudolph!" LOLOLOL!!! That is
HILARIOUS!! And as writers, don't you appreciate the grammar
versatility of "f**k"?? I do. :-)

Thanks for stopping in, Caragh!! And for permanently
changing Christmas for me! HAHAHAHAHAHAH!!!
(Naima Simone 7:02pm May 3, 2014)
These books look great, I think I've been missing out by not reading them
already.
(Julie Duffy 7:10pm May 3, 2014)
MF . F . Fing B .Fing Psy .. i think i had to many truck
drivers aorund me growing up, LOL i can come off with some
pretty bad words
(Tami Bates 7:58pm May 3, 2014)
I worked as a aircraft mechanic with the Air Force for most
my life working with men so cursing is second nature for me. I
have to think to not curse. Don't have a favorite but I hate
the word and use of calling someone a cunt.
(Donna Hokanson 8:06pm May 3, 2014)
Hi, Julie!
Far be it for me to say, yes, you've soooo been missing out... LOL!! Thank
you for coming by and visiting!! :-)
(Naima Simone 8:51pm May 3, 2014)
LOL!! Tami, too funny!
Your creativity is a trait I greatly admire. Hee-hee! And my grandmother
wasn't a trucker, but boy could she let 'em fly!! I think my family and yours
should get together for some fun! But leave the kids outside...
Hahahahahahah!!

Thanks so much for coming through and joining in the convo!!
(Naima Simone 9:00pm May 3, 2014)
Hi, Donna!
Oooh, got to agree with you there. That's not a word I use either. Not even
in my books--and let me tell you I really let loose in those. :-) I laughed out
loud when I read you have to think NOT to curse. LOLOL!! Just today, I
tripped and said, Oh shiiii-oooooot. 'Cause my daughter was right there
with big, eager ears. ROFL!!

Thanks so much for visiting with me, Donna!
(Naima Simone 9:12pm May 3, 2014)
I guess I better admit calling idiots F***head
GD MF F***head under my breath @ work
oooh I loathe use of that C word
and I have issues with p***y -- not CAT
there is a FINE line between erotic & NASTY
(Pamela Faye Howell 9:19pm May 3, 2014)
Oh dear. I'm a school librarian and cursing can be a
problem. But even more than that, the meaning of certain
words have changed over the years. I can remember trying to
read "The Owl and the Pussy Cat" out loud to an inner city
class. Once. I only tried it ONCE. Never again. I can
still hear myself saying, "Oh, Pu##y, my Pu##y," and a bunch
of children with their hands over their mouths, looking at
me in shock. NEVER AGAIN. I think that was one of the most
unintentional embarrassing moments of my life.
(Marcia Berbeza 10:00pm May 3, 2014)
Go ahead and admit it and cleanse your conscience, Pam! LOL! I have to
admit I use p***y quite liberally in my books. Guilty! :-) But I don't consider it
nasty, but erotic. I guess I look at it as it's all in how you use it and the tone
it's used. Like in my first book, the villain used it as an insult meant to
demean. But when the hero said it while they were making love, totally
different. But that's just me. :-)
(Naima Simone 10:20pm May 3, 2014)
LOLOL!! Marcia, I bet!! HAHAHAHAHAHAH!! I remember when my sister
and I were kids--real young, like five or six--my grandmother (not the
Queen of the F-bomb but my mother's mother) called us her "little p*ssies".
"Come here Mama's little p*ssies!"Used to drive my father crazy! He hated
when she called us that! Of course at the time I didn't get why. Not until I
was older, and by then I realized my grandmother used to do it on purpose.
Hahahahah!! She was so funny! My father even joked about that at her
funeral. Loved her! So yeah, I get that!

Thanks so much for stopping by and sharing that hilarious story, Marcia!
Now I have to call my father and remind him of that... :-D
(Naima Simone 10:28pm May 3, 2014)
i do try not to sweat but i find myself doing it some times
like most people i say all the above and more lol
(Denise Smith 12:11pm May 4, 2014)
I actually come from a family that does not swear at all. I
don't really see the need to.
(Mary Preston 5:31am May 4, 2014)
I asked exchange students in high school to tell me the curse words in their languages - we all wrote them down! Still use the German Shisse! In my head it was a little classier than English.
(Beth Elder 7:28am May 4, 2014)
My favorite curse is...are you ready????? PEANUTS!!! YUP I can swear with the best of them!
(Bonnie Capuano 8:42am May 4, 2014)
Curse words really say it all to the point. However, there are some people who are offended by certain curse words so I have to get creative by toning these down.
(Kai Wong 9:59am May 4, 2014)
Cussin is not normally something I grew up with, but it was always around me and although my mother tried to encourage me not to use it, It never worked. Too many rotten things always happened.
(Linda Barrier 12:14pm May 4, 2014)
When I just learned to drive, we had a very bad winter. I did not want to
drive into town on the glare ice. My mother said I would be ok. I was
probably going to fast for the conditions. When we came around the curve
and out of the trees the wind hit the mini van & we started to roll. In that
slow motion moment you usually only seen in the movies, the f-bomb was
the only thing to come out of me. Totaled the van but didn't cry until I go
home & saw my father.
(Laura Gullickson 2:46pm May 4, 2014)
I don't know if it counts as a swear word but my favorite is
BALLS. I mainly use it as an exclamation- Oh, Balls! What the
Balls?! Holy Balls!! :)
(Kezia King 6:59pm May 4, 2014)
I swear a lot - a LOT - but I do try to be aware of my
audience. F*ck is a good one and can be used as noun, verb
and in almost any capacity. It can be used when you're happy,
sad, mad, guilty, etc. It's multi-functional. :)
(LaRonda Atchison 7:00pm May 4, 2014)
I swear alot especially when I'm angry those little words
just fly out of my mouth at warp speed lol I do try to be
aware if there are any kids around and I definitely don't do
it at work if there are customers around .
(Wanda Flanagan 7:53pm May 4, 2014)
I have learned to swear less because of my great-niece and great-nephew live with me and I don't like to swear around them.
(Cynthia St. Germain 9:34pm May 4, 2014)
I'm a curser as well, but try to use macaroni and cheese and fugues or
some such in front of my kids.
(Michelle Schafer 9:41pm May 4, 2014)
I don't swear much, but do say 'cr*p' when something goes
wrong.
My grandmother didn't use cuss words, but she did say 'oh,
phooey'. My children then called her Phooey instead of
grandma, or the Mama Florence I called her.
I can remember when I was in elementary school, my mother
trying to teach a neighbor boy (maybe 2 yrs old) to say
'sh*t'. She could say it so one could taste it, and she got
the little one to say it too.
(Donna Durnell 12:10pm May 5, 2014)
It's pretty much just habit--I've noticed my own language
growing gradually more colorful since retiring from
teaching, during which years I had to watch every word
coming out of my mouth (the kids got away with saying just
about anything, but I could have been fired for any
profanity or vulgarity at all). I'm not overly offended by
profane language, but as a librarian, I can tell you that a
lot of folks will return a book immediately upon
encountering any at all, and there is a constant complaint
about unnecessary vulgarity in books.
(Janet Martin 10:01am May 5, 2014)
Registered users may leave comments.
Log in or register now!