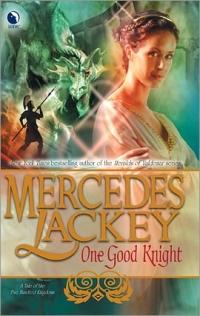 Purchase
Five Hundred Kingdoms #2
Luna
March 2006
432 pages
ISBN: 037380217X
EAN: 9780373802173
Hardcover
Add to Wish List

Traditionally, marauding dragons are soothed only by a virgin sacrifice. And so the frightened people of Acadia devise a lottery system to choose the victims. Things are going fairly smoothly — except for the women chosen, of course — until practical-minded Princess Andromeda is picked. She accepts her duty, though she would prefer to defend herself. And so Andromeda faces the dragon alone.
Until a Champion arrives to save her — sort of. Sir George doesn't quite defeat the dragon, but as Andromeda finishes rescuing herself she discovers that beneath the Good Knight's well-meaning though inexperienced heroics lies a further tale....
Still, Andromeda can't leave her seacoast country in further jeopardy from the dragon's return, and so she and...er...George join to search for the dragon's lair. But in the Five Hundred Kingdoms, bucking Tradition isn't easy. It takes the strongest of wills, knowledge, quick wits and a refusal to give up, no matter what happens along the way.
Somehow, though, none of this was taught in princess school....
Comments
No comments posted.

Registered users may leave comments.
Log in or register now!