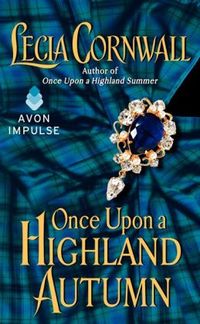 Purchase
Avon
July 2014
On Sale: July 8, 2014
ISBN: 0062328468
EAN: 9780062328465
Kindle: B00FJ3CJYI
Mass Market Paperback / e-Book
Add to Wish List

Megan McNabb would do anything to get out of marrying a man she does not love—even handfasting for a year and a day with an English stranger.
A mysterious letter draws Lord Kit Rossington to Scotland in search of a lost treasure. But the marriage-minded females he avoided in England follow him to the Highlands, and he'll do anything—even a temporary marriage with a Highland lass—to keep his freedom while he solves a mystery that's haunted Glen Dorian for almost a century.
Legends say a curse lurks among the shattered stones of Glen Dorian Castle. Will the love that is beginning to grow between Megan and Kit be able to withstand fate? For only the living, those with bold hearts and true love, can restore peace to Glen Dorian at last.
Comments
40 comments posted.
Re: Once Upon a Highland Autumn

I love a good secret!
(Martha Crutchfield 1:28am June 17, 2014)
Me, too Martha! Every romance has to have at least one ...
(Lecia Cornwall 8:29am June 17, 2014)
I would love to win a copy of your book in exchange for an honest review! [email protected]
(Nicole Laverdure 8:50am June 17, 2014)
If you've put that much passion into your books, because
I've always been the type of person that has a sensitive
spot in her heart, and tends to read her books through the
lives of the main characters of the books, I would love to
read your latest book!! I know that sentence was a bit
disjointed, but I know that you get the gist of what I was
talking about!! I've never really read a book of this
genre, but would be honored to start with yours!! I could
feel the passion that you feel about the subject of your
books, and that's good enough for me to want to read your
books this Summer!! Congratulations on your latest book,
and I'm really looking forward to this book, on top of all
the others that I have on my list!!
(Peggy Roberson 10:02am June 17, 2014)
Hi Peggy—Thank you for your kind words! Yes, I really write my stories from the
heart, and I'm a sentimental, mushy person, and I love history, love, and humour,
so how could I write anything but romance? Good luck in the contest. If you want
to start with one of my books, can I suggest my first book, 2011's Secrets of A
Proper Countess, an award winner for best debut novel.
(Lecia Cornwall 10:42am June 17, 2014)
Your books are fascinating, captivating and intriguing filled
with characters whom I would enjoy meeting and a locale that
is wonderful.
(Sharon Berger 11:59am June 17, 2014)
Thanks, Sharon—there's just something about the Scottish Highlands, isn't there?
(Lecia Cornwall 12:32pm June 17, 2014)
Thanks Crishtia!
(Lecia Cornwall 1:08pm June 17, 2014)
You're Canadian!!!!!! Even better!
(Monique Daoust 1:37pm June 17, 2014)
Hi Monique! I live in Calgary now, but I was born in Toronto, and lived in Ottawa
for 18 years. I still miss it.
(Lecia Cornwall 2:17pm June 17, 2014)
I would love to read your book. I just LOVE paranormal romances that features ghosts that mess around with the characters in books. Ohh don't get me started on how I also love the suspense that comes when people start breaking curses. :)
(Karen Locke 2:53pm June 17, 2014)
Liking the sound of your book and series... I do not believe I have read any of your books before... going to visit your site!
(Colleen Conklin 3:26pm June 17, 2014)
Hi Karen—the ghosts actually have speaking roles (and love to interfere) in
HIGHLAND SUMMER. The spirit in HIGHLAND AUTUMN is a bit more malevolent,
but can be playful, too.
(Lecia Cornwall 4:47pm June 17, 2014)
Hi Colleen—welcome! Come on over to my website any time and have a visit. If
you have any questions, drop me a line at [email protected]
(Lecia Cornwall 4:48pm June 17, 2014)
I love the mystery behind ancient curses. And you aren't the
only one who panics over their writing. I don't write books
but when I used to write essays, I'd stop writing after a
few paragraphs and think it is the worst thing ever. I sit
there and think about the F I am going to get. Then once I
finish and read it over, I tell myself it isn't that bad and
it never is. Your writing is great. You've had enough books
published to prove it.
(Alyn Yang 8:24pm June 17, 2014)
Thanks, Alyn. My daughter is currently in university, so I know exactly what you
mean—I hear a lot of essay writer's panic. I think a big part of being a writer is
continually growing and improving, taking risks and trying new things. Keeps life
interesting, too!
(Lecia Cornwall 8:28pm June 17, 2014)
oh, heck, TV commercials make me cry! just remember, it's therapeutic and keeps you empathetic and human. Passionate people can change the world!
(Beth Fuller 9:37pm June 17, 2014)
What an interesting book! Love the cover. Thanks for sharing.
(Bonnie H 10:18pm June 17, 2014)
Thank you for understanding, Beth. If only we owned shares in Kleenex, Inc.
(Lecia Cornwall 10:30pm June 17, 2014)
Hi Bonnie, Avon always does such beautiful covers!
(Lecia Cornwall 10:30pm June 17, 2014)
Wow, Congrats on your new book: ONCE UPON A HIGHLAND AUTUMN. I
love the book cover too! Your book sounds fantastic and I love
to read about Scotland and Ireland stories too. I would love
to win and read your new book in 2014. Thank You very much.
Cecilia CECE
(Cecilia Dunbar Hernandez 11:26pm June 17, 2014)
Good luck, Cecilia!
(Lecia Cornwall 11:29pm June 17, 2014)
Journeys can be fun or vexing even if you never leave home or go to far off places.
(Laura Gullickson 12:05pm June 18, 2014)
Oh I agree, Laura—I love the being there part of travel, hate the getting there
part. They say the journey is the important part, but I think the airlines have
killed that idea.
(Lecia Cornwall 12:15pm June 18, 2014)
I like the sound of this book/series and I really love the covers!
(Marcy Shuler 12:37pm June 18, 2014)
oh, wow!
(Denise Holcomb 1:03am June 18, 2014)
sounds really good cant wait to read it
(Denise Smith 1:21am June 18, 2014)
I know what you mean.. A good old fashion history song can
get your heart going.. Scotland is on my bucket list and I
will get there one day.. I love both Karen's writing and
stories.. Have you read Diana Gabaldon's Outlander series
which has almost a whole book on the Culloden battle. Can't
wait to read your books. Congrats on your second book, best
wishes for more to come.
(Tina Ullrich 1:23am June 18, 2014)
everyone loves a good curse :-)
(Jess Nekoranec 9:52am June 18, 2014)
I lived in Scotland for two years and loved it and would love
to see your take on it!
(Denise Austin 1:22pm June 18, 2014)
YAY! I love a good Highland series!
(Chelsea Wilson 1:35pm June 18, 2014)
I love the covers on your books. Once Upon a Highland Summer with the red plaid is so eye-catching. I love anything with ghosts and castles thrown into the story and enjoy historical romances.
(Linda Luinstra 6:34pm June 18, 2014)
Music can make me cry too! I love a happy ending, a series,
and a story in the Highlands, so this sounds wonderful to me!
(Diane Sallans 9:07pm June 18, 2014)
I would love to read the series. ;-)
(Deb Pelletier 9:09pm June 18, 2014)
I love a good cry...and a good laugh. The best of both worlds is when I get both in the same book. I also love all things Scottish. My ancestors were from there and my mother-in-law was WWII war bride from Glascow. Imagine being a young woman from a bustling city transported to the rural South...Ehhh! What culture shock and what a story THAT would make.
(Debbie Kelly 9:29pm June 18, 2014)
I tear up over lots of things, both happy and sad.
(Janie McGaugh 10:17pm June 18, 2014)
Well if you have to cry, I can't think of a better reason than
over Culloden. Such a sad, sad battle. And what happened
afterwards? Horrible!
(Marcia Berbeza 10:19pm June 18, 2014)
sounds like a great read!
(Denise Holcomb 5:45pm June 19, 2014)
I have been laughing at work. I have been so stressed lately that I'm not even sleeping at night. I found that if I poke fun at my assignment, I get a little bit of sleep.
(Kai Wong 1:44am June 20, 2014)
Hi hello With Love,
my name is miss halima,
I am, very happy to contact you, to day
and i wish to be in good relationship with you,
and i will be very happy if you can reply me
through my private Email: [email protected]
Thanks from
Halima,
(Halima Mohammed 6:57am July 15, 2014)
Registered users may leave comments.
Log in or register now!