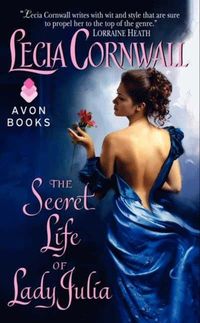 Purchase
The Secret Life of Lady Julia
Lecia Cornwall
When star-crossed lovers reunite under strange circumstances in Regency England, will they be brave enough to take a second chance at love? Find out in Lecia Cornwall's stunning follow up to HOW TO DECEIVE A DUKE.
Avon
June 2013
On Sale: May 28, 2013
Featuring: Lady Julia Leighton; Thomas Merritt
384 pages
ISBN: 0062202456
EAN: 9780062202451
Kindle: B009NFMTH0
Mass Market Paperback / e-Book
Add to Wish List

Lady Julia Leighton has been betrothed since her eighth birthday to an old family friend who feels more like a brother than the love of her life. At her long–awaited betrothal ball, she encounters a handsome stranger, and the heady mixture of champagne and experimental kisses leads to seduction born of a desire to feel something extraordinary in a man's arms before her marriage to the man her grandmother calls 'Dull Duke David".
Thomas Merritt is only at the ball to steal a magnificent tiara owned by Julia's mother. Disowned by his brother for his rakish behavior, Thomas makes his way in the world by seducing rich women and stealing their jewels. But when he catches sight of the beautiful young bride–to–be, and watches her fiancé completely ignore her, he sets out to charm her, to flirt a little. When he steals a kiss, the intensity of his own feelings surprise him. He thought himself beyond feeling anything for any woman, but when he realizes too late that Julia was a virgin, he finds himself tempted to see her again. But she is betrothed to a duke, and he is more likely to end up dead than welcomed into the family. He leaves for Paris the day the Napoleonic wars officially end, both to find richer pastures and to try and forget Julia.
But when their paths cross again, years later, they are both in very different circumstances. Julia, disgraced after the death of her fiance, has a secret she's desperate to keep from Thomas. Thomas has a very dangerous secret of his own and it turns out that Julia is the only person who can help him. But will the past threaten to overtake their rekindled love?
Comments
43 comments posted.
Re: The Secret Life of Lady Julia

I always wanted to be a nurse. I fulfilled that by becoming
"Doctor Mom", haha!
Your book sounds very interesting. Thanks for the chance to
win.
(Mary Hay 8:51am May 26, 2013)
Besides being an Author, I would love to be an archaeologist, because I have the patience for it, and I love to uncover things. I can spend hours on the beach, looking for shells and tiny rocks. I would also like to go into some field of medicine, since it's always fascinated me. Your book has peaked my interest, and I'm looking forward to reading it. The cover is stunning!!
(Peggy Roberson 8:55am May 26, 2013)
i wanted to do alot of different things i wanted to be a LPN
also i wanted to work in the music bussiness i did sing for a
while when i was younger for different things like the radio
and community activities, the book looks really good i cant
wait to read it
(Denise Smith 9:25am May 26, 2013)
I think I dream about being an author quite a bit. :) No time in real life to write though!
(May Pau 9:31am May 26, 2013)
A life filled with adventures, happiness and joy is important
to me and one that is productive and fulfilling.
(Sharon Berger 9:50am May 26, 2013)
I always wanted to be a politician---but since I'm shy that's not really an alternative for me.
(Sue Farrell 11:02am May 26, 2013)
I have a dream of being published some day. This is a secret I have kept from the family for years. That is until my kids found my writing materials and journals. Now, my youngest son proudly announces that his mommy knows what she wants to be when she grows up!
(Sandy Kenny 11:26am May 26, 2013)
I always wanted to be a worldwide traveler.
(Jean Benedict 11:47am May 26, 2013)
I've always wanted to be an actress. When I was younger I would pretend to act out
scenes of a story I create in my head. I would play all the characters myself and even
dressing up for the parts.
(Lazydrag0n Puff 11:50am May 26, 2013)
I tell my DH that I live in multiple dimensions and have amazing adventures in each - at the risk of sounding crazy, but I think I dive into my imagination, whether it is in Kings Landing, Rivendell - I indulge in the fantasy of leisurely travel, exploration.. of course in that world there is no calories in sweet food.
I have had a "secret life" of being an actress, a writer, working for MI6 - but in many ways I am - when my teen makes me want to laugh when I should be disciplining, when I tell my step grandkids stories, and when I feel like going to the post office is an adventure.
(Carla Carlson 12:41pm May 26, 2013)
I love this cover!
(Callie Stuck 12:56pm May 26, 2013)
I have adventures with long time friends.
(Beth Elder 1:00pm May 26, 2013)
I wanted to be a dancer... wish I had taken some lessons when I was younger... love the beauty of movement.
(Colleen Conklin 1:21pm May 26, 2013)
That I'm really a famous writer pretending to be a housewife.
That one's going to happen any minute, yeap just any minute.
(Theresa Norris 1:47pm May 26, 2013)
Oil paintings fascinate me. I would like to be able to paint beautiful outdoor scenes. Also, I would love to win this book.
(Anna Speed 2:16pm May 26, 2013)
What wonderful goals you all have—I say goals, not dreams, because anything is
possible! I could never have become a writer when my kids were small—my first
book was published at age 49, when my oldest was finishing his first year in
university. I'd love to paint too, but I'm just good enough at it to know I'm not
good enough. Same with interior design, and I'd love to sing—I'm planning on
joining a community choir this fall. Never, ever give up!
(Lecia Cornwall 3:04pm May 26, 2013)
My secret life is that I'm working for the government either in FBI or CIA and that I can learn a language very well. Twice I have been approached by the FBI and DEA when I was working for the police department. I basically turned it down because I can't learn European language easily and that I will be booted out since their training is just hard-cored. I have never been physically coordinated in my life and at most I'm mediocre. It would be nice if I could do at least one those two things.
(Kai Wong 3:37pm May 26, 2013)
My secret life is fulfilled every tine I read a book full of adventure and romance. My life is not dull but I would never dream of doing some of the things the heroines do.
(Kathleen Yohanna 6:02pm May 26, 2013)
My secret life is I have a skin condition called H.S. that no one knows about, other than my close friends and family.
(Aimee Robison 6:19pm May 26, 2013)
Yes, my secret is to get into real estate investing and
become super rich and always helping others along the way
and also to become a famous book author helping others
through my books and adventures too. Thank You for the
fantastic contest and I would love to read and win your
great book too. Thanks, Cecilia CECE
(Cecilia Dunbar Hernandez 6:36pm May 26, 2013)
I often wish I had become a Veterinarian or a Lawyer instead of a Secretary. I have dreamed of becoming a writer for many years now also.
(Cathy Phillips 7:07pm May 26, 2013)
Your book looks amazing and exactly the kind of book I love to read!
(Molly Wilsbacher 7:21pm May 26, 2013)
I agree with Molly - your book sounds wonderful!
One of my secrets is I've done it in a few odd places... :)
(MaryAnne Banks 7:46pm May 26, 2013)
I have always wanted to be a woman with a strong, out-spoken personalty. Like the roles played by Bea Authur or Vicke Lawerence in Mama's Family. Book sounds great.
(Sheila True 8:09pm May 26, 2013)
More wonderful goals! One small step toward the future can change the world!
(Lecia Cornwall 8:16pm May 26, 2013)
I live my secret life thru the books I read or the movies I
watch - Danny Kay was a favorite and this book looks like it
would be too.
(Diane Sallans 8:48pm May 26, 2013)
would love to win-my secert life is to live on a huge ranch!
(Jackie Morris 8:51pm May 26, 2013)
Always wonted to be a nurse. Book sounds interesting. Would love to win.
(Amy Milne 9:20pm May 26, 2013)
I wanted to be a professional dancer
(Pam Alderson 9:21pm May 26, 2013)
the book i'm reading, what ever it may be ;)
(d Kenney 9:52pm May 26, 2013)
I would have loved to have been a historian and travel the
world doing research.
(Michelle Whitwam 9:56pm May 26, 2013)
I always dreamed of being a space explorer!
(Janie McGaugh 11:29pm May 26, 2013)
My secret life would being able to go back a few centuries into the gothic ages and living a life there for a time.
(Darci Paice 2:14am May 27, 2013)
I've read the James Thurber story on which the film was based.
Secret life - I'd love to go back to being a kid and start from there, with the advantages of what I know now and some modern aids like computers.
(Clare O'Beara 7:29am May 27, 2013)
I love the cover...to be very truthful when I was a senior in high school I wanted to be a Mommy. no I did not have a child until 5 years later but that is what I wanted. A home of my own and children. I know have 6 children and 14 grandchildren and love every minute of it. I'm a heck of a baker too!!!
(Bonnie Capuano 10:28am May 27, 2013)
I always dreamed of being a surgeon and helping people feel better.
(Dwight Younger 3:38pm May 27, 2013)
I had two children, I wish I would have had more. Family means everything to me.
I love the cover of the book, it's stunning.
(Rita Wray 4:20pm May 27, 2013)
I have sky dived. When they say it's better than sex... they lie. As for my secret- when I do the fan fiction thing in my mind, I'm frequently the hero, not the heroine.
(Lynda Smith 6:17pm May 27, 2013)
Danny Kaye was a great Walter Mitty! I do have a secret
fantasy life...but if I told you, I'd have to kill you (only
kidding).
(Catherine Lee 7:44pm May 27, 2013)
I have lots of things i like to do. Find a hot guy on some island and just .....well you know.
(Lisa Fitzgibbons 7:52pm May 27, 2013)
I wish I could write a book but it's just not in me. I have always thought I would like to be an architect or a physical therapist. At the end of the day I like my life and I have want I really want right now.
(Jennifer Beyer 9:33pm May 27, 2013)
I have a similar problem...except from the opposite side of
the page. I get lost reading. My cat likes to bat at my book
to make sure I'm paying attention to him. He will knock it
out of my hand if he must. :-D
(Karin Anderson 9:44pm May 27, 2013)
Since I love to read, I wish I were an author of historical or paranormal romance.
(Bonnie H 10:53am May 29, 2013)
Registered users may leave comments.
Log in or register now!