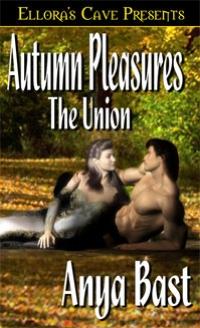 Purchase
Autumn Pleasures: The Union
Anya Bast
Book 4 in the Seasons series
Ellora's Cave
December 2005
Featuring: Lord Gregor of Nordan; Lady Anaisse of Sudhra
ISBN: 1843609126
Paperback
Add to Wish List

Romance Erotica Sensual | Romance Paranormal
Lord Gregor of Nordan has never wanted a woman like he does Lady Anaisse of Sudhra. After the defeat of her homeland in the Sudhraian-Nordanese war, he makes the "sacrifice" of doing something completely against his country's tradition—taking her to wife. However, convincing her to allow him within her body, let alone her heart, will be another war entirely. Anaisse agrees to the arrangement out of duty to her country, but Gregor frightens her deeply. He seduces her repressed sexual desires to wild and beautiful life, and makes every one of her fantasies come true. Never has she met a man she could so easily lose herself to, body and soul—and losing herself to a man is her greatest fear.
But another man lurks in the shadows with the sole purpose of destroying their union. He waits and watches with a mind grown twisted by the defeat of his people. His goal is to make Anaisse embrace death, instead of Gregor.
Comments
No comments posted.

Registered users may leave comments.
Log in or register now!