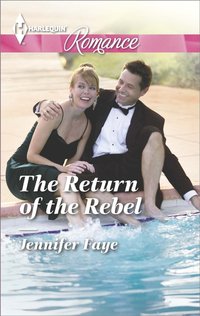 Purchase
Harlequin Romance
July 2014
On Sale: July 1, 2014
Featuring: Cleo; Jax
256 pages
ISBN: 0373742983
EAN: 9780373742981
Kindle: B00I66GEN2
Mass Market Paperback / e-Book
Add to Wish List

The guy from the wrong side of the tracks…
Being promoted should be a dream come true, only it means working closely with Cleo's childhood crush, Jax Monroe. Jax may no longer be the rebel she remembers, but he still gets her heart racing like no other.
Jax cares too much about Cleo to let her get too close—but keeping his distance is proving impossible! As Jax reveals the extent of what he's been through, will Cleo show him that some things are too precious to put off until tomorrow?
Comments
15 comments posted.
Hmmm, a key ingredient to be for a great beach read for me... Characters that draw me in... I want them to grab hold of my attention and have me turning page after page to see what will happen next!
(Colleen Conklin 6:13pm July 8, 2014)
It has to draw me in so that I can block out all the other
people on the beach or by the pool and lose myself in the
story. ;-)
(Glenda Martillotti 10:57pm July 8, 2014)
My perfect beach read would have to
be exciting and fast paced.I need to be
able to.forget about all my problems
and the world around me.
(Debby Creager 10:35am July 9, 2014)
Sounds like the perfect summer get-away item to have is a awesome book by Jennifer Faye's ...new book 'The Return of The Rebel'...makes those hot summer days more enjoyable.....
(Lnda McFarland 8:42pm July 9, 2014)
That is an easy one.. WATERPROOF.. if it can withstand water
then it is a good beach read.. LOL.. but I would have to say
your list is just as good.. If there is bantering back and
forth like you have shown then I would imagine it will be a
good read and that is what makes a GOOD BEACH READ..
thank you.
(Tina Ullrich 9:49pm July 9, 2014)
I think what make a good "beach" read is the same as what
makes a good "anywhere else" read. Where it's read shouldn't
make a difference. A good book makes you forget where you are
anyway.
(Jen Barnard 6:53am July 10, 2014)
I agree that a book can be an ANYWHERE read - but this book would certainly be great to read while down the shore!!!
(Felicia Ciaudelli 1:27pm July 10, 2014)
A beach read has to have some humor in it for me.
(Marcy Shuler 4:23pm July 10, 2014)
Hope I win one of your books.
(Judy Ferguson 6:20pm July 10, 2014)
Anything that holds my attention is a great beach read for me. I tend to switch genres a bit. I will get tired of one and try something else to : (a)lighten the mood (b)come down off a dark read or(c)get down and dirty because the books I have read lately have given my a sugar high. You get my drift. So anything that captures my attention and mood at that moment is the perfect beach get away for me.
(Debbie Kelly 6:44pm July 10, 2014)
I love historical romances so for me a romance novel with some great description of the history of the area that the story takes place.
(Felicia Plastini 8:28pm July 10, 2014)
A great beach read is a book about anything except work.
(Kai Wong 10:16pm July 10, 2014)
it's got to be light reading but interesting at the same time.
(Sandy Haber 10:18pm July 10, 2014)
A book I can look up from easily to watch my children, good-looking guys, the view, squabbling sea gulls, passing whales/dolphins/seals/hot lifeguards; long enough for several trips to the pond/beach/pool/kiddie pool in the backyard; intriguing female characters and situations I can't wait to get back to; sigh-inducing! and, def, sturdy enough to survive being accidentally dropped in case I have to get up quickly from my beach chair in the shallow water!
(Beth Fuller 4:37pm July 11, 2014)
A great author that makes you not stopping till you have finished book.
(Agatha Townsend 2:07am August 7, 2014)
Registered users may leave comments.
Log in or register now!