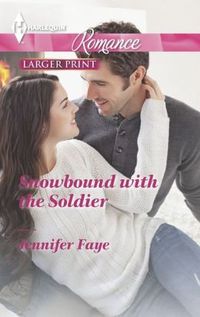 Purchase
Snowbound With The Soldier
Jennifer Faye
Harlequin
October 2013
On Sale: October 1, 2013
256 pages
ISBN: 0373742614
EAN: 9780373742615
Kindle: B00CFX3BB0
Paperback / e-Book
Add to Wish List

Maybe this Christmas…?
It has been seven long years since Kara Jameson last saw Jason Greene. Returning home as a wounded war hero, Jason looks a shell of the man she once knew. Yet her heart still skips a beat as if it was yesterday….
Stepping back into civilian life, Jason looks to Kara for help. But there's too much water under the bridge—not to mention too much lingering attraction.
But it seems that the mountain weather has other ideas, and when Kara and Jason end up snowbound together they are forced to confront the ghosts of Christmas past.
Comments
57 comments posted.
Re: Snowbound With The Soldier

The Doctor instructed me that he wanted me to get a couple of days of bed rest, so the other morning, I managed to sleep in a little longer than usual. When I had woke up, the coffee was already made by my Husband, and he had our 2 kittens fed, along with the other Morning chores I usually do. It meant a lot, because I was able to kick back with my cup of coffee and relax. He even offered to fix me some breakfast!! I'm very fortunate because besides my Husband, I have a few dear Friends who are always there in the wings, who are willing to help me at the drop of a hat. All I have to do is ask, but I'm the type of person who would never impose.
(Peggy Roberson 8:17am October 10, 2013)
Peggy, sounds like you have a great husband and some wonderful
friends. :-) Hope you are feeling better real soon. Take care.
(Jennifer Faye 9:03am October 10, 2013)
A stranger who was kind to my daughter when she lost her hat. :) It makes me feel good to know that there are people out there who help!
(May Pau 9:41am October 10, 2013)
May, it is great when strangers are willing to step up and do
someone a favor. Thanks for sharing. :-)
(Jennifer Faye 10:07am October 10, 2013)
My boyfriend was passing by Dunkin Donuts and brought me home my favorite muffin.
(Sandy Giden 11:16am October 10, 2013)
Sandy, it's always sweet when our significant other remembers
us and brings us a treat. I love when my hubby is passing by
Starbucks and brings me a tea. ;-)
(Jennifer Faye 11:21am October 10, 2013)
My husband, Rich, is always doing sweet things for me! He
usually starts cooking dinner, and sometimes even cooks the
whole meal! He indulges me when I feel like talking
incessantly about my other guy, my Godson, PJ. He will go
without something that he wants so I can have something that
I want, even if it's a book or a candle (2 of my favorite
things!)
(Maria Proctor 11:35am October 10, 2013)
Definitely just a person going out of their way to hold the door for me when I
had a bunch of laundry in my hand! It means a lot when people are so kind.
(Jackie R 11:37am October 10, 2013)
It's going to sound really silly, but whenever I see zucchini on sale, I crave my wife's homemade zucchini patties! I didn't understand how delicious they were until the first time she made them for me! Her family is Italian, & hers are the best! They're one of my favorite things that she cooks, so crispy on the outside & cheesy & soft on the inside.
(Richard Proctor 11:42am October 10, 2013)
I had just gotten a promotion and felt unsure about my
abilities to do the job. Was coming home late at night and
feeling "falling-down-tired". Decided I would forego
scrounging in the kitchen for food and head for bed. Hubby
had already gotten the kids fed and to sleep. He heard me
come in and met me in the bedroom with a plate of dinner and
a glass of wine.
(G. Bisbjerg 12:31pm October 10, 2013)
Maria, I love books and candles too. :-) Your hubby sounds
really thoughtful. So happy for you.
(Jennifer Faye 12:49pm October 10, 2013)
I live in a small town. When we lost our infant son to SIDS, it seemed like the whole town stopped by to leave a dish to feed the family so I wouldn't have to think about cooking. Their kindness meant so much to me. We hadn't lived here that long.
(Mary Platt 12:57pm October 10, 2013)
Jackie, I agree. There's just something so special about a
total stranger doing a favor that makes me want to pay if
forward. :-)
(Jennifer Faye 1:02pm October 10, 2013)
this sounds great thanks for the chance to win
(Patricia Lambert 1:43pm October 10, 2013)
My husband brings me something good to eat at least once a week.
(Ola Norman 2:01pm October 10, 2013)
received a book from a friend
(Denise Holcomb 2:43pm October 10, 2013)
Last year when I had surgery my parents listened to me and gave me a pretty kitchen grater instead of flowers. It looks good in my kitchen and lasts a lot longer than the flowers I received, cheerful though they were.
(Laura Gullickson 4:13pm October 10, 2013)
Hi Rich. I think I was just talking to your wife in a prior
comment. :-) Your wife's zucchini patties sound delicious. I
usually bread them, fry them up and serve with Ranch dressing.
(Jennifer Faye 4:42pm October 10, 2013)
G., that is an extremely thoughtful husband. :-) And congrats
on the promotion!
(Jennifer Faye 4:46pm October 10, 2013)
Mary, so sorry about your loss. I'm so glad that you had such
a caring community to lend you some comfort.
(Jennifer Faye 4:48pm October 10, 2013)
Patricia, thanks for stopping by. :-)
(Jennifer Faye 4:48pm October 10, 2013)
Ola, that sounds like an awesome husband. Definitely hang onto
him. ;-)
(Jennifer Faye 4:49pm October 10, 2013)
Hi Denise. It's always nice when a friend lends you a good
read. Happy reading! :-)
(Jennifer Faye 4:50pm October 10, 2013)
Laura, getting a gift that lasts is very thoughtful and is a
reminder that someone cares about you. ;-)
(Jennifer Faye 4:51pm October 10, 2013)
Just last week, author Anne Mateer featured me as her first Reader of the
Week blog guest. It was a thrill and an honor and I will never forget it.
(Melanie Backus 5:05pm October 10, 2013)
I had a pile of yard debris from clipping tree branches and bushes sitting near the end of my driveway. I really didn't have a way to haul it away, so I was just going to leave it til the city trucks did fall clean-up. My neighbor guy across the way volunteered to haul it away for me since he was taking a load in his trailer to the dump the next day. I was so surprised that he'd cleaned it all up and didn't even wait for me to help him load it. I've never had a neighbor I barely know do anything like that for me before.
(Linda Luinstra 5:21pm October 10, 2013)
Simple gesture... my little nephew offered to share his snack with me... so cute!
(Colleen Conklin 5:48pm October 10, 2013)
Melanie, that's really nice. I never heard of a Reader of the
Week. I will have to go investigate. :-)
(Jennifer Faye 8:02pm October 10, 2013)
Linda, that was so nice of him. Too bad we all don't have
neighbors that thoughtful. :-)
(Jennifer Faye 8:03pm October 10, 2013)
Colleen, that's so sweet of him. Sounds like he's going to be
quite the gentleman when he grows up. :-)
(Jennifer Faye 8:04pm October 10, 2013)
Hello!
I just wanted to say how much I have enjoyed reading all the comments from everyone.
(Nancy Wolfe 8:14pm October 10, 2013)
I think food plays a large part in our lives. It's probably why everyone ends
up socializing in the kitchen! Congratulations on Snowbound With the
Soldier, and thanks for the chance to win!!!
(Linda Brennan 8:21pm October 10, 2013)
Nancy, thanks so much for stopping by. All the comments have
made me smile. It's great to hear about the good things in
life. :-)
(Jennifer Faye 8:30pm October 10, 2013)
Linda, I know what you mean. No matter how big the house or
how small the kitchen that's where people migrate. And thank
you so much. :-)
(Jennifer Faye 8:32pm October 10, 2013)
Today is my mom's birthday. My sister and I took her out to
lunch. After we are done eating SHE gives my sister and I a
card. Inside she writes Happy Birthday to me! She gave each
of us money and told us to go buy something fun with it! Only
my wonderful mom!
(Sue Galuska 10:13pm October 10, 2013)
Wow, Congrats on your new book: SNOWBOUND WITH THE SOLDIER.
I love the book cover too! Your book sounds like a
fascinating read to cuddle up and read this winter. My
husband Jesus does kind things for me all the time now that
we are retired. I would love to win and read your book this
Fall. Thank You very much. Cecilia CECE
(Cecilia Dunbar Hernandez 11:45pm October 10, 2013)
Your new book sounds wonderful and will go on my "must read" list. My girlfriend took me to lunch today for Indian Food. We had a wonderful time. Sometimes just the company of people can be such a gift.
(Judi Estrin 12:03pm October 11, 2013)
Does my cat count? When I was recovering at home from a surgery, my cat stayed by me to make sure I was going to OK. I think she wanted to make sure that I'm alive and that I'm still able to feed her.
(Kai Wong 12:41pm October 11, 2013)
When I had to work late tonight, my husband had dinner ready for me when I got home.
(Amy Kincade 1:20am October 11, 2013)
Food is part of life, and taste, texture and aroma are part of writing a vividly real book. So it's no surprise you're adding food. My husband has put on dinner for us when I've been working late at writing - he could just ask me to come and do it but he goes and puts on pasta.
My big boy cat brought us home a mouse the other evening. That was a kind gift which showed us he loves us and wants us to think well of him! Since we weren't hungry, he ate it himself.
(Clare O'Beara 9:24am October 11, 2013)
I just love it when my teenage daughter periodically surprises me by
making us dinner. It's really nice to be the one to get treated to a night off
once in a while!
(Debbie Burdeen 9:27am October 11, 2013)
Sue, that is a super sweet story. Hmm...maybe I'll have to
borrow that loving gesture from your mother. ;-) Thanks so
much for sharing.
(Jennifer Faye 12:00pm October 11, 2013)
Celcilia, that's great that you have such a sweet husband. :-)
And thank you so much!!!
(Jennifer Faye 12:02pm October 11, 2013)
Judi, thank you!!! And you're right. Nothing beats spending
time with someone special to you.
(Jennifer Faye 12:03pm October 11, 2013)
Kai, your cat definitely counts. What a sweetie. :-)
(Jennifer Faye 12:23pm October 11, 2013)
Amy, a prepared meal is always a welcome sight in my house. ;-
)
(Jennifer Faye 12:24pm October 11, 2013)
Hi, Clare. That's great that your husband is so supportive of
your writing. And your kitty is doing his part too. ;-)
(Jennifer Faye 12:26pm October 11, 2013)
Debbie, that's wonderful that you daughter likes to cook. And
its really sweet of her to surprise you. :-)
(Jennifer Faye 12:27pm October 11, 2013)
I'm having trouble lifting heavy things with my right arm yet I can do just about everything else. I love to golf and people at the courses are always so helpful getting my golf clubs in and out of my car.
(Sue Farrell 4:13pm October 11, 2013)
I'm in a nursing home and my sister keeps me in touch with family and keeps me supplied with personal supplies. I can't thank her enough for this.
(Carol Woodruff 6:31pm October 11, 2013)
My neighbor brought my garbage bin in with hers. It was
raining & she said there was no point in us both getting wet.
Great neighbors are worth their weight in gold.
(Mary Preston 7:01am October 12, 2013)
I happen to be disabled and on a fixed income. recently i had forgotten my purse at the store. I was so worried about my credit cards and what money i had in it. A man had seen that i had left it and he ran out side to catch me to give it back to me. Usually when that happens you don't get it back but thank GOD he had GOOD in him.
(Felicia Sidoma 11:57pm October 13, 2013)
Sue, that's wonderful that there are still such generous
people around to lend a hand. :-)
(Jennifer Faye 8:53am October 15, 2013)
Carol, that's an awesome sister. So glad you have her. :-)
(Jennifer Faye 8:54am October 15, 2013)
Mary, great neighbors are awesome! So glad yours is so kind
and thoughtful. :-)
(Jennifer Faye 8:55am October 15, 2013)
Felicia, that is a truly amazing story. What a wonderful hero.
So glad it all worked out for you. :-)
(Jennifer Faye 8:56am October 15, 2013)
My friend gave me an extra pair of tickets to see "The
Delivery Man" on Tuesday as a sneak preview. That way my
girlfriend's 90 year old mom and her daughter could come. We
laughed a lot in the full theater and were glad we got there
early.
(Alyson Widen 6:10pm October 31, 2013)
Registered users may leave comments.
Log in or register now!