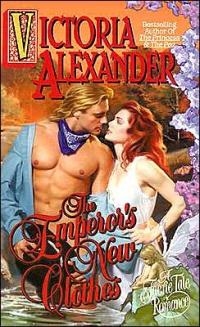 Purchase
Dorchester
September 2004
Featuring: Ophelia Kendrake; Tyler Matthews
360 pages
ISBN: 0505521598
Paperback (reprint)
Add to Wish List

Ophelia Kendrake had barely finished conning the coat off a cardsharp's back before she and her adopted sister stumbled into Dead End, Wyoming, and recived a welcome fit for a queen. Mistaken for the Countess of Bridgewater, Ophelia saw no reason to reveal herself until she had stripped the hamlet of its fortunes and escaped into the sunset. Raised from grifter to gentlewoman, the fiery- haired actress couldn't help but chuckle at teaching a lesson to a town so sold on appeareances. But the free- spirited beauty almost swallowed her script when she met Tyler, the town's virile mayor. When Tyler Matthews returned from an Ivy League college and his years abroad, he simply wanted to settle down and enjoy the simplicity of ranching. But his aunt and uncle were set on making a silk purse out of Dead End, and Tyler was going to be the new mayor. It was a job he took with little relish--until he caught a glimpse of the village's newest visitor. And as Tye got to know the "Countess" Ophelia, he grew to love her. But trusting her was a different matter, and Tye swore that before he was through, he'd uncover the deepest secrets--and teach her that it's what's underneath that counts in matteres of the heart.
Comments
No comments posted.

Registered users may leave comments.
Log in or register now!