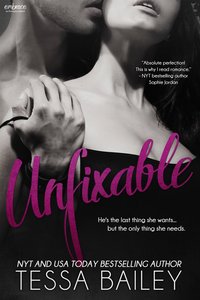 Purchase



He's the last thing she wants but the only thing she needs

Entangled Embrace
April 2014
On Sale: April 14, 2014
Featuring: Willa; Shane
197 pages
ISBN: 1622665457
EAN: 9781622665457
Kindle: B00JD223TW
e-Book
Add to Wish List


A new adult novel from Entangled's Embrace imprint...

He's the last thing she wants…but the only thing she needs.Willa Peet isn't interested in love. She's been there, done that, and has the shattered heart to prove it. Ready to shake the breakup, she heads to Dublin, Ireland. But there's a problem. A dark-haired, blue-eyed problem with a bad attitude that rivals her own. And he's not doling out friendly Irish welcomes.Shane Claymore just wants to race. The death of his father forced him off the Formula One circuit, but he's only staying in Dublin long enough to sell the Claymore Inn and get things in order for his mother and younger sister. He never expected the sarcastic American girl staying at the inn to make him question everything. But even as Willa and Shane's fiery natures draw them together, their pasts threaten to rip them apart. Can Shane give up racing to be with the woman he loves, or will Willa's quest to resurrect the tough-talking, no-shit-taking girl she used to be destroy any hope of a future together?
Comments
23 comments posted.
Re: Unfixable

I agree with you about a happy hero. It's harsh to stay that way through the
entire book. A hero with problems makes the story so much more
interesting!
(Debbie Rudder 12:37pm April 15, 2014)
i agree with Debbie i think a hero with problems do make the
book or story alot more interesting i know it does for me
(Denise Smith 12:53pm April 15, 2014)
I like a hero and/or heroine with a problem - that gets fixed as the story progresses. Sounds like a great book. Thanks for the chance to win.
(Nancy Reynolds 9:26am April 15, 2014)
Everyone has problems. That is real life and so it should be the same way in a story complex and interesting is how I like my books.
(Denise Austin 12:01pm April 15, 2014)
I like heroes with issues or problems to work through... watch how they deal with things to get to a HEA.
(Colleen Conklin 12:46pm April 15, 2014)
I look forward to reading your book. It certainly catches
your attention.
(Robyn Donnelly 1:32pm April 15, 2014)
I cannot wait to read your book
(Susan Atkins 5:37pm April 15, 2014)
I don't mind a broody hero if he gets over himself. If he is
to emo I want to just put him out of his misery.
(Donna Antonio 7:40pm April 15, 2014)
Broody but not emo. There's a fine line there.
(Abby Thorne 9:45pm April 15, 2014)
broody is good. sounds like a good read. thanks for the
giveaway.
(Barbara Studer 9:46pm April 15, 2014)
I like broody heroes. Everyone has problems and responsibilities. I wouldn't want a perfect hero. It would be so hard to measure up.
(Kai Wong 9:46pm April 15, 2014)
I like a problem, or a handicap something more than the usual beautiful
person
(Lilian Gamble 9:50pm April 15, 2014)
It would be boring if everything went smoothly!
(Donna Jones 11:22pm April 15, 2014)
There are good things and bad things about both.. Maybe there
is a combination of both in Hero's in all books. Mostly
Broody but still Happy about some things. He takes his
responsibilities seriously and wants to have a Happy ending
but not sure how to get it which makes him Broody.
(Tina Ullrich 11:28pm April 15, 2014)
Yes, you want your hero to have to climb up out of whatever is
troubling him.
(Mary Preston 5:58am April 16, 2014)
I fell in love with Tony, the male hero, in The Opposite of Maybe and actually reread the book because of him. He is funny and warm and loving. Finished the book last week and I am still remembering him. Best hero in many, many, many reads.
(Patricia (Pat) Pascale 7:22am April 16, 2014)
I happy hero is a contented hero. He doesn't nee to work to get the woman!
(Betty Hamilton 11:12am April 16, 2014)
This! This. So much this!
(Rhianna Walker 3:15pm April 16, 2014)
Oh, I like broody heroes and heroines who will not put up with it. Makes for some deliciously intense moments!
(Debbie Kelly 6:56pm April 16, 2014)
Give me broody any day!!
(Martha Lawson 8:57pm April 16, 2014)
I love broody heros! Just finished Unfixable and I must say ***sigh*** broody Shane is so hot!! I love how he and Willa have to work at getting to their HEA. Loved the book....
(Sm Craig 10:27am April 17, 2014)
I definitely like my brooding heroes, but there seems to be a
trend in New Adult books with them being really damaged. Not
my cup of tea. I like some life experience, but not sad,
weepy bits in my books.
(Anne Muller 12:08pm April 18, 2014)
I like a broody hero, with a little bit of a dark or tarnished side too. No Prince Charmings please - boring!
(Mickey McCall 2:05pm April 21, 2014)
Registered users may leave comments.
Log in or register now!