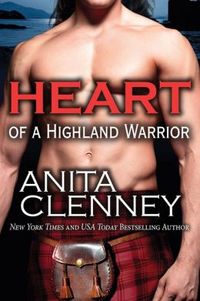 Purchase
Montlake Romance
June 2014
On Sale: June 1, 2014
Featuring: Anna MacKinley; Tavis Connor
358 pages
ISBN: 1477818278
EAN: 9781477818276
Kindle: B00FPTJX86
Paperback / e-Book
Add to Wish List

A bloodthirsty evil stalks the Connor Clan…
Brave, beautiful, and haunted by her past, demon hunter Anna MacKinley will do anything to help the Connor Clan. Under divine orders, the headstrong warrior travels the world, slaying demons and vampires. When she stumbles upon a hidden stone fortress while searching for her clan's lost Book of Battles, dark forces swiftly imprison her—and she discovers her cell mate is a gorgeous Scottish warrior who has no memories, but looks strikingly familiar.
And only a secret from the past can win the day…and her heart.
The warriors of the centuries-old Connor Clan are searching for their missing time-vault and the powerful relic within. What they find is a grave…and a kilt-clad body they fear is the long-lost Tavis Connor. But there may be more to the Highland warrior's fate than a pile of bones. Desperate to save his brother and his clan's Book of Battles from a demon hell bent on destruction, Tavis begins a 150 year quest that will end in modern-day New York. But when he wakes, he discovers he's the one in need of help. His only hope of rescue is a bonny lass who claims to be a warrior. A warrior waging war on demons…and his heart.
Comments
22 comments posted.
I would love to learn more about Tavis
(Colleen MacDonald 10:11am June 11, 2014)
It sounds like you have a good variety to satisfy anyone's
taste, and I'm definately looking forward to reading one of
your books!! The cover being shown is quite interesting,
too!! Congratulations on your latest book!!
(Peggy Roberson 11:19am June 11, 2014)
Heart of a Highland Warrior was worth the wait. Now I am patiently waiting for thr next one in the series! I am not a writer, but I do agree you have to come up for air. You are right life does not stand still while waiting for us. It would be nice sometimes if it did.
(Angela Covarrubias 11:30am June 11, 2014)
This is a great series. Can't wait to read Heart of a Highland
Warrior!
(Irene Menge 11:37am June 11, 2014)
Oh this one sounds great... congrats on this latest release!
(Colleen Conklin 12:43pm June 11, 2014)
I love my Highlanders! I can't wait to read this one! It's
already on my kindle!
(Linda Townsend 2:49pm June 11, 2014)
Why not all? Pout..Pout...Pout.. don't like to choose.. but I
would take a Highlander over anything else.
(Tina Ullrich 7:48pm June 11, 2014)
I'd love to read Tavis's story.
(Janie McGaugh 9:25pm June 11, 2014)
Highlanders with immortality... oh my. Tavis' story sounds interesting but any of the Connors clan will do.
(Kai Wong 1:07am June 12, 2014)
Wow this is a series. Sounds like some great reading and thanks so much for
the chance to win. These stories sound like they would be hard to put down.
Rita Spratlen
(Rita Spratlen 1:28am June 12, 2014)
Thanks everyone! I'm so lucky that I have two series that I
love writing. My highland warriors were first, but I love my
relic seekers too. In fact, I think the warriors and the
relic seekers would get along! Some suggested a Christmas
story where I have them meet!
(Anita Clenney 4:53am June 12, 2014)
If you want to be included in the HOT HERO contest, click on
that link and leave a comment!
(Anita Clenney 4:54am June 12, 2014)
Thank you, Anita. I know what you mean by a writer's cave. And
a reader's cave! Good luck with the release of "Heart of a
Highland Warrior".
(Mary Anne Landers 5:37am June 12, 2014)
I love any book with a highlander!!!!
(Bonnie Capuano 8:29am June 12, 2014)
It's good to know that an author has a personal life like any
others that needs to be taken care of/ lived every day to its
maximum =).
(Sally Hayes 8:31am June 12, 2014)
I'm addicted to all Scottish stories with a sexy Highlander!
(Nicole Laverdure 10:04am June 12, 2014)
i cant wait to read this
(Denise Smith 12:11pm June 12, 2014)
I love retreating into my cave to take care of things...unfortunately, I don't have a magic assistant to take care of the things I ignore while I am in the cave, lol. Thanks for the giveaway!
(E Felder 12:24pm June 12, 2014)
Love Scottish stories lived there for two years!
(Denise Austin 5:15pm June 12, 2014)
I love highlander books! thanks for the post!
(MaryAnne Banks 11:10pm June 12, 2014)
What a Good point about needing balance.
(Laura Gullickson 11:59pm June 12, 2014)
Love hot alpha males and strong heroines! I have added the Highlander Warrior series to my TBR list. Thanks for sharing.
(Bonnie H 10:43pm June 17, 2014)
Registered users may leave comments.
Log in or register now!