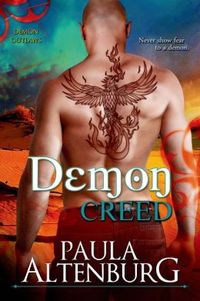 Purchase
Demon Outlaws #3
Entangled Select
June 2014
On Sale: May 27, 2014
Featuring: Creed; Nieve
350 pages
ISBN: 1622662504
EAN: 9781622662500
Kindle: B00FO79GGS
Paperback / e-Book
Add to Wish List

Fantasy Urban | Romance Paranormal
As a highly skilled assassin, Creed is used to being called upon by the Godseekers for help. But in a world just recently rid of demons, the task to now track down half-demons isn't as easy as it seems. Not only is Creed himself a secret half-demon now going against his own kin, but when he discovers numerous innocent children are being kidnapped in the mountains, he second guesses his mission. Justice should be for all, not just for demon spawn.
Living in a world of cruel men, Nieve has no memory of her life before her enslavement. But when Creed comes around asking questions about missing children, the memories of her half-demon son - and the demon who tricked her - come flooding back. Now, Nieve will do anything to get her son back...even if it means putting her trust in Creed.
Together they set out to find the Demon Slayer who can help them. Little do they know the demon who fathered Nieve's son is also searching for Nieve, and he's teamed up with the kidnapper to draw her out. Creed and Nieve must race against the clock to save the children, their hearts, and the world.
Demon Outlaws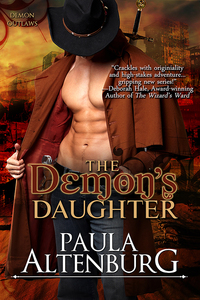 The Demon's Daughter
#1.0
Amazon.com | BN.com | | |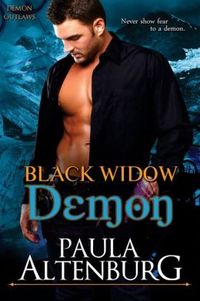 Black Widow Demon
#2.0
Amazon.com | BN.com | | |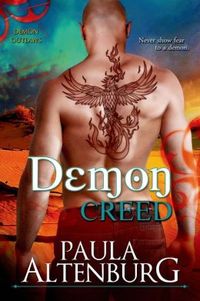 Demon Creed
#3.0
Amazon.com | BN.com | | |
Comments
15 comments posted.
Re: Demon Creed

When I read a book I want to feel like I'm living it too. Maybe not in actual battle HA but feeling the emotions. I love your cover too!
(Bonnie Capuano 9:15am June 6, 2014)
Wow, what an awesome story - and I so love these other worlds we get to visit in books - thank you for sharing all of these great experiences with us!!!
(Felicia Ciaudelli 9:20am June 6, 2014)
Friends recommending a book or a trusted book review makes me pick up a book. After reading a book, I like to have something to think about.
(Pam Howell 10:25am June 6, 2014)
When I finish reading a book, I want to feel better after
reading it, and I want to feel that I'm also a better person
because I read the book. I choose the book because there is
something in either the character or story line that wants
to take me to that particular place in the book, so that I
can escape whatever might be going on in my life at the
time. It's my form of escape, and I love to put myself in
the place of the Heroine, and live my life through her eyes.
If the plot is interesting enough, and is the right type of
plot for me at the time for me to sink my teeth into, the
Author has done their job.
(Peggy Roberson 10:54am June 6, 2014)
Cover can attract me
sometimes I hear about book on blog
every book is an adventure for my mind
that cover is lickable
PICK ME!!!!
(Pamela Faye Howell 10:51pm June 6, 2014)
awesome cover
(Stephanie Allen 12:31pm June 7, 2014)
i love the cover
(Denise Smith 12:06pm June 7, 2014)
The cover may draw my attention ,but it is the blurb that usually helps me decide on a book. I love books that make me feel... ones that make me smile at the HEA.
(Colleen Conklin 12:36pm June 7, 2014)
I would like to be entertained and also walk away feeling like I didn't waste my time. I want to be involved in the characters that I think about them when it's over.
(Sally Hannoush 3:54pm June 7, 2014)
the cover then i read the back and your cover is HOT!!! sounds like a great book
(Jennifer Beck 4:31pm June 7, 2014)
I want a book that makes me feel good at the end of it. I
don't choose sad tales, I don't want to go through the
trauma of rape or incest. I want adventure, fantasy, love
that triumphs in the end. Yes, I want my happily ever
after. And a well developed bare chested male on the cover
is definitely going to get my attention!
(Marcia Berbeza 8:04pm June 7, 2014)
I want to be taken away from where I am now. That's the short answer.
(Laura Gullickson 11:51pm June 7, 2014)
I want the satisfaction of an enjoyable story with a HEA.
(Janie McGaugh 12:30pm June 8, 2014)
I want to have a story with lovable characters and a story that I will reread very so often.
(Kai Wong 1:59am June 8, 2014)
When I read I want to be swept away by the story, to live it along with the characters, to feel everything thing they do whether it be joy, sorrow, anger or ecstasy. After I finish the story I want to know that it lives inside of me by insinuating itself into my thoughts days or weeks or months afterward encouraging me to relive it in my memories or by re-reading it.
(Debbie Kelly 9:31am June 8, 2014)
Registered users may leave comments.
Log in or register now!