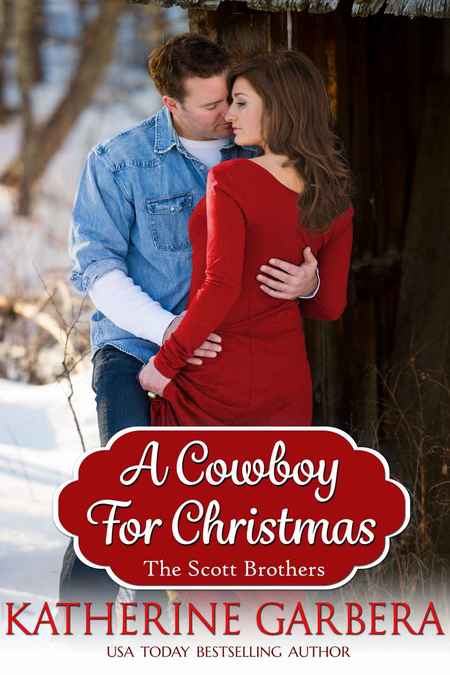 Purchase
Scott Brothers of Montana #1
Tule Publishing
November 2013
On Sale: November 5, 2013
Featuring: Carson Scott; Annie Prudhomme
104 pages
ISBN: 1940296064
EAN: 2940151626910
Kindle: B00GEHN4I8
e-Book
Add to Wish List

Romance Contemporary | Holiday
Annie Prudhomme never expected to be back in Marietta, MT and her family is fond of reminding her that she left them and the town behind in search of better things. A humiliating divorce that cost her everything she'd gained has driven her back home and her family isn't about to welcome her back into the fold. She's in town to rebuild the old home that she inherited and to move on once again.
Carson Scott never forgot Annie or the way she left. Now that she's back in town he's realizing that the old flame still burns hot but he can't risk his heart the way he did last time now that he has his son to think about it. Being trapped together during a December snowstorm gives them a chance to rekindle their romance but is Annie back for good or is she just looking for a cowboy for Christmas?
Scott Brothers of Montana

Cowboy, It's Cold Outside
#4.0
Kindle | BN.com | | Kobo |
Comments
34 comments posted.
Some Holiday traditions for my family... we always make M&M cookies together for the Holidays, decorate the tree together, and have my grandmother's pumpkin pie.
(Colleen Conklin 11:50am November 4, 2013)
When the kids were younger we all got together and made sugar
cookies and decorated them. My goodness the mess but the
memories were worth it.
(Donna Antonio 1:08pm November 4, 2013)
We always have Swedish sausage on Christmas eve.
(Sue Farrell 1:30pm November 4, 2013)
Oh my gosh, I saw your grandmother's recipe for Struffoli and I am HOOKED - thank you so much for sharing this - Struffoli is my all-time favorite treat - I first remember having some one Christmas when I was about four or so - I don't know if my grandmother made it herself or got it from a trip to a South Philly bakery - either way.....YUMMMMMMMMMM

I remember the big family dinners when I was younger - good times - and at Christmas, instead of leaving cookies and milk for Santa, I would put a stack of Christmas records on as mood music for him. My grandfather had a huge collection of classical music and opera records, which I loved.
(Felicia Ciaudelli 1:31pm November 4, 2013)
I grew up in a house full of kids (nine of us!). In order to keep some order Christmas morning, the older kids opened their presents Christmas Eve, so that they could help with the younger kids in the morning. I knew I had finally grown up when I was allowed to open my gifts Christmas Eve.
(Betty Hamilton 1:51pm November 4, 2013)
we have a big party Christmas Eve
(Patricia Lambert 1:59pm November 4, 2013)
Christmas pageant the kids in Sunday school to put on the rest of the church; my class makes the paper cranes we use during the play and offer as gifts afterwards, plus play the Three Wise People; my husband's church has a concert and another pageant...We have silly small gifts in our stockings - as my kids have gotten older they contribute as well - we don't open under-the-tree gifts until after a family dinner (at a Chinese restaurant!) with the picky relatives....
(Beth Fuller 2:21pm November 4, 2013)
We all gather at my daughter's house on the weekend before Christmas, everyone brings a dish.
(Wilma Frana 3:09pm November 4, 2013)
We have the kids open one present an hour until a certain time to give
them a chance to see what they got. At around 5 or so we let them open
the rest. I also do code names. Scooby doo cast, elf names, reindeer
names, etc.
(Michelle Schafer 3:21pm November 4, 2013)
I was lucky enough to get my grandmothers cookbook and she had recipes clipped from newspapers and magazines stuffed inside it was almost like going back in time when I leafed through the book.

Would love to win a copy of your book, I'm a country girl.
(Carole Abel 4:19pm November 4, 2013)
We have cookbooks from my Mom and my hubby's Mom. Plus their personal recipes. It's gives a great feeling of connection every time I use them.
(Joyce Mandle 6:21pm November 4, 2013)
I always make special Christmas cookies from recipes handed down through the family. I've begun making them with my grandchildren and when they are old enough I will give them the recipes so they can do the same.
(Janet Gould 6:39pm November 4, 2013)
I am very traditional . We always open our stockings first. Then have breakfast,
Then open the presents. Always Christmas morning.
(Tammy Yenalavitch 6:51pm November 4, 2013)
We are all very traditional, we open our stockings on Christmas eve then get up on Christmas day and open the presents.
Your book sounds very good I can't wait to read it!
Penney
(Penney Wilfort 8:28pm November 4, 2013)
Wow, Congrats on your new book: A COWBOY FOR CHRISTMAS. Your
new book sounds fantastic and I would love to win it and
read it this Christmas. Yes, we had great Christmas
traditions when I was growing up on the farm in Kansas. Our
family had great meals and presents together and always had
a White Christmas with lots of snow to play in. We would
make great cookies with Grandma too! Those were great
memories back then and thanks for the great cookie recipe
too. I love the book cover too! Thank You very much. Cecilia
CECE
(Cecilia Dunbar Hernandez 9:34pm November 4, 2013)
Christmas Eve is always at my house. Family and friends all drop over to share memories. Everyone is welcome.
(Sharon Extine 11:54pm November 4, 2013)
We always opened one gift on Christmas Eve. Would love to win your book. Thanks for a chance.
(Linda Hall 1:07am November 5, 2013)
We go to Mom's family for Christmas Day. We are close enough that we celebrate with Dad's family on Christmas Eve. After my grandma died Mom & my aunt made a book of Grandma's best recipes it was a combination of scrap booking & memories.
(Laura Gullickson 1:17am November 5, 2013)
My cousins and uncle always has spent Thanksgiving, Christmas and New Year with my parents. We are always loud. Some of us would be watching the Macy's Parade and football. We always run down to the store to buy last minute ingredients that we forgot or decided to cook something else.
(Kai Wong 1:31am November 5, 2013)
Thank you everyone for sharing your traditions and your Christmas memories.
My mom and I had spent years trying to recreate my grandma's struffoli and then
I stumbled on the recipe in one of her cookbooks. We were so happy to find it.

Katherine :)
(Katherine Garbera 1:41am November 5, 2013)
Christmas Eve we get to open one gift each.
(Mary Preston 7:00am November 5, 2013)
I love a Homemade Christmas, and mine is filled with memories. My tree consists of ornaments that I've made over 30 years ago. There are a couple of ornaments that I made with my Mother, who passed away 11 years ago, and I make sure those are always on my tree in her honor. I also keep my Mother's memory alive by baking the cookies that she was known for. I'm the only one in our immediate family that bakes any of my Mother's recipes, especially since she's passed away. The cookies are time-consuming, but I love to bake anyway. I make as many dishes as possible during this time, as well as during the year, to keep her memory alive. It seems like we only lost her yesterday, and Christmas is so special to me. It's my favorite Holiday to pull out all the stops!!
(Peggy Roberson 10:26am November 5, 2013)
We open our gifts early on Christmas morning....with 5 grandchildren we have no choice HA Can't wait to read this book!!!!
(Bonnie Capuano 10:40am November 5, 2013)
Being in our thirties, my three sisters and I still go over to my parents early on Christmas morning in our pajamas to open presents just like when we were kids!
(Kellie Barnett 11:37am November 5, 2013)
We have a few traditions for our family Christmas. One is to go to the movies on Christmas Eve. When we come home from the movies, we all open just one present. Mom and dad have veto power over what can be opened. On Christmas morning some presents are unwrapped. Santa brought those. He doesn't have time to wrap all of the presents he gives out. Another one is to go to Waffle House on Christmas morning. My husband always tips really well, because we all feel bad for anyone who has to work that day.
(Sandy Fielder 11:39am November 5, 2013)
There so many holiday traditions in my family. The best was Secret Santa. On Thanksgiving after dinner we'd all throw our names in a bowl and then pick one. Well, the laughing and giggling started with the first "I got myself" and the drawing could go on for hours! Then each person would buy their Secret Santa a gift for Christmas Eve. The gift always had a theme...funniest, handmade, etc.
(Vennie Martinisi 12:00pm November 5, 2013)
We always have the whole family over Christmas eve, we open gifts youngest to oldest.
(Margaret Branca 12:58pm November 5, 2013)
My older cousin always dressed as Santa on Christmas Eve delivering our gifts.
(Barbara Wells 6:10pm November 5, 2013)
We celebrate both Hanukkah and Christmas. We light the menorah, decorate the tree, and also open presents on both holidays. What joy!
(Susan Coster 7:05pm November 5, 2013)
A white Christmas in the country is always more fun because sometimes if it's not too cold we hook a wagon to the horses and go for a little drive.
(Carole Abel 7:10pm November 5, 2013)
I remember going to my Grandma and Grandpa's farm and taking care of the garden and picking pears for her. I would love to red your book.
(Crystal Young 7:38pm November 5, 2013)
My Son and his kids usually come over on Christmas Eve and I
fix dinner. Every year we pick a different menu. Then on
Christmas Day we get together with my Mom and my Sister and
her family for a meal and fun family time.
(Sandie White 11:01pm November 5, 2013)
every year we usually go to my inlaws and we have dinner on
christmas eve then christmas day we go over after opening
presents at our house we go to each one of our family
members home so the kids can get their presents that their
grandparents have bought for them them teh kids my husband
and i go home and i cook dinner at our house on christmas
day
(Denise Smith 11:12pm November 5, 2013)
Singing carols around the piano and getting a tangerine in the
bottom of the stocking are traditions for my family.
(Alyson Widen 1:09pm November 9, 2013)
Registered users may leave comments.
Log in or register now!