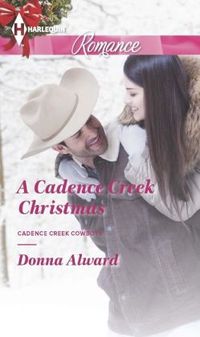 Purchase
A Cadence Creek Christmas
Donna Alward
Cadence Creek Cowboys
Harlequin Romance
November 2013
On Sale: November 1, 2013
Featuring: Taylor Shephard; Rhys Bullock
256 pages
ISBN: 0373742665
EAN: 9781460321386
Kindle: B00D4MVIOI
Paperback / e-Book
Add to Wish List

It's Christmas in Donna Alward's Cadence Creek…
Taylor Shepard has come to Cadence Creek to organize her brother's Christmas wedding. Organizing such a special event might be a little bit stressful—but she can't deny she's swept away by the town's holiday charm…and by brooding rancher Rhys Bullock.
Loner Rhys has been burned far too many times in the past. He's sure he has city girl Taylor all figured out—she'll be hightailing it straight back to the city in a few days! But as the snow starts to fall, Rhys and Taylor embark on a tentative winter romance. Could Taylor be the Christmas present Rhys never even knew he wanted?`
Comments
34 comments posted.
I love it when stories seem real and the characters like old
friends.
(Dianne McVetty 2:28am November 7, 2013)
I love all things Christmas and this looks like a great book I'd love to read!
(Bonnie Capuano 3:57am November 7, 2013)
It sounds like you had so much fun writing this book. Did writing it ever
seem like work?
(Chris Coulson 5:29am November 7, 2013)
i love christmas stories with romance this sounds really good
(Denise Smith 8:09am November 7, 2013)
Chris - oh yes. There are always times in books that it seems like work. The difference is that I LOVE my job, so even when it's harder work, it's good. :) Books rarely trip off the fingers like magic. But there's a lot of satisfaction when you get to the end. And it helped to have such great inspiration along the way!
(Donna Alward 8:17am November 7, 2013)
Your book sounds wonderful. Thanks for a chance to win. What a combo - romance and Christmas. How great is that?! Best of luck with the book - and all you do.
(Nancy Reynolds 8:52am November 7, 2013)
Christmas stories are the best. I love that you picture your characters in
your head and then start writing. I am amazed by writers and their talents. I
would love to be a winner of this wonderful story. Thank you for the
opportunity.
(Melanie Backus 9:13am November 7, 2013)
I enjoyed this book and the contrasts shown. I did think the character was getting carried away with little touches of décor when a wedding is meant to be about celebrating love! But we could see why she was such a perfectionist.
(Clare O'Beara 9:38am November 7, 2013)
I enjoyed your Pinterest inspiration and am sure this book will be a great read.
(Pamela Jaenke 9:56am November 7, 2013)
I love Christmas romances! They really are the very best of the entire year!
(Vennie Martinisi 10:18am November 7, 2013)
When you put the two best elements together - Weddings and Christmas, you have a book that's sure to warm your heart when you read it!! One topic standing alone never fails to disappoint, so I'm waiting now with baited breath to get my hands on this book, so I can immediately sit down and start reading immediately!! This book goes to the top of my TBR list, because with the cold spell we're under now, all I need is this book to start my Christmas spirit!! I'm ready to slowly start my decorating for the Holidays!! This book sounds like it's going to be the best Christmas read yet, and after you did all of that research, it's going to be the best Wedding book, too!! Congratulations!!
(Peggy Roberson 10:21am November 7, 2013)
Sounds like a book that my wife would love! She's really into Christmas stories!
(Richard Proctor 10:44am November 7, 2013)
Christmas & cowboys, what a great combination! Congrats!
(Maria Proctor 10:55am November 7, 2013)
I am so addicted to Pinterst and could totally see how it would work in crafting the wedding in the story.
(Pam Howell 11:13am November 7, 2013)
This sounds really good. I love Christmas books.
(Gail Hurt 11:38am November 7, 2013)
I enjoy when an author's words bring a character to life... that through their words I get an image of everything... love Christmas stories!
(Colleen Conklin 11:52am November 7, 2013)
Wow, thank you everyone!:) I was out to a Remembrance Day assembly this morning and came back to all these lovely comments! :)
(Donna Alward 12:33pm November 7, 2013)
I like Christmas romance stories.
(Tina Lechuga 1:00pm November 7, 2013)
I get caught up in Pinterest too. Lol Can't seem to help myself. Planning a
wedding and having Pinterest? Beyond distracting! Surprised you managed
to hit your deadline! I wouldn't have!
(Michelle Schafer 2:57pm November 7, 2013)
Christmas, a wedding and a brooding rancher make a winning combination.
(Anna Speed 5:21pm November 7, 2013)
My husband and I got married before Pinterest existed, but I know what you mean about getting carried away. Christmas is my favorite time of year. We got engaged on Christmas Eve, and got married two weeks after the following Christmas. So many beautiful things to think about! Congratulations on A Cadence Creek Christmas - it sounds wonderful! Thanks for the chance to win!!!
(Linda Brennan 7:20pm November 7, 2013)
Wow, Congrats on your new book: A CADENCE CREEK CHRISTMAS. I
love the pretty book cover too! I know that I would love
your new book because I grew up on a large farm in Kansas
and we had lots of snow and yes romance and Christmas would
be wonderful too. I would love to win and read your new book
this winter and it would make a great Christmas gift too.
Thank You very much. Cecilia CECE
(Cecilia Dunbar Hernandez 7:47pm November 7, 2013)
Would love to read this, as I just read A COWBOY TO COME HOME TO (from earlier in the series, of course). Since I fell in love with Coop from that story, does that mean I'll fall in love with Rhys too? Sure hope so!
(Elaine Seymour 10:29pm November 7, 2013)
It's good to have familiar characters in a book. It makes getting to know the new characters so much easier. I haven't joined pinterest yet since I know I'll get sucked in to spending way to much time on it, too.
(Laura Gullickson 11:36pm November 7, 2013)
Book sounds great! Absolutely love Christmas stories!!
(Cindy Hamilton 3:44pm November 8, 2013)
That's it! Those fabulous green shoes and the four tiered wedding cake have set me off--not to mention a SNOWY CHRISTMAS wedding setting away from cities!!!!! I am COMPLETELY inspired to read this holiday story! So the response is INSPIRED, of course!
(Carla Schuller 7:24pm November 8, 2013)
I love Christmas stories, I can't wait to read it.
(Rita Wray 11:22am November 9, 2013)
The holidays and wedding make a perfect backdrop for a story.
Now that cold weather is hovering, I want to curl up with a
good book, like this one, and warm up for the season.
(Alyson Widen 12:14pm November 9, 2013)
I love Christmas stories and romance.
(Kai Wong 5:06pm November 9, 2013)
Christmas is just such a perfect time for romance and weddings.
(Sue Farrell 6:21pm November 9, 2013)
I love the Cadence Creek stories. I haven't gotten on Pinterest for the same reason you tried to stay away. I'd find myself spending way too much time there...for no good reason. LOL
(Marcy Shuler 9:51pm November 9, 2013)
I love Christmas stories and this sounds like a good one. I'm looking forward to reading this book.
(Carol Woodruff 6:14pm November 10, 2013)
I get into the holiday spirit when I read Christmas stories.
(Mary Preston 8:30pm November 10, 2013)
love Christmas stories
(Patricia Lambert 3:15pm November 11, 2013)
Registered users may leave comments.
Log in or register now!