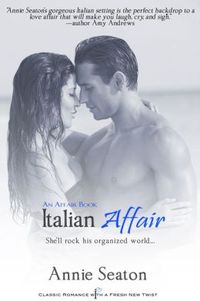 Purchase
Plying for keeps...
Affairs #2
Entangled
June 2013
On Sale: June 10, 2013
Featuring: Brianna Ballantyne; Tomas Richards
142 pages
ISBN: 1622661370
EAN: 9781622661374
Kindle: B00CNTTEAI
e-Book
Add to Wish List

Free-spirited sex therapist Brianna Ballantine has four days to find a fiancé so she can inherit her birth mother's Italian villa. Commitment is not on the agenda. Writing her sex therapy book and signing legal papers are. And once all is said and done, she'll return home to Scotland.
For finance guru Tomas Richards, relationships have been a bad investment—give him stocks and shares any day. When Tomas offers a marriage of convenience to help Brianna secure her inheritance, the sizzle between the sheets promises an affair to remember, despite family complications at every turn.
But Tom must convince Brianna to stay, and make this Italian affair a lifelong commitment.
Affairs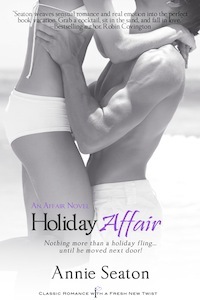 Holiday Affair
#1.0
Kindle | BN.com | | |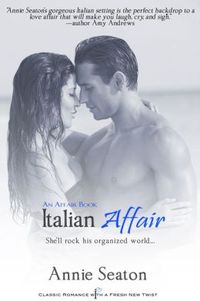 Italian Affair
#2.0
Kindle | BN.com | | |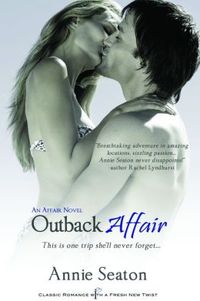 Outback Affair
#3.0
Kindle | BN.com | | |
Comments
29 comments posted.
Re: Italian Affair

This sounds like a great book!! When I read I picture the characters as people I know and that way I live the story!
(Teresa Miller 10:31pm August 7, 2013)
who doesn't dream of owning her own Italian villa?
(Lynn Anderson 3:46am August 10, 2013)
I thought that it was silly of me to think of the characters in a book as real. For days after I finished "Gone Girl" I wondered how the characters were doing. I had to keep reminding myself that they were just fictional characters and couldn't possibly be doing anything.
(Kathleen Yohanna 3:53am August 10, 2013)
This sounds like a book that I would really enjoy!
(Betty Hamilton 3:55am August 10, 2013)
I agree that some characters are very real and stay with you afterwards - Connie Willis wrote Doomsday Book about a future student who time-travels back to research the Black Death. That was a great read.
(Clare O'Beara 6:25am August 10, 2013)
I have been known to laugh, cry, and sigh out loud while
reading. My husband always knows how into a book I am by my
reactions. But who hasn't wanted to "Gibbs slap" a character
when they royally mess up?
(Donna Antonio 6:25am August 10, 2013)
Annie, I have loved Anne of Green Gables since I was a child. I have the doll and a copy of the book in my great room and it makes me happy to see it. I miss characters, too, after reading about them. I love the high of a great plot and find myself eager for triologys so I can remain in contact with characters that are warm and loving. Italian Villa sounds like a good read.
(Patricia (Pat) Pascale 6:59am August 10, 2013)
As a child I read all of Enid Blyton's books over & over. I
wanted to be part of the worlds.
(Mary Preston 7:59am August 10, 2013)
I really get into good books and I love it.
(Mary Hay 9:01am August 10, 2013)
I have characters from books I still think about! Amazing when that
happens!
(Vicki Hancock 9:09am August 10, 2013)
My favorite stories are the ones I don't want to end.
(Maureen Emmons 9:20am August 10, 2013)
I always slow down my reading at the end of a book because I don't want
the great book to end!
(Melanie Backus 10:00am August 10, 2013)
No I can't think of any at this time.
(Charlotte Wills 10:08am August 10, 2013)
The main characters in The Notebook have stayed with me the longest because of my age. Injoyed reading your blog.
(Sheila True 11:04am August 10, 2013)
I read a lot, some of the characters stay with me for a while.
(Wilma Frana 11:16am August 10, 2013)
I love when a book evokes emotion, whether laughter or tears!
(Britney Adams 11:20am August 10, 2013)
I get very involved with the books I'm reading as I tend to put myself in the shoes of the protagonist. I tend to mull over the story upon completion and often come up with questions on a segment I felt wasn't completely answered. However with Dick Francis' books, I usually question if I would be strong enough to persevere for a victorious outcome.
(Karen Blossom 11:27am August 10, 2013)
I enjoy books that your emotions are involved in making you
cry or laugh out loud even chuckle. Thanks.
(Dianne McVetty 12:41pm August 10, 2013)
My favorite books always make me imagine the world after the book. Sometimes. like with the Harry Potter world, I imagine myself in the stories and new adventures I imagine. That is the best part.
(Pam Howell 1:07pm August 10, 2013)
I read Exodus as a teenager---and I still remember that book.
(Sue Farrell 1:16pm August 10, 2013)
I love books that make me feel... that make me laugh or cry, cringe or smile... when an author's words bring emotions to life I know I have a great read on hand.
(Colleen Conklin 2:05pm August 10, 2013)
Too many to list them all but a favorite is The Tender Mercy of Roses by Anna Michaels.
(Mary C 3:29pm August 10, 2013)
This one looks AWESOME! Can't wait to read it.
(Jane Cavanaugh 4:09pm August 10, 2013)
Whoa - the cover definitely caught my eye - LOL - but thank you so much for sharing with us - a fantastic book!!!
(Felicia Ciaudelli 6:00pm August 10, 2013)
I have read so many books that now your question has put me in the spot, I draw a blank. I have to say it's when Dougless was forced back from the Middle Age to her time and leaving Nicolas in his time, in My Knight in Shining Armor, I was crying because I believe it was the ending and that they will never be together.
(Kai Wong 7:12pm August 10, 2013)
yes isobol from kimberly truesdale book the wrong woman i love
that book
(Denise Smith 7:41pm August 10, 2013)
You were named after Anne of Green Gables? How lovely! Another
Anne, Anne Lamott, writes books that impact me
emotionally...that I think about long after I read them. I'd
say Margaret Atwood too.
(Catherine Lee 8:55pm August 10, 2013)
I love Olivia from Debbie Macomber's Cedar Cove series. She went through a lot, but finally got her happy ending. What she went through seemed real life.
(Sue Galuska 10:41pm August 10, 2013)
I love to read and find that some characters stay with me. If I really love a book, I find myself reading it again.
(Carol Woodruff 4:11pm August 12, 2013)
Registered users may leave comments.
Log in or register now!