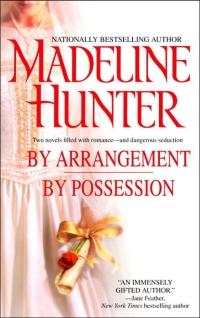 Purchase
Delta
October 2005
784 pages
ISBN: 0385340079
Trade Size (reprint)
Add to Wish List

By Arrangement
The lady and the commoner...
Lady Christiana Fitzwaryn was not opposed to marriage. But she demanded to be married on her own terms, not as punishment for a romantic indiscretion, and especially not to a common merchant. Yet she was in for a shock when she met David de Abyndon. For she was confronted by no ordinary merchant but a man of extraordinary poise and virility. He was unaffected by their difference in social status. And even less affected by her well-thought-out arguments against their upcoming betrothal. Instead, it was Christiana who felt uneasy in the presence of this naturally lordly man behind whose cool blue eyes she sensed the most uncompromising of passions.
David de Abyndon understood Christiana's dilemma, for he too harbored a secret pain. How could he tell her that there was more to this arrangement than met the eye? How could he tell her about his deal with the king--a deal that meant he had all but bought Christiana sight unseen?
What's more, now that he had seen this beautiful, spirited woman, how could he convince her that the love she sought was not in the callow knight she had romanticized but in the flesh-and-blood arms of the man who may have bought her body--but in the bargain lost both his heart and soul?
By Possession
A Common Lady
For years she had thought he was dead. Yet when Addis de Valence strode into Moira Falkner's cottage, there was no mistaking the sharp planes of his face, and the scar she herself had helped to heal. The young squire who had once been her hero was now her lord, a hardened man who returned to claim the son she had raised as her own. But Moira couldn't deny that Addis roused a passion she never thought to feel--and a perilous hope for a future that could never be....
An Uncommon Love
Addis returned from the Crusades to find his lands usurped by his stepbrother, and his country on the brink of rebellion. Determined to reclaim his birthright, Addis could not afford to be distracted by a woman--even one as tempting as Moira. Yet the only living part of his contented past lay in Moira--and his desire for her was more dangerous than his deadly battles with the king's men. By law, Moira belonged to him...but possessing her heart might be far more difficult.
Comments
No comments posted.

Registered users may leave comments.
Log in or register now!