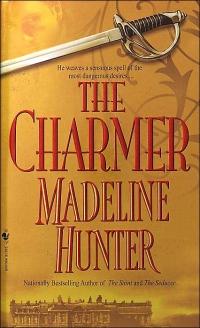 Purchase
The Seducer Series
Bantam
December 2003
400 pages
ISBN: 0553585916
Paperback
Add to Wish List

Their first meeting is not promising. Sent by the king to bring the Sophia Raughley home, Adrian Burchard finds her in another man's arms, at an orgy that includes the young artists who form her entourage. He soon discovers, however, that this errant daughter of the nobility hides secrets and wounds beneath her mask of frivolity, and possesses a vulnerable sensuality that draws him like no other woman has.
Sophia resents this man who high-handedly interferes with her life--a life in which she hides from the past. Worse, he seems to offer an intimacy that she dare not accept-- until the night when he skillfully seduces her, peeling away the defenses to her heart as artfully as he does the layers of her clothing. As Sophia falls under the spell of his erotic charms, and Adrian finds himself unable to resist her passionate response, they embark on a dangerous affair. An affair that will either destroy them both, or prove the one thing that can save them when mysteries from the past reach out to entangle the present.
Comments
No comments posted.

Registered users may leave comments.
Log in or register now!