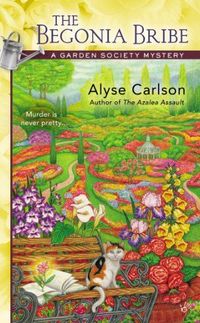 Purchase
A Garden Society Mystery #2
Berkley
May 2013
On Sale: May 7, 2013
Featuring: Camellia Harris
312 pages
ISBN: 0425251624
EAN: 9780425251621
Kindle: B009KUX0KS
Paperback / e-Book
Add to Wish List

Roanoke, Virginia, is home to some of the country's most exquisite gardens, and it's Camellia Harris's job to promote them. But when a pint-sized beauty contest comes to town, someone decides to deliver a final judgment …

A beauty pageant for little girls—the Little Miss Begonia Pageant—has decided to hold their event in a Roanoke park. Camellia is called in to help deal with the botanical details, the cute contestants, and their catty mothers. She soon realizes that the drama onstage is nothing compared to the judges row. There's jealousy, betrayal, and a love triangle involving local newsman—and known lothario—Telly Stevens. And a mysterious saboteur is trying to stop the pageant from happening at all.

But the drama turns deadly when Stevens is found dead, poisoned by some sort of plant. With a full flowerbed of potential suspects, Cam needs to dig through the evidence to uproot a killer with a deadly green thumb.
Garden Society Mystery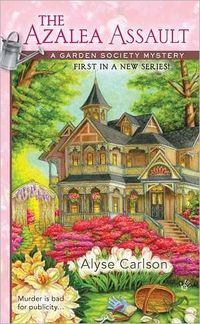 The Azalea Assault
#1.0
Amazon.com | BN.com | | |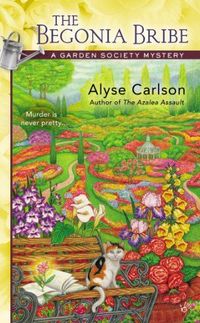 The Begonia Bribe
#2.0
Amazon.com | BN.com | | |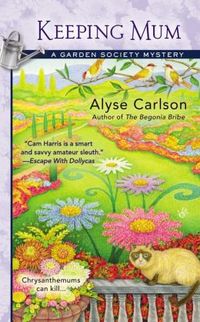 Keeping Mum
#3.0
Amazon.com | BN.com | | |
Comments
45 comments posted.
I really know how you feel about coming back with a witty answer five minutes later. I sometimes work conversations over in my head and come up with a great response - five or ten minutes later. Too late to do any good.
(Kathleen Yohanna 4:49am May 24, 2013)
I wish I had writer's brain so I could write great novels!!!
(Vicki Hancock 5:17am May 24, 2013)
Love reading new books and finding new Authors. This book sounds fantastic! I can' write, so it's doubly important for me to find great reads. ")
(Sandie White 6:34am May 24, 2013)
Some of your "afflictions" sound rather familiar.
Blessings,
Marjorie
(Marjorie Carmony 6:44am May 24, 2013)
It would be fun to hear about judges, instead if stage moms. Would like to
read.
(Susan Falkler 7:18am May 24, 2013)
i thought i was the only one. my retorts in my head 5 minutes later are brilliant but alas too late!
(Mal Kaplan 7:56am May 24, 2013)
Doubtful that there is a cure. Once you start down that path,
imaginary friends and using any intriguing moment of real life
as book fodder is pretty much S.O.P.
Whether or not you actually write that novel, writer's brain
is here to stay, in my experience. :-}
(Diana Troldahl 8:56am May 24, 2013)
the parents are worse then the judges. this sounds like a good
book to read
(Denise Smith 9:14am May 24, 2013)
I agree the parents are far worse than then the judges!
(Bonnie Capuano 9:23am May 24, 2013)
Writer's brain sounds a lot like mother's brain. There is no known cure but no cure is necessary. It gets better eventually or at least more ignored by friends and family as time goes by. They will start to speak, see the glazed look in your eyes and shaking their heads walk away. I'm not a real fan of children beauty pageants but your book sound really interesting.
(Annetta Sweetko 9:40am May 24, 2013)
(this is Alyse, sans pen name) Ha! sounds like I'm at least not alone on thinking of the great response... too late. I hope those of you who decide to read really enjoy it!
(Hart Johnson 9:42am May 24, 2013)
Understand and agree with your ideas. Your book sounds
intriguing and very special.
(Sharon Berger 9:57am May 24, 2013)
Sounds like a great book!

And yup... parents can be pretty horrible judge!
(May Pau 9:59am May 24, 2013)
Love your comments about your afflictions - makes me start dwelling on my own. Your book sounds wonderful - thanks for the chance to win a copy. Best of luck with it.
(Nancy Reynolds 10:05am May 24, 2013)
The parents are worse. this sounds very good! I can't wait to read it
Penney
(Penney Wilfort 10:23am May 24, 2013)
I always think of a good answer - later!
(Sandy Giden 10:49am May 24, 2013)
Well since I live in Roanoke, VA I would love to read this
book
(Jeri Dickinson 11:04am May 24, 2013)
I love the spin that you put on the plot for your story!! Since I love plants, this book will be right up my alley!! Since I'm recovering from a brain injury, due to a freak fall that I took, I'm always at a loss for words. I know after I get done with this comment, I'll come up with something that I should have said. ;-) Nonetheless, I would love to read your book!! The cover is beautiful as well!! Congratulations on your book. It'll make a great read for this time of year, as the flowers are starting to bloom!!
(Peggy Roberson 11:41am May 24, 2013)
Enjoyed reading your blog. Book sounds great,bookcover really got my attention.
(Sheila True 12:23pm May 24, 2013)
Another great mystery series! Will be enjoyed by garden/flower
enhusuasts and everybody who likes a cozy mystery or what I call "light
murder"!
(Shari Santella 12:35pm May 24, 2013)
I have never came back with a good answer until after the fact. I just hate when I can't win those kind of conversation especially when I'm arguing with my sisters.
(Kai Wong 1:25pm May 24, 2013)
Love your book covers, and now I need to read the books!! And
yes, I hate when I don't have a cool answer that just trips
right off my tongue.
(Lisa Richardson 2:04pm May 24, 2013)
I haven't had an opportunity to read your books....yet. However from what I have previewed, I will be searching for them from now on. Your cover is so "catchy" and got my attention immediately.
(C Culp 2:40pm May 24, 2013)
Both books have beautiful covers. Love the colors. I love a good mystery.
(Lori Yost 3:30pm May 24, 2013)
Thank you so much, everyone! For the record, the kiddy beauty pageant came about because mocking them is a bit delicious! It was a fun forum to work in.
(Hart Johnson 3:54pm May 24, 2013)
Since I KNOW I've never met you, I really don't know how you are able to describe me so well!! And I'm not even a writer!

This definitely sounds like a book I'd love to read and own.

Later,

Lynn
(Lynn Rettig 4:10pm May 24, 2013)
I love your book cover and i want to read it and also win it
(Shohaz Baloch 4:34pm May 24, 2013)
love the colorful cover, thanks
(Debbi Shaw 4:48pm May 24, 2013)
i love that you write from your bathtub---how different. Don't know any cure for writers brain, I wish part of my brain had writing abilities
(Shirley Younger 4:48pm May 24, 2013)
This sounds like a cute little mystery with the little miss beauty pageant. The book cover is beautiful and would love to read and own this book. I'm a flower/plant lover!
(Linda Luinstra 5:13pm May 24, 2013)
Sounds like a great book, the cover is lovely.
(Rita Wray 5:14pm May 24, 2013)
THANKS FOR THE REVIEW ITS A NEW SERIES FOR ME.
(Shelley Summers 5:25pm May 24, 2013)
I can always think of a better comeback comment later. This
book sounds great!
(Dianne McVetty 5:44pm May 24, 2013)
Sounds like a great read. Wish I could think that fast on my feet for a witty comeback. LOL Thanks.
(JoAnn White 7:24pm May 24, 2013)
Love your post! In a conversation, I am a quick thinker but I never stop thinking. I come up with that witty retort but by the time I convince myself that it's PC and no one will take offense the moment has passed and cannot be recaptured. I completely agree with you on writing a script for someone. Instead of "here's your sign" it can now be "here's your script!"
Good luck and happy writing!
(Tracie Travis 7:28pm May 24, 2013)
Congrats on your new book: THE BEGONIA BRIBE. I love the
book cover with the pretty flowers and the pretty calico cat
that looks like the cat is reading the book. How Sweet! Yes,
I have always wanted to write books and I love writing
Poetry too. I am slow at verbal comebacks and comments but
always have loads to write about. Thanks for the fantastic
contest. Thanks, Cecilia CECE
(Cecilia Dunbar Hernandez 8:33pm May 24, 2013)
It sounds sort of like the hormonal brain I had...I kept coming up with just the right question, after the person I should have asked left the room. And those witty comebacks do absolutely no good at 3 am...
(Lorena Keech 9:30pm May 24, 2013)
looks like a great read!!and a nice looking cover too!!
(Pamela Dolen 9:43pm May 24, 2013)
I loved your comments. I'll be back to make a witty comment here once I remember the words I'm looking for.
(Renee Grandinetti 10:02pm May 24, 2013)
I suffer from all of these. When I'm out with other writers, they recognize the
vacant stare & the half raised hand & know I am conducting research at the
next table. My family? Not so much. :) and wait people who take orders at
the wrong time. I am still frustrated at the interruption so I will never know
what was in the box under the tile in the sunroom. I have invented all kinds
of things, but I still want to KNOW!!! (And it's probably nothing half as good
as I what iffed.) :)
(Penny Mettert 10:15pm May 24, 2013)
Love your post. Happy Memorial day!
(Beth Melito 10:51pm May 24, 2013)
I would sure love to win this book!
(Lisa Langcake 10:53pm May 24, 2013)
i really would love to win have a safe and happy holiday
(Bonita English 11:15pm May 24, 2013)
I know what you mean about not having the right word there
when you need it, but it usually comes. All of the books look
incredible.
(Mary Preston 11:47pm May 24, 2013)
What gorgeous covers, especially the little cat! In Ireland we call that colour tricolour or tortoiseshell and white.
Yes it can be very distracting when you know what is going to happen in a story and can't write it down. I went away for a week last winter and when I came back I spent a day solidly writing to get it all out of my head.
(Clare O'Beara 7:30am May 25, 2013)
Registered users may leave comments.
Log in or register now!