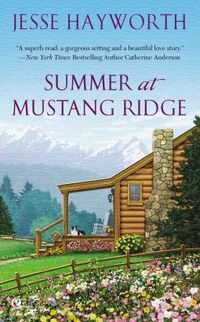 Purchase
A single visit to Mustang Ridge can change a person?s life in the most unexpected ways....
Signet
June 2013
On Sale: June 4, 2013
Featuring: Foster; Shelby
384 pages
ISBN: 0451239822
EAN: 9780451239822
Kindle: B009KUX83M
Paperback / e-Book
Add to Wish List


Recovering from a difficult divorce and having problems with her daughter, Shelby accepts a summer job cooking at a family–run dude ranch. She hopes the animals will be just what her daughter, Lizzie, needs. Little does she know that ranch life will work some healing magic on her too.

When Shelby meets the head wrangler, Foster, she is put off by his brusque nature, but Lizzie takes an instant liking to the cowboy and his horses. While both Foster and Shelby have been scarred by love, it's not long before Shelby is drawn to the rugged cowboy and his thoughtful ways.

But with summer nights in short supply and Foster wary of falling for a city girl, a simple summer romance soon grows complicated. As the days dwindle, Shelby will have to decide not only what is best for her daughter, but also where her future—and her happiness—will be found.
Comments
52 comments posted.
My mother doesn't write down recipes and does everything by a pinch of this or that,and pouring things in instead of measuring. I feel your pain. My sisters and I have gone through many batches of tamales, enchiladas, empenadas and arroz con pollo trying to get it to taste like Mom's. Each of us have come up with recipes and they are pretty good but we still experiment to this day.
(Eileen Roth 5:46am June 11, 2013)
i guess ours are how we make mac and cheese from scratch would
be our infamous we add different kinds of cheese that makes it
taste like no others we are always having people ask what you
put into it also a few other ingredients
(Denise Smith 7:38am June 11, 2013)
My family's tradition is Shortbread cookies. They've been handed down from my great-grandmother, to my grandmother, to my mom and now to me. We make them on special occasions only. The recipe comes from England :)
(Aimee Robison 7:45am June 11, 2013)
Eileen- *knuckle tap* for a fellow survivor of Mexican food trial-and-
error! And now I want a tamale ;)
Denise-Yum! Can you ever go wrong with melted cheese? I contend
that's a 'no'!
Aimee- What a lovely tradition! I adore 'special occasion only' food. My
mom makes Julekake (sp?) for the holidays, and I look forward to it all
season :)
(Jesse Hayworth 7:55am June 11, 2013)
Oooh, great giveaway. Have been looking f/d to reading this book, have seen reviews on it in several blogs.

Fav tradition is my gma's spaghetti and meatballs and having antipasta and pasta and meat on Christmas Eve. We never did the fish thing. LOL.
(Pat Lieberman 7:58am June 11, 2013)
Our best family tradition is "The (family name) fudge". Its a recipe that my grandmother used and my 3 sisters and I continue the tradition. It is rich and creamy and definitely addicting! Did I mention that the best part is 'licking the spoon (or pan!).
Great giveaway and I loved the write-up! I am from a family with 9 siblings!
(Betty Hamilton 8:49am June 11, 2013)
What a beautiful cover...I would say our family tradition is our annual family 4th of July picnic with our own fireworks. I always make my homemade fudge and , of course, my red, white and blue cake!!!
(Bonnie Capuano 9:02am June 11, 2013)
family traditions - a second for the 4th of July - except ours involves the Boston Pops, the Charles River, and two moms staking out a place 10 hours before the concert/fireworks! been attending since 1976, adding the husband and kids and friends as they came along - wouldn't be the 4th without it, and the hundreds of thousands of other revelers.
(Beth Fuller 9:40am June 11, 2013)
Hmmmm... well... cookies... that's about it. We bake a lot!
(May Pau 10:04am June 11, 2013)
My Mother never really sat me down to teach me how to cook the dishes that she was known for, which was unfortunate. The fortunate part was that, as a child, I used to sit nearby and watch her. She also had a couple of recipes written down. I also have my Dad to ask, but he is losing his memory, so I was able to ask for his help before his memory loss. She was known for her Prune Cookies at Christmas. They're a lot of work, and take two days to make!! You might turn your nose up at the sound, but you would never know you were eating prunes if you were to taste one - and the dough is so sweet and flaky!! I also make a mean pot of stuffed cabbage, as well as pierogi, also known as dumplings. The one thing I haven't tried yet is her cinnamon-raisin bread, which she was known for, and could make in her sleep!! I have nerve damage in my arms, and am unable to knead the dough. I haven't given up on the thought of making it, though.
(Peggy Roberson 10:06am June 11, 2013)
Family tradition is having a wonderful Chanukah party each
year with family and friends and making homemade latkes and
applesauce.
(Sharon Berger 10:16am June 11, 2013)
We don't have any family traditions, other that picnics once in a while.
(Wilma Frana 10:43am June 11, 2013)
My mom made a dish that was grated ham and potatoes that are fried. She also made pea soup with the remaining ham. With 7 children she had to be economical and stretch each dollar as far as she could.
(Elaine Thomas 10:53am June 11, 2013)
We have lots of family traditions. We have a family reunion every summer.
(Pam Howell 10:54am June 11, 2013)
Family cookouts in summer are my family's favorite tradition.
(Shauna Rivera 10:57am June 11, 2013)
I have been cooking with my grandmother the moment that I could climb a stool and stir. I use the measuring in my palm as to what is a teaspoon, a tablespoon. I love passing down the dance, the secret of the ingredients to my children, the knowledge that done with love it will taste a lot better.
One family tradition is to make over a dozen different cookies and desserts for Christmas (at times we can even pay our plumber this way).
(Carla Carlson 11:24am June 11, 2013)
Favorite family tradition is having a good time while enjoying
some of Mom's homemade pho.
(Lazydrag0n Puff 11:30am June 11, 2013)
We have a family reunion each year with all the siblings and their families. Many live in various parts of our country and this gives us a chance to reconnect.
(Anna Speed 11:40am June 11, 2013)
When my Dad was alive we had a tradition of Vodka martinis on
Christmas morning. Today we simply raise our coffee cups in
memory of him and save the martinis for after supper :-)
(Roswita Hildebrandt 11:56am June 11, 2013)
I have had the good fortune to marry into a family with a fabulous cook as a mother-in-law. I am not the best cook, but I have learned a lot from her over the years. There is never a family gathering without loads of food--way too much for everyone to eat! One of my favorite desserts that she makes is a pistachio cheesecake. The first time she ever made it was on my son's 1st birthday and it's always a special treat at family gatherings.
(Juli Lear 12:43pm June 11, 2013)
My mother makes a wonderful apple crumb pie but when my daughter was younger and wanted to make the pie for something at school we found that there was no written recipe and when my mother guessed at it we did not get very good results.
(Maureen Emmons 1:02pm June 11, 2013)
I make potato salad and no recipe which my daughter wants. I need to measure and write it down for future. Almost like my mother made but kids (and my Minnesota husband)do not care for sweet relish in the salad (in Texas' potato salads) so I do not add that. I have started a notebook with copies of recipes from the family for my kids (all adults now).
(Leona Olson 1:04pm June 11, 2013)
WE don't really have any family traditions. Everyone lives too far apart.
(Sandy Giden 1:29pm June 11, 2013)
I love these! Thanks so much for the kind words on the book and the
cover (huge props to the artist!), and for sharing your family traditions
(or otherwise :). Keep 'em coming!
(Jesse Hayworth 1:43pm June 11, 2013)
The only family tradition I can think of is making Grahamcracker Pudding, which is basically baking layered grahamcrackers and pudding together in a cassarol like dish and the chilling it. It's quite tasty and we only make it for Christmas.
(Jamie Fortney 5:14pm June 11, 2013)
I love cooking and have many recipes I've made up and some I've changed around to my liking. My grown children and friends always comment that even their small children love these dishes. Some of my favoites are Fluffy Meatloaf, Chee-Easy Macaroni/Chicken Casserole, Old Fashioned German Potato Salad, Oven Beef Stew, Chili, Lemon Cheesecake w/Cherries on Top, and a huge assortment of Bars & Cookie Recipes. Love your book cover, and I can't wait to read it! I am a big lover of cowboy/western romance books as well as western/native American jewelry.
(Linda Luinstra 5:15pm June 11, 2013)
I'm from south Louisiana--almost everything we eat is a family tradition! One that comes to mind is the dirty rice dressing Mom always made for the holidays. "Secret" ingredient--add the chopped up turkey giblets to the dressing. Your book sounds like fun, Jesse. Thanks for visiting.
(G S Moch 5:54pm June 11, 2013)
My family tradition is steamed carrot pudding at Christmas time.
It is such a tasty dish and great memories are awaken when we
savour this yummy pudding.
Like your new hubby salsa dish. Congrats.
WTG on your writing skills too.
(Dayle Butler 6:38pm June 11, 2013)
I really don't have a tradition except for being the one that makes the potatoe salad. Voted for your book cover in a cover contest and now I have a chance of winning a copy.
(Sheila True 7:01pm June 11, 2013)
My parents are in heaven with God now but when I was young,
we had our family reunion in Arkansas City, KS and I took my
Blonde Brownies and everyone loved them and ate more, more,
more. I did a bunch of baking when I was young and got a
bunch of blue ribbons with 4-H Club in KS. I also received
awards at TX Secretary of State office when I worked there
for my Burgundy Berry Pie. Everyone wanted the recipe. Your
Granny George Green Chili recipe sounds yummy for my
husband. Please share with all of us if you can. Thanks for
the great and yummy contest and I would really love to win
and read your book too. Thank You, Cecilia CECE
(Cecilia Dunbar Hernandez 7:46pm June 11, 2013)
My tradition is to host a "wine party" for 50-75 friends in July every year. My daughter and I win the homemade bottles in our badminton club championships, so we share the wealth. We make it a potluck so that we won't be upset if people say they're going to show up and don't, they don't say one way or the other, or they say they won't show up but do so with perhaps four others too.
(Elaine Seymour 7:47pm June 11, 2013)
Our family tradition has always been grilling bacon on the grill after the local holiday parades. We would reserve spots on the parade path while others would stay at home an prepare the family picnic. Fond memories.
(Lin Berda 7:57pm June 11, 2013)
Our family traditions involve cooking too...Not with the food, but with how it's
made. No matter that I'm now an adult with a family of my own; whenever I am
at my dad's for the holidays I am still the cook's helper (and taste tester!) even if
I know the recipes. Somehow, the food always tastes just a little bit better when
dad makes it, then when I do. So I've embraced the tradition and now call him
before I visit to put in my "requests" on recipes of his that I've missed. He's
especially accommodating when I'm pregnant!
(Becca Luman 8:49pm June 11, 2013)
It sounds like everyone has such wonderful food traditions. My family's isn't food but a necklace. My grandfather got a amethyst necklace to propose to my grandmother with. Before he could she took ill with rheumatic fever and not expected to live. He went to go and pick up the necklace from the post master, hoping it would help her, but the post office burned to the ground. The necklace was destroyed. Someone in their home town wrote the T.Eaton company and told them the story - they sent out a replacement right away. It would be two years before my grandparents married but she wore her necklace that day. Each of their seven daughters wore it on their days, I wore it on mine and my daughter will one day wear it on hers. She will be the fourth generation and none of these marriages ended in divorce.
(Janis Milford 9:14pm June 11, 2013)
Not a tradition, but a special meal would be won ton soup -
hours to make and gone in a flash.
(Mary C 9:33pm June 11, 2013)
A few of my family traditions are a verde enchilada casserole, baked pasta with oobs and goobs of melted mozzarella cheese and meatloaf. Ugh...I'm hungry now!
Good luck and happy writing!
(Tracie Travis 9:37pm June 11, 2013)
I love that story, Janis! I wore my grandmother's pearls at my wedding,
with a blue pendant my mom found for me. Maybe that's a new family
tradition :)
And, yeah, I'm totally hungry now, too!
(Jesse Hayworth 9:40pm June 11, 2013)
my grandpa made the best chicken and he canned too. he didn't write it down he would say a little bit of this and a pinch of that and handful of you know how are you to copy that.
(Jennifer Beck 10:35pm June 11, 2013)
Yeeha!
(Callie Stuck 11:15pm June 11, 2013)
My Mom's potato salad at family gatherings. It's a must!!!
(Vicki Hancock 11:47pm June 11, 2013)
My most famous family tradition is a Christmas party/marathon
baking session with a running Mah Jong game running on the
side.
(G. Bisbjerg 12:02pm June 12, 2013)
My mother's tradition recipe is the Chinese Dumpling Ball soup. The soup ingredient has napa cabbage, daikon (Chinese turnip), chopped chicken, and a secret meat ingredient (I dare not say). The problem is that everyone my family knows, loves this Chinese Dumpling Ball Soup and they rather not know about this secret meat that is the main ingredient of this soup.
(Kai Wong 12:45pm June 12, 2013)
We have the Christmas holidays "cocido" trip. And I don't know
how to translate into English the name of that dish.
(Roxana Perez 4:59am June 12, 2013)
This book sounds so great and the prize is fantastic.

My ckn parm is excellent and the trick is getting the cutlets very thin and my marinara sauce atop of it.
(Helen Livermore 10:20am June 12, 2013)
Baking cookies and making fudge a few days before Christmas is a family tradition. We have a large family and whoever is around participates. We end the day playing board games. Always a lot of fun.
(Deborah Erickson 11:12am June 12, 2013)
Our family's strange tradition was making blood sausage during and then having it for breakfast with pancakes and syrup---a really strange combination if you ask me.
(Sue Farrell 3:52pm June 12, 2013)
My late father in law gave me his secret potato salad recipe
(Susan Falkler 6:30pm June 12, 2013)
We always made lots of different cookies for Christmas, but it was always chocolate chips cookies that was our favorite. So now we just make chocolate chip cookies and eat them as we sit around the Christmas Tree and open our gifts.
(Carol Woodruff 6:47pm June 12, 2013)
My mother in law passed down the family's 'secret' recipe for white fruitcake. And it really is good! Totally different than the molasses based dark ones. It's fought over at my house.
(Marcy Shuler 6:55pm June 12, 2013)
Our family tradition is to play board games and do jigsaw
puzzles when we get together for holidays and vacations.
(Diane Sallans 8:12pm June 12, 2013)
My Mother makes a Port Wind Trifle for special occasions. It
is to die for.
(Mary Preston 11:53pm June 13, 2013)
I want to say, thank you. The earring are beautiful and I will start the book tomorrow. Had to finish a couple more.
(Leona Olson 4:38pm July 16, 2013)
Registered users may leave comments.
Log in or register now!