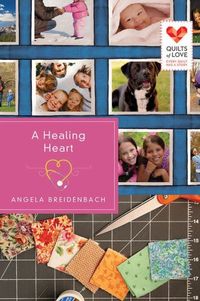 Purchase
Quilts of Love #6
Abingdon Press
April 2013
On Sale: April 2, 2013
Featuring: Mara Keegan
240 pages
ISBN: 1426752695
EAN: 9781426752698
Kindle: B00BPWCQUE
Hardcover / e-Book
Add to Wish List

Mara Keegan is an uber-successful mother and a widow of three years. She's been chasing success and all the "good things in life" for her family to make up for the cruel whim God played on them by taking her husband. In an effort to be the perfect mom, she decides to make a photo memory quilt, a graduation present for her daughter, Cadence.
She's not yet finished when she experiences a heart attack. While Mara recuperates, she revisits the choices she's made that led to this physically and spiritually broken heart. The memory quilt must be finished in time for Cadence's big day, but Mara struggles with her burgeoning feelings for the man who must keep Mara's business going during her recovery, Joel Ryan. Can Joel find his way into Mara's heart and onto Cadence's quilt?
Quilts of Love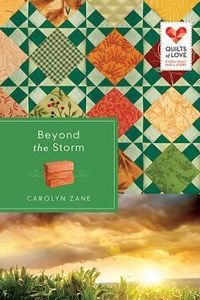 Beyond The Storm
#1.0
Amazon.com | BN.com | | |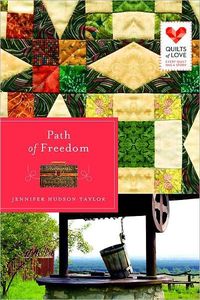 Path Of Freedom
#3.0
Amazon.com | BN.com | | |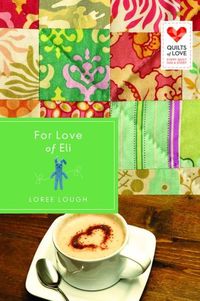 For Love Of Eli
#4.0
Amazon.com | BN.com | | |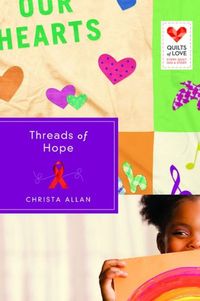 Threads of Hope
#5.0
Amazon.com | BN.com | | |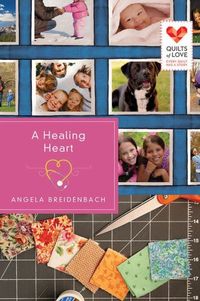 A Healing Heart
#6.0
Amazon.com | BN.com | | |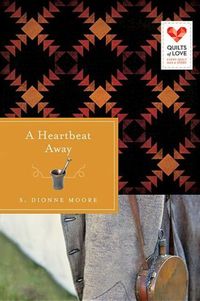 Heartbeat Away
#7.0
Amazon.com | BN.com | | |

Pieces Of The Heart
#8.0
Amazon.com | BN.com | | |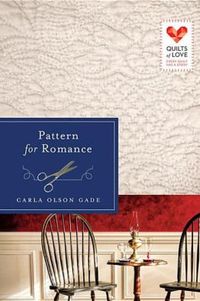 Pattern for Romance
#9.0
Amazon.com | BN.com | | |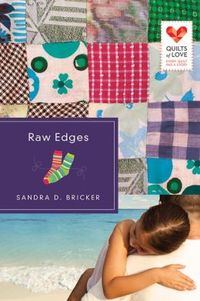 Raw Edges
#10.0
Amazon.com | BN.com | | |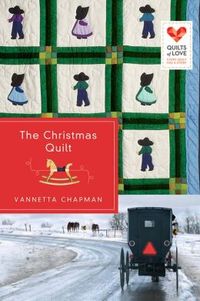 Christmas Quilt
#11.0
Amazon.com | BN.com | | |

Aloha Rose
#12.0
Amazon.com | BN.com | | |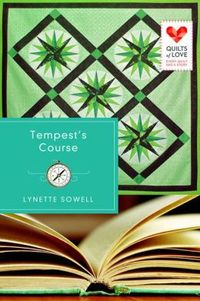 Tempest's Course
#13.0
Amazon.com | BN.com | | |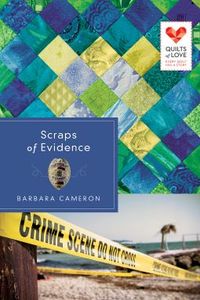 Scraps of Evidence
#14.0
Amazon.com | BN.com | | |
Comments
48 comments posted.
Re: A Healing Heart

Healing Heart sounds memorable and beautiful. The quilt is a
lovely and heartwarming idea.
(Sharon Berger 6:01pm May 21, 2013)
My dad suffered a heart attack in the 70's and underwent one of the very first innovative heart bypass surgeries. Twenty years later, he needed another operation but did not want to go through it ~ and subsequently ~ passed away from a massive heart attack. Heart health is important for everyone ~ Ask your physician if you should be on an aspirin regimen. I don't mean to preach but cradle your heart carefully in every way possible, both physically and emotionally.
(Susan Coster 6:01pm May 21, 2013)
I just ordered one of the books from my paperback trading
club. Can't wait to read it!
(Becki Davis 6:31pm May 21, 2013)
I love memory quilts and family quilts and the special tradition of it all~ This sounds like a lovely story and I look forward to reading A Healing Heart~ Thank you and Happy Reading and Writing~ Cheers~ Elizabeth
(Elizabeth MacGregor 7:37pm May 21, 2013)
Sounds like a lovely book!
(May Pau 10:03pm May 21, 2013)
Sounds like a great book! Having a healthy heart is very important!
(Lazydrag0n Puff 10:22pm May 21, 2013)
In my family my grandmother, her sisters and sister-in-laws, would get together and make quilts for the grandchildren. You would get one when married or turned 21 whichever came first. Now the elders of our family are all gone and no one makes quilts. Maybe I can convince my cousins to take up the torch for our children and future grandchildren
(Janis Milford 11:14pm May 21, 2013)
sound like a great book ...love the cover..it just pulls you in...thanks
(Kimberly Hoefs 12:10pm May 22, 2013)
What a great idea to entertain with a story AND provide helpful information about heart attack symptoms.
(Cheryl Castings 12:34pm May 22, 2013)
I am just beginning to get into the romance genre, and I would love to win this book and the special coffee break gift. I am looking for some new authors in this genre and your book looks very exciting.
(Cynthia Blain 1:00am May 22, 2013)
I'd really like to read this book. Thanks so much
(Bonnie Capuano 8:13am May 22, 2013)
I would love to read this book. I not only enjoy reading I
love to quilt and made a memory quilt for my mother in law
before she passed with cancer. I put precious photos on
fabric and had all of her loved ones jot a special little
note to her . She was such a special lady who taught me to
quilt. I just know this is a wonderful book ! Thank you
(Margie Young 8:37am May 22, 2013)
The book sounds great. And thanks for the quilt idea. I definitely need to look into getting one for my nephew.
(Pam Howell 8:42am May 22, 2013)
a very interesting book
(Barb Volker 9:09am May 22, 2013)
sounds like a great book!
(Johanna Bouchard 9:21am May 22, 2013)
A memory quilt and a love story in one book....I just love to read something that I could relate to, and this is the book that puts a smile on my face.
(C Culp 10:08am May 22, 2013)
How real is fiction? I think fiction is based on more facts
than non-fiction during times in my life. I've read fiction
books and think "I've already lived that".
(Tawnya Bentley 10:36am May 22, 2013)
After reading your posting, I literally had to stop, and sit back for a minute or two. You struck a nerve with me, and gave me pause. I am normally drawn to quilting books, since that is something I would love to take up in the near future, but the story that is intertwined, meshes with my life indirectly. This is a book that I will definately have to read, and I thank you for writing it. I'm sure that you're aware of how many lives you touch with your books. Congratulations on another life-changing labor of love!!
(Peggy Roberson 11:03am May 22, 2013)
This sounds like a really good book. Having heart problems in our family made me definitely want to read the first chapter to learn about the symptoms.
(Shawn Andree 11:11am May 22, 2013)
sounds very enjoyable
(Patricia Wagner 11:21am May 22, 2013)
This sounds like a wonderfully heartwarming story. I love the
quilt aspect as I have been trying to get my 85 year old
grandmother to help me make a "memory quilt" for my son.
(Amanda Ray 12:08pm May 22, 2013)
A Healing Heart sounds really interesting. I love to quilt,
and have made small quilts for family members. My busy
schedule limits my quilting time, but I keep a project going
most of the time.
(Marguerite Guinn 12:15pm May 22, 2013)
Sounds like a good read. I enjoyed the post, thank you.
(Rita Wray 12:52pm May 22, 2013)
Love your books they take me away for a while like a vacation away from my busy schedule
(Lizzette Martin 1:06pm May 22, 2013)
sounds good, love quilts, have 2 or 3 my grandmother made me
many years ago with treasured memories.
(Teresa Roberts 1:14pm May 22, 2013)
fiiction mirrors real life i think
(Debbi Shaw 4:20pm May 22, 2013)
This story sounds fantastic. I love quilts and have always appreciated the amount of time and work invested in making one. It's such an art. I have a couple made by my ex's grandmother (who raised 9 children and lived into her mid 90's). She made many quilts and crocheted beautifully too. It's always fun to read a touching and heartwarming story!
(Linda Luinstra 5:17pm May 22, 2013)
Thanks, for the interesting reviews. Like the awareness of being kind to
ones heart. Also, like handmade quilts too.
(Dayle Butler 6:20pm May 22, 2013)
sounds like a great book..
(Jennifer Beck 6:28pm May 22, 2013)
Thinking good.
(Kent Cook 6:49pm May 22, 2013)
I like the spiritual aspects of this story.
(Christine Didyk 7:08pm May 22, 2013)
Wow, A HEALING HEART sounds like a fantastic book to read
and it would truly be an honor to win your new book. I love
quilts and my Grandmother Dunbar made me a beautiful one to
treasure and cherish when I was young. I still have it and
will cherish it always. What a great idea for your books.
Quilts are beautiful and made with lots of love and time and
best wishes for our loved ones. Thanks, Cecilia CECE
(Cecilia Dunbar Hernandez 9:52pm May 22, 2013)
Sounds great
(Tiffany Gronn 10:20pm May 22, 2013)
Heart health is not to be taken lightly.
(Mary Preston 11:02pm May 22, 2013)
Sounds like a great book - Thanks.
(Dianne McVetty 11:54pm May 22, 2013)
Even women have a longer life span than men, heart problem is more common in women than in men. Our reason is that we have been a caregiver to our family that we are in denial when a stroke or heart attack happens. We don't recognize the sign. Even if we recognize the sign, we go into self-denial. We do need to take care of ourselves first. Thanks for writing the book and making us self-aware of what heart diseases are.
(Kai Wong 12:25pm May 23, 2013)
looking great book story.
(Kent Cook 7:04am May 23, 2013)
this sounds like a great book really cant wait to read
(Denise Smith 8:40am May 23, 2013)
Quilting is a pretty good metaphor for the healing of a life,
after all.
(Mary Ann Dimand 9:19am May 23, 2013)
I'd love to read Healing Heart.
Congrats on the book.
(Mary Hay 10:44am May 23, 2013)
I love coffee and a nook where I can rest with a good book...
And A Healing Heart looks like a lovely read!
(John Dallal 10:55am May 23, 2013)
Tranquility. I could use more of this in my life, and I think your book, the mug, and the Starbucks treat would go a long way toward achieving this goal. Thanks for that chance, and I wish you and your family all the best. Thanks also for sharing about your family quilt; I hooked rugs pre-marriage, and they are some of my son's favorite possessions; I also scrapbook (but am only up to 1992 at present), and my daughter and son love poring over these memories (while I enjoy sorting out which few treasured pictures to keep and which thousands to throw out, LOL!).
(Elaine Seymour 2:28pm May 23, 2013)
What a loveling, caring post. Thanks for visiting.
(G S Moch 3:43pm May 23, 2013)
Sounds like a great book. Hope i get to win a copy.
(Sarah Bauman 4:03pm May 23, 2013)
Hi all, Though I'm not eligible to win as the author, I thought I'd share my favorite coffee drink so you can enjoy one while reading A Healing Heart (I drank a lot of these in the writing process, lol). My favorite coffee drink is a skim sugar-free peppermint mocha :)
Angie
(Angela Breidenbach 4:39pm May 23, 2013)
Sounds like a great book. Hope I win.
(Michele Hayes 5:14pm May 23, 2013)
My sister has a memory quilt made of Tee shirts. Family members gave a shirt that could be assoicated with each of them. This quilt is helping her through her journey with cancer.
(Sheila True 8:51pm May 23, 2013)
I imagine that bits of pieces of an authors life must get into
their stories - it's fun to find out a bit about the authors
process.
(Diane Sallans 10:24pm May 23, 2013)
Registered users may leave comments.
Log in or register now!