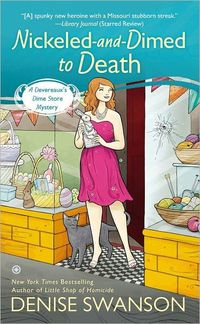 Purchase
Devereaux Dime Store #2
Signet
March 2013
On Sale: March 5, 2013
Featuring: Dev
272 pages
ISBN: 0451239423
EAN: 9780451239426
Kindle: B008EKOO78
Paperback / e-Book
Add to Wish List

Dev's five-and-dime may be doing well, but her love life is in turmoil. She's torn between Deputy U.S. Marshal Jake Del Vecchio, who is on an undercover assignment, and her ex-beau Noah Underwood, the local doctor from a high-society family. So she welcomes the distraction when Elise Whitmore offers her a great deal on antique chocolate molds that would be perfect for her Easter gift baskets. But do the molds actually belong to Elise's soon-to-be ex-husband? In buying them, has Dev committed a felony?
When Elise is found shot to death, the mystery deepens—and Dev's good friend Boone, who discovered the body, is taken into custody. With the help of her best buds, Dev must clear Boone's name and find the real killer. Good thing that when it comes to amateur sleuths, they broke the mold with Dev Sinclair.
Devereaux Dime Store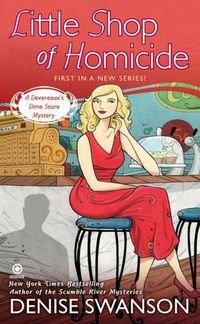 Little Shop Of Homicide
#1.0
Amazon.com | BN.com | | |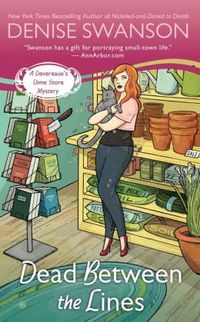 Dead Between the Lines
#3.0
Amazon.com | BN.com | | |
Comments
46 comments posted.
Re: Nickeled-And-Dimed To Death

I had never heard of an author being called greedy for writing more that one book a year. I think readers get anxious for another book if they enjoy one by an author. I do get confused when an author goes by many different names.
(Gladys Paradowski 1:31am March 22, 2013)
Loved Little Shop of Homicide! The Scumble River series is great too! Some of the titles are hilarious!
(Kathy Sullivan 8:37am March 22, 2013)
God gives you that.
(Kent Cook 1:46pm March 22, 2013)
Never fear be greedy...as long as the storys are great we will continue to come back again and again! Keep them coming!
(Sandie White 1:58pm March 22, 2013)
The next book never comes out fast enough for me! I love the
characters that Denise has created, with a touch of humor and
mystery.
(Patricia Vollbrecht 2:09pm March 22, 2013)
I have never heard of such a thing. I have an author friend who has written several series and all different. When they are a new series they are expected to be different. I read and review each book based on it's own merit. You write what you feel led to write because that is what you are suppose to do.
(Jane Squires 2:18pm March 22, 2013)
I'm greedy for good books to read!!
(MaryEllen Hanneman 3:07pm March 22, 2013)
I loved the first book! It was witty, fast-paced and with
great set of characters. I'd be happy to win the second one.
(Eugenia Alekseeva 3:30pm March 22, 2013)
Second chances can be either a good thing or they can go fantastically wrong. The way my life has gone, most of mine have been on the fantastically wrong side of the ledger.

However, this new series certainly doesn't look like it will EVER see that piece of paper!!

Later,

Lynn
(Lynn Rettig 3:33pm March 22, 2013)
Second Chances are sometimes the best and most wonderful
opportunities.
(Sharon Berger 4:16pm March 22, 2013)
I love cozy mysteries. Some people think that their favorite authors should write faster. Those are usually the people who get through a book very quickly.
(Michelle Fidler 4:38pm March 22, 2013)
What would life be without second chances.
(Liesl Lane 7:36pm March 22, 2013)
Some things and people need second chances, like tasting a food for a second time. Other time walking away is best.
(Laura Gullickson 8:34pm March 22, 2013)
I always love it when an author writes more than one series it
keeps us hoppin.
(Holly Ragland 9:18pm March 22, 2013)
sounds like a great book.thanks for the chance
(Jennifer Beck 9:40pm March 22, 2013)
i think you should write as many as you would like..love to win one and read your stuff..your books sounds great
(Kimberly Hoefs 10:23pm March 22, 2013)
There are never enough books from authors I enjoy reading.
(Mary C 10:23pm March 22, 2013)
Keep on writing! Give us all a second chance to
read your books! ounds great!!!
(Patricia Cochran 10:43pm March 22, 2013)
Second chances are good! Especially if it's an author who is giving her readers what they want ... more to read. Keep writing and we'll keep reading!
(Annetta Sweetko 10:27am March 23, 2013)
We all deserve a second chance. I'm always glad to see
another book by a favorite author.
(Mary Hay 10:33am March 23, 2013)
everyone deserves a second chance for whatever the reason. This of course does not mean crime in the sense of violent criminals. Someone makes a honest mistake they deserve a second chance of making it right.
(Lisa Fitzgibbons 11:07am March 23, 2013)
I think that as long as the quality stays the same, there is no reason an author can't write more than one book in a year.
(Pam Howell 11:12am March 23, 2013)
If both series are good then I don't have a problem with an author writting more than one.
(Sandy Giden 11:38am March 23, 2013)
Most people deserve second chances. I love it when my favorite characters in novels get second chances.
(Rebecca K. 2:50pm March 23, 2013)
I loved Little Shop of Homicide! I was so delighted to finally find a cozy
mystery heroine who wasn't "too stupid to live", and had more than her
share of spunk. I also liked the fact that the author didn't shy away from
including an actual potential love interest, and that the heroine had some
actual emotions. It was a delight to read! I can't wait to read the second.
And yes, I do hate to wait a whole year if the story is good enough! It's why
I like when trilogies are released about three months apart. Less waiting.
(Debbie Burdeen 3:16pm March 23, 2013)
If you don't get it right the first time, there's always a second chance.
(Sheila True 4:20pm March 23, 2013)
Not many of us get it right the first time on lots of things. Thank God for second chances!! And keep writing I love these books.
(Sue Farrell 4:55pm March 23, 2013)
I never mind when an author does a new series. A favorite writer can't write too many books in my opinion. Your book sounds like such fun. Thank you for the drawing.
(Linda Howell 4:59pm March 23, 2013)
Love the covers!
(Susan Dyer 5:06pm March 23, 2013)
I guess that I'm the greedy one because if I like an author I want as much as I can get from them as fast as I can get it. I also like when a favorite author branches out into new series or even genres. If they're good, they're good, they shouldn't suppress their talents.
Good luck and happy writing!
(Tracie Travis 7:24pm March 23, 2013)
I believe in second chances. I am always amazed at how creative many authors are. They can write many different series in various genres and still maintain the quality of their work.
(Bonnie H 7:24pm March 23, 2013)
I love reading, but I do get confused when an author writes under more than one name.
(Carol Woodruff 7:25pm March 23, 2013)
I think everyone deserves a second chance.
(Rita Wray 7:28pm March 23, 2013)
People deserve a second if they truly intend to live up to it
(Theresa Dell 7:57pm March 23, 2013)
I think that you should give second chances if they really are changing and
really trying. Rita Spratlen
(Rita Spratlen 9:13pm March 23, 2013)
I love it when a writer I love is prolific.

As to second chances it depends upon what drove them apart in
the first place.
(Mary Preston 9:23pm March 23, 2013)
I honestly believe in second chances when it comes to every aspect of our lives, so you have to follow your dream, as I have followed mine. I would love to tell you how second chances have crossed my path numerous times, and I've grabbed the ring with both hands and hung on for dear life, but I would take up too much space!! :-) I am looking forward to reading your book so much!! I love the covers, too!! There's just something about them that take me back in time, and bring a smile to my face. Congratulations on your latest book!!
(Peggy Roberson 9:28pm March 23, 2013)
"Sigh", if I didn't believe in second chances my husband wouldn't have had a second chance at our first date. And we, wouldn't have two wonderful children and 21 years of marriage. Second chances can certainly bring wonderful things.
(Janis Milford 9:32pm March 23, 2013)
I wouldn't worry about what they say. I hope to publish as many books as I can once I finish mine. I hope you will do the same :)
(Meghan Anderson 9:37pm March 23, 2013)
I see second chances as redemption, a way to make up my failures or short-comings.
(Kai Wong 9:48pm March 23, 2013)
second chances can be a way to learn from what happened the first time, but we usually just make the same mistake
(Michelle Schafer 10:28pm March 23, 2013)
I say if you have the skill and talent to write it, then you're meant to write it. Go for it!
(Donna Holmberg 10:44pm March 23, 2013)
Everyone deserves a second chance. Would love to win, thanks for a chance.
(Linda Hall 11:18pm March 23, 2013)
Love the premise of your book along with Gossip Central where
you hope the gossip about those close to you is the good
kind.
(Alyson Widen 4:39pm March 24, 2013)
Everyone deserves a second chance--which hopefully, has better results from the first time. Many times it can turn a person's life around. Love what I've read about your books.
(Linda Luinstra 6:37pm March 25, 2013)
If we couldn't have a second chance I'm afraid to see where we as a population would be right now! I truly believe in second chances (and sometimes more)
(Sandie White 8:08am March 27, 2013)
Registered users may leave comments.
Log in or register now!