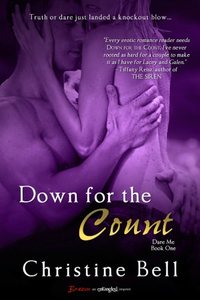 Purchase
Truth or Dare just landed a knock-out blow
Dare Me
Entangled
October 2012
On Sale: October 1, 2012
Featuring: Lacey Garrity; Galen Thomas
ISBN: 0015539644
EAN: 2940015539646
Kindle: B009KBT42A
e-Book
Add to Wish List

Truth or dare…
When Lacey Garrity finds her groom in flagrante delicto in the reception hall closet with her bridesmaid, she's saved by her best friend's older brother—childhood tormentor, crush, and boxing bad boy Galen Thomas. Galen's solution is both exciting and dangerous. What better way to forget the mess of her life than go on her honeymoon with a hot guy who can't promise anything beyond today?
…or TKO?
Galen had been counting on Lacey's wedding to put her out of reach—and out of his mind—once and for all, but their steamy Puerto Rican escape is testing all his boundaries. Now that Lacey's embracing her inner bad girl, Galen is tempted to throw in the towel and claim her for himself. But with the biggest fight of his career on the line and an important business merger threatening to derail Lacey's resolve, their romance might be down for the count before it even begins.
Dare Me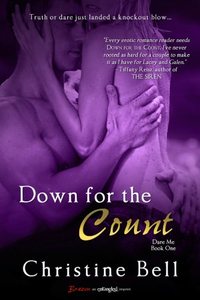 Down for the Count
#1.0
Kindle | BN.com | | |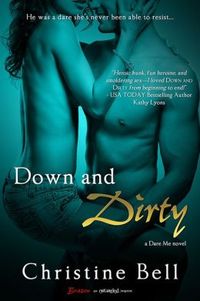 Down and Dirty
#2.0
Kindle | BN.com | | |
Comments
21 comments posted.
NO I am not one for dares... even if I was called a chicken, I would stand my ground. Never cared for some of the crazy things and ideas people can come up with.
(Colleen Conklin 12:53pm October 29, 2012)
I love dares - I think I have a side of me that waits to be woken up and expressed without fear. I have done crazy stupid things - from drag racing to streaking. Life is filled with responsibilities and occassionally it is important to throw fun into the wind and grasp it - those moments are too brief but amazing.
(Carla Carlson 1:31pm October 29, 2012)
Not really! Coward me!
(Roxana Perez 3:46pm October 29, 2012)
I took a dare a few times in my life and it seemed to come out liberating !! Sometimes in lie you need to take a dare. All decisions you make that can impact your life is a dare and sometimes you need to just hold your breath and take the leap you never know if it will be worth it or not .That is what life lessons are all about right ?
(Danielle McDonald 4:19pm October 29, 2012)
I'll admit that I'm not one for dares.
(Robin Greene 4:22pm October 29, 2012)
I haven't taken a dare since I was a kid.
(Cheryl McEwen 5:22pm October 29, 2012)
My friends dared me to ask out my now husband. I left him a note on his
windshield with a lipstick kiss. It really wasn't facing a dare head on, but I
did try. I am shy so dares are really not something I would accept. I did get
the guy out of this though : )
(Ann Sheiring 5:41pm October 29, 2012)
Well, I have not been offered a dare since I was a child... but it always brings 'The Christmas Story' to my mind and that poor kid with his tongue stuck to the flagpole!
(Cate Sparks 6:25pm October 29, 2012)
I don't think I have taken a dare but then I haven't been issued one either.
(Larena Hubble 7:10pm October 29, 2012)
My story is very similar to Ann's above. My girlfriend dared me to leave a note on a guy's windshield we went to high school with. I decided to make it look like a parking ticket and put it on his windshield. Payment was taking me out to the root beer stand. He reciprocated right away and came over to my house on his motorcycle (much to might surprise). I was shocked he came through. We started dating and he became my husband two years later! I was happy I went through with her dare, because I was on the shy side and was something I normally wouldn't do, but I had danced with him at a high school dance at the YMCA, so he wasn't a complete stranger.
(Linda Luinstra 7:22pm October 29, 2012)
It's all depend on the dare. If the dare is dangerous, I wouldn't do it. I look for the benefit of the dare and yes, I do have a habit of calculating the risks.
(Kai Wong 9:23pm October 29, 2012)
It depends on the dare - it shouldn't put anyone at risk or be malicious.
(Mary C 9:34pm October 29, 2012)
I can't ever recall being dared to do anything in my life, and don't know if I would take on a dare, but I did do my own personal dare, and made a major change in my life, when everyone least expected it. I would have to say that I found it to be liberating, and my Doctor told me at the time that I would have died if I had not made the change that I did. Hearing that from my Doctor was quite a shock, because things were ok, but I wasn't happy like I should have been, and felt like I was living under a microscope, without going into detail. I just needed to feel a sense of freedom again, and feel worthwhile as a person. I enjoyed your excerpt very much, and can't wait to read the rest of your book!!
(Peggy Roberson 10:16pm October 29, 2012)
I wish someone would dare me, I'd like to know what I would do.lol
(Rita Wray 11:56pm October 29, 2012)
I'm going to have to get this book! Sounds so fun that Galen was able to dare Lacey!
I've never fallen for a dare before. I won't do it unless I want to in the first place, although I've never been dared by a guy like Galen. Seems like Lacey really wanted to go, smart girl.
Thanks for the giveaway.
(Karen Prentice 1:15am October 30, 2012)
Your book sounds really awesome! Thanks for the giveaway! I am not one for dares.
(Christine Mead 6:49am October 30, 2012)
I suppose being asked if I would go skydiving would be the closest. Normally people don't dare me because they know I can do more than most people. My boyfriend, now my husband, had parachuted before and asked if I'd like to go with him next time.... we went and I jumped for charity.
I might never have done this if I hadn't been prompted, and I really enjoyed it, and now I am so glad I did it!
(Clare O'Beara 8:20am October 30, 2012)
Can't wait to read the rest of this story! CONGRATS on the release, Christine!
(Yadira Alonzo 11:29pm October 30, 2012)
I'm afraid that I like to be in control way too much to ever take a dare.
(Sue Farrell 12:00pm October 31, 2012)
Dares are pretty sneaky and risky, so I don't particularly like dares. Challenges are more my speed because it takes finesse and going out of my comfort level to reach for what it takes to get going onto another rung of the ladder of success. Your story has a visceral element that captures the inner turmoils the characters are involved with. Thanks for making the condition of the gut so clear.
(Alyson Widen 7:18pm November 1, 2012)
I've taken childish dares on. Nothing too frightening though,
just a bit silly.
(Mary Preston 9:09am November 2, 2012)
Registered users may leave comments.
Log in or register now!