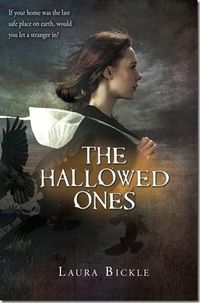 Purchase
Graphia
October 2012
On Sale: September 25, 2012
Featuring: Katie
320 pages
ISBN: 0547859260
EAN: 9780547859262
Kindle: B0098OHQNS
Paperback / e-Book
Add to Wish List

Young Adult Paranormal | Inspirational Amish
Katie is on the verge of her Rumspringa, the time in Amish life when teenagers can get a taste of the real world. But the real world comes to her in this dystopian tale with a philosophical bent.
Rumors of massive unrest on the "Outside" abound. Something murderous is out there. Amish elders make a rule: No one goes outside, and no outsiders come in. But when Katie finds a gravely injured young man, she can't leave him to die. She smuggles him into her family's barn—at what cost to her community?
The suspense of this vividly told, truly horrific thriller will keep the pages turning.
Comments
11 comments posted.
I love reading about the Amish. We were just talking about the
Rumspringa at my brother's and his wife's house last week. So
fascinating!
(Vicki Hancock 2:07am October 7, 2012)
I've recently started reading Amish fiction, reading Dark Crossings which like your tale is three novellas of what happens when outsiders bring crime into Amish communities. I find a lot of interest in the lifestyle and I always enjoy reading culture contrast.
(Clare O'Beara 4:59am October 7, 2012)
I really enjoy reading about the Amish, i am fascinated with the lifestyle. Thanks so much for the chance to win!
(Christine Mead 9:48am October 7, 2012)
Thanks so much for stopping by, Vicki, Clare, and Christine! I
grew up not too far from a large Amish settlement, and the
Plain way of life is fascinating to me!
(Laura Bickle 11:13am October 7, 2012)
To answer your question: I don't know. I really don't think anyone could say, "Definitely ye," or "Definitely no" without having to think seriously about how it would affect everyone in that home, and all the connections that home has to others. And personally, if someone says that they could say one or the other without thinking about it, I wouldn't want to be connected with them in any way, shape or form, should such a situation ever arise.

Later,

Lynn
(Lynn Rettig 1:48pm October 7, 2012)
OK, that should be: "Definitely yes", not "Definitely ye."

Why, oh why does my brain run so far ahead of my fingers sometimes?!?

Later,

Lynn (again!)
(Lynn Rettig 1:50pm October 7, 2012)
The storyline sounds intriguing. From the exception, it sounds that there is an epidemic going on in the outside world and the Amish world is soon to be impacted. After all, is life about making decisions and hoping that the decision is made with few consequences? I would love to read this book.
(Kai Wong 2:38pm October 7, 2012)
I enjoy reading about the culture of the Amish, but would not open my door to just any old stranger.
(Alyson Widen 4:22pm October 7, 2012)
I read the excerpt, and was so disappointed that it ended!! I wanted more!! This is definately going to be a real page-turner, and I can't wait to read it!! For those that don't have this book on their TBR list, shame on them!! You have a gift of telling your story in such a way that when someone reads what you've written, it's as if it's occurring right in front of you - almost like a movie, but in your minds' eye!! That's a special talent. The other plus for me is that the book deals with the Amish, which I have enjoyed reading about for a long time now. The cover is tasteful and beautifully done. Congratulations!!
(Peggy Roberson 5:48pm October 7, 2012)
Thank you so much, Peggy! Your comments really warmed my
heart. Thank you! :-)

Hi, Lynn, Kai, and Alyson! The end of the world really
pushes my characters to consider things they would never
have before...I think that kind of pressure really strips
back the illusions and shows people for who they are. I
can't say how I'd react in the same situation, but it's
interesting to think about.
(Laura Bickle 7:25pm October 7, 2012)
Enjoyed reading your blog. Book sounds like a great read.
(Sheila True 7:37pm October 25, 2012)
Registered users may leave comments.
Log in or register now!