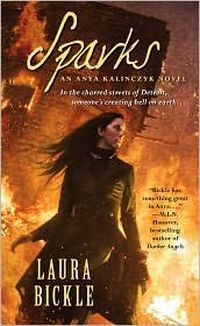 Purchase
In the charred streets of Detroit, someone's creating hell on earth...
Anya Kalinczyk #2
Pocket Books
August 2010
On Sale: August 1, 2010
Featuring: Hope Solomon; Anya Kalinczyk
368 pages
ISBN: 1439167680
EAN: 9781439167687
Kindle: B003L785WY
Mass Market Paperback / e-Book
Add to Wish List

WITHOUT A TRACE...
Anya Kalinczyk is the rarest type of psychic medium, a Lantern, who holds down a day job as an arson investigator with the Detroit Fire Department—while working 24/7 to exterminate malicious spirits haunting a city plagued by unemployment and despair. Along with her inseparable salamander familiar, Sparky, Anya has seen, and even survived, all manner of fiery hell—but her newest case sparks suspicions of a bizarre phenomenon that no one but her eccentric team of ghost hunters might believe: spontaneous human combustion.
After fire consumes the home of elderly Jasper Bernard, Anya is stunned to discover his remains—or, more precisely, a lack of them; even the fiercest fires leave some trace of their victims—and she is sure this was no naturally occurring blaze. Soon she's unearthed a connection to a celebrity psychic who preys on Detroit's poor, promising miracles for money. But Hope Solomon wants more—she's collecting spirits, and in a frantic race against time, Anya will face down an evil adversary who threatens her fragile relationship with her lover, her beloved Sparky's freshly hatched newts, and the wandering souls of the entire city.
Anya Kalinczyk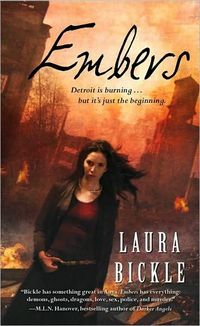 Embers
#1.0
Amazon.com | BN.com | Apple Books | Kobo | Google Play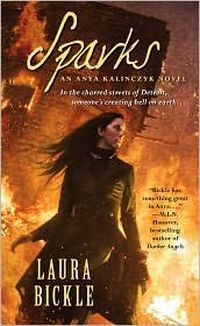 Sparks
#2.0
Amazon.com | BN.com | Apple Books | Kobo | Google Play
Comments
41 comments posted.
Re: Sparks

Sparky, makes me think of all the pets I've had in my life. I often wondered who
was keeping whom? We pamper our pets so much that I can't think of myself as
their master!
(Sue Ahn 4:07am December 3, 2010)
It always seems that no matter what our pets do we love them regardless. Sparky sounds just the same. I've had cheqed shoes, sock and a new jacket but still Sooty is the pride of our family!
(Barbara Hanson 4:41am December 3, 2010)
Your book sounds exciting! Count me in, please. Here's to a happy and healthy holiday season.
(Karen Gervasi 6:30am December 3, 2010)
Writing about Detroit, and throwing a pet like Sparky in there. What a combination!! I grew up in Detroit, and still live in the state, so this should make for interesting reading. Being an animal lover, you gave the book an added plus!! Congratulations on your new book!! This is definately on my to read list for the holidays!! Have a Merry Christmas, and the best for the New Year!!
(Peggy Roberson 9:19am December 3, 2010)
I love Sparky- he sounds awesome - Have a safe and wonderful Christmas Season.
(Audra Holtwick 9:32am December 3, 2010)
I am currently enduring shingles on my face and my "Therapy Cat", Mikie is wonderful!!!!
Blessings,
Marjorie
(Marjorie Carmony 9:52am December 3, 2010)
Sparky sounds so fun and I'll be adding your books to my TBR list and picking them up soon.
(Vickie Hightower 9:57am December 3, 2010)
Wow! Read the chapter of sparky and loved it. I am going to hunt this down.Thanks! Merry Christmas.
(Angela k 10:01am December 3, 2010)
Sparky sounds like a mischievous little kitty!

Books sound like alot of fun.
(Susan Davco 11:05am December 3, 2010)
Sparky sounds like a real winner. It's great that he has his Gloworm to keep him company!
(G S Moch 11:19am December 3, 2010)
Sparky sounds like a fun familiar---one everyone would like to have.
(Sue Farrell 11:40am December 3, 2010)
I think that it is great that Sparky gets to be not just a parent but the support charector from a book gets to get his own story told! Sparky does remind me of a puppy- chews on everything (electrical), loves his own toy even if it isn't a pet toy (his Gloworm), and is protective / useful even at times we didn't anticipate any troubles!
I am reading my way through "Embers" right now too! I had to get the ebook version since all of the small books stores didnt have it or I couldn't afford it from Barnes and Noble.
Have a nice day Laura from Laura P. Sparta Michigan
(Laura Parmentier 12:26pm December 3, 2010)
I have a cat that hates phones and answering machines. I would come home to find them on the floor and often broken. One day I caught her. Someone had left a message, and she had jumped up, picked it up, shook it, and threw it on the floor. I guess she was mad to get woken up from her many naps.
I would love to read this.
(Debbie Penny 12:30pm December 3, 2010)
This sounds like a fun read. I love animals and have a sweet cat of 15 yrs. We all have our pets and some of us end up treating them like family or children. They give us so much love
(Diane Castiglione 12:33pm December 3, 2010)
What a fascinating story! Now I want to find out what happens next.
(Anna Speed 12:38pm December 3, 2010)
Sparky sounds like a fun character... thanks for introducing him and Anya to me today!
(Colleen Conklin 12:58pm December 3, 2010)
I'd like a familiar of my own... a rat or an owl maybe. One of those small owls, or maybe one of each??? LOL!
(Michele Powell 1:00pm December 3, 2010)
Laura, Sparks sounds like a fun and interesting read. Sparky, a familiar, is a fire salamander, an elemental creature that's the embodiment of fire. He sounds like a very loveable and ornery pet. He jealously guards her from potential lovers -- sounds like a beagle I used to have. Whenever a date came over, she would situate herself on the couch between the two of us and growl if he tried to touch me -- except for my future and longtime husband. She barely growled at him, which was unusual for her since she hated men except for my dad and brother. LOL!

Anyway, getting back to Sparky. I'm not that knowledgeable about familiars. Were they people that were pressed into service. If so, does Sparky change into a man towards the end of the book, or does he stay a pet? Just curious if they can be released into human form.

Happy Holidays to everyone!
(Cathy Phillips 1:03pm December 3, 2010)
Would love to win. Sounds like a good story
(Susie Kerner 1:26pm December 3, 2010)
My grandson and his four snakes live with me, so Sparky sounds like a reptile I could have fun with. Happy Holidays
(Sheila True 1:41pm December 3, 2010)
I think Sparky sounds a treat & how have I missed this series? Guess I need to rectify that situation, huh?
Happy Holidays & thanks for the opportunity!
(Ivy Truitt 1:42pm December 3, 2010)
This sounds great! I love the description of Sparky. He sleeps with a Gloworm toy (my kids did too) and he snorts when Anya thinks he's under control - funny! Thanks for the offer, can't wait to read it! :)
(Debbie Wright 1:45pm December 3, 2010)
okay, I want a Sparky . What a great character to write . Look forward to reading about him.
(Sharon Stogner 2:24pm December 3, 2010)
Fabulous!! I found this very interesting & fun. I so want to read it.
(Mary Preston 3:34pm December 3, 2010)
I very much enjoyed the first book in this series, so creative in worldbuilding and unusual sidekick. I also didn't see the ending (specifically what happened to the male main character) coming, so I have a lot of anticipation for what surprises might pop up in book 2.
(Maya Missani 5:22pm December 3, 2010)
Everyone needs at least one Sparky in their life. Sounds like a guinea pig I had some years back. She was quite the character, loveable but with a naughty streak.
(Cherie Japp 5:58pm December 3, 2010)
Sparky sounds great and thank you for the chance to win. I
wish you the best on the book and all that follows.
(Cynthia Plaza-Harney 6:15pm December 3, 2010)
Sparky sounds like a lot of fun. Will have to put this on my TBR list. Thanks for the contest!
(Teresa Ward 6:35pm December 3, 2010)
The book sounds really interesting and is definately something I would read. Sparky sounds really fun. I've always like lizards and salamanders. Sparky reminds me of a cat we had when I was a child. My mom was making tacos one night and when she turned away from the table our cat jumped on the table and started eating the cheese out of the bowl. Needless to say my mom wasn't happy when she turned back around.
(Amy Christian 6:52pm December 3, 2010)
The book definitely has sparked an interest. It's amazing how quickly animals can become part of the family. I think most of the time pets control us! I had one cat who knew exactly how to look/act to get anything she wanted or to keep from getting in trouble.
(Tabitha Monroe 8:55pm December 3, 2010)
The book sounds interesting would love to win! I've never had pets because I'm so very allergic. Wish I could!
(Brenda Rupp 9:53pm December 3, 2010)
The book sounds great.
(Ginger Hinson 11:36pm December 3, 2010)
you book sound great i love ghost story and then the info you can get form them best of the holiday
(Desiree Reilly 12:21pm December 4, 2010)
A salamander is an interesting choice for a familiar!
(Dani Brantley 1:19am December 4, 2010)
LOL! I love that he's a salamander,so unexpected and cute:)
(Bella Franco 2:54am December 4, 2010)
Sparky sounds great. Never heard of a salamander as a familiar. But it reminds me of Golden Compass where their familiars are a representation of who they are.
(Pam Howell 10:52am December 4, 2010)
Looks like a great read, hope I can be counted in the contest.

Valerie
in Germany
(Valerie Bongards 2:11pm December 4, 2010)
A salamander is definitely not the normal pet so I can see him
getting into and out of lots of predicaments.
(Lisa Richards 3:15pm December 4, 2010)
I know the perils of having the not so typical animals. I also know what it's like to have sort of feral cats. So I can definitely see the inspiration for Sparky!
(Rae M. 6:31pm December 4, 2010)
Sparky sounds great. Phychic, fire department, lots of excitement. That's for me.
(Gladys Paradowski 8:47pm December 4, 2010)
Sparky was the name of my first dog, a blue-tick hound who loved hunting. We used to collect salamanders at the Nature Center, but they have a short life and we released them after a few minutes of tickling our hands.
(Alyson Widen 2:47pm December 5, 2010)
Registered users may leave comments.
Log in or register now!