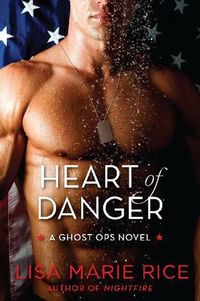 Purchase
A Ghost Ops Novel
Avon Red
November 2012
On Sale: November 6, 2012
Featuring: Catherine Young; Tom "Mac" McEnroe
304 pages
ISBN: 0062121790
EAN: 9780062121790
Kindle: B007HB816A
Paperback / e-Book
Add to Wish List

Ghost Ops. A small unit of super-elite soldiers so secret only two men know of their existence. Betrayed by their commanding officer while on an antiterrorist mission, the team is massacred. Only three survive—and find themselves framed and disgraced. But en route to the court martial, they escape . . . and disappear.
Beautiful, brilliant, and determined, Dr. Catherine Young is on a mission to find a man who has vanished into thin air. Walking into a high-tech hideaway bearing an essential message to Tom "Mac" McEnroe, Team Leader of the betrayed Ghost Ops force, is the most dangerous thing she has ever done. The soldier she encounters is frightening and suspicious, but her senses reveal the man underneath: tough, honorable, and so breathtakingly masculine Catherine feels weak in his presence . . . But to surrender to Mac's passionate desires would put her life in dire jeopardy. Catherine has a gift that enables her to see into the heart of others—and looking into Mac's is like staring into the very heart of danger itself.
Comments
40 comments posted.
Re: Heart of Danger

I prefer my apocalypse stories as movies. This goes against my principle
that the books are always better than the movie. May be I will change my
mind when I see a Matthew Reilly book converted into a film........
(Chris Coulson 1:03am November 10, 2012)
From now on you will always pack a flashlight in your bag or purse and extra batteries i bet. Glad you made it through safe and sound.
(Holly Vanderhule 1:50am November 10, 2012)
Well, I hope you caught up on some much needed sleep when the lights went out. When I read zombie stories, I lose a lot of sleep. Why do we love them so?
(Kathleen Yohanna 2:57am November 10, 2012)
I love this type of book and hope I win it!!! Thanks
(Bonnie Capuano 5:52am November 10, 2012)
Goodness,
I will have a bright light on when reading these.
Blessings,
Marjorie
(Marjorie Carmony 6:15am November 10, 2012)
I love this genre. Actually my favorite The Stand by Stephen King they are supposed to making into a movie (I hope). I would say my favorite is the virus as a world killer. Since studying pandemics is my hobby.
(Debbie Penny 6:16am November 10, 2012)
Like you, I love apocalypse books also. Not sure about the end of the World whether it will be swarm of zombies, Vampires,or a virus?
(Shirley Younger 7:42am November 10, 2012)
No, sorry, I don't like depressing stories. I don't like zombies in particular, I like characters. I did see the Terminator films but I am not keen on post-apocalyptic worlds.
The Day After Tomorrow was a good film and a good story. Okay they overstated a few weather features, but sure enough if the ice dropping off Greenland shuts down the North Atlantic Current, or Gulf Stream, the northern hemisphere will get a great deal colder.
(Clare O'Beara 8:10am November 10, 2012)
I love apocalypse books and shows. I'm addicted to The Walking Dead and my favorite book would be The Stand by Stephen King.
(Renee Pajda 8:15am November 10, 2012)
Well, I'm not into apocalypse type books, but if it has an underlying relationship plot definitely would read. I did enjoy The Day After Tomorrow film.
(Connie Rowe 9:40am November 10, 2012)
Hi all--There are various reasons most of us enjoy
apocalyptic books as long as they are not incredibly
depressing, as I hope mine isn't. But they certainly make us
THINK. And speaking for myself I vividly ardently appreciate
running water, heat in winter, AC in summer, dentists,
mammograms, well stocked grocery stores...
I loved The Stand too, though I haven't read it in years. At
any rate, whoever wins Heart of Danger--it's the beginning
of the story which is one long story arc three books long,
but with three different couples. I do hope you enjoy it!
(Lisa Marie Rice 9:48am November 10, 2012)
Interestingly enough, I live in a part of the world that has
already survived an apocalypse--the fall of the Roman
Empire. I live in what was known as Magna Grecia. Pythagorus
taught 15 miles from where I live in a Greek temple that
still stands. It was prosperous and cultivated and survived
under the Pax Romana. And when Rome fell--1500 years of
darkness. But they survived.
(Lisa Marie Rice 10:03am November 10, 2012)
I think this book sounds good and the series even better.
Thanks for the chance to win it.
(Mary Hay 10:08am November 10, 2012)
I live in San Francisco and I love how apocalypse movies and books set my heart racing!
(Janice Milliken 10:43am November 10, 2012)
aAa Great Contest
(Kent Cook 10:47am November 10, 2012)
I love post apocalyse movies -- and books :)
would LOVE to win and read - PICK ME!!
(Pamela Faye Howell 10:58am November 10, 2012)
Not very original, but The Stand by Stephen King is my all time favorite and I have read several. I think I related better to The Stand because we were living in New York when it was released. Very thought provoking. I am currently watching "Revolution" on TV (storyline - survival after the total loss of electricity)- certainly possible and scary. How about "The Andromeda Strain" or "Outbreak" both of which deal with pandemics. Would definitely enjoy reading your series.
(Beth Charette 12:03pm November 10, 2012)
I gravitate towards apocalyptic movies or tv shows. I
prefer the technological mishap as the cause.
(Jan D 12:58pm November 10, 2012)
The last apocalyse book I read is Plague Town. It sounds so much like Resident Evil that I like the story. There is also the Phoenix Chronicle by Lori Handeland. At least it is better to prepare for an apocalyse than not.
(Kai Wong 1:33pm November 10, 2012)
JL bourne's series is really good. it starts off in an
unassuming way--the diary of a military man on leave. Cannot
wait for book three! I think many of us love these stories
because they are the most dramatic setting possible. Anybody
reading the Joe Ledger novels by Jonathan Maberry?
Brilliantly written. Thanks for the suggestion of Phoenix
Chronicle and Plague Town. Will order now on my kindle.
(Lisa Marie Rice 1:43pm November 10, 2012)
Thank you for your post, Lisa Marie. I see the apocalypse a bit differently. I think the world will end not with a bang, not with a whimper. Rather, it will end with a great shout of "That's not my responsibility!"
(Mary Anne Landers 2:40pm November 10, 2012)
I enjoy all types of apocalypses, vampire, zombie, plague, technology,
whatever. I just finished The Poison Princess and I liked the sun flare idea
destroying everything, well almost.
(Ann Sheiring 2:44pm November 10, 2012)
Love the sound of the book. Would enjoy the read.
(Cynthia St. Germain 2:57pm November 10, 2012)
I have only read a few books involving an apocalypse... I guess I need to branch out on the subject a bit more in my reading... very interesting!
(Colleen Conklin 3:29pm November 10, 2012)
I'm watching The Walking Dead on TV now and that's got to be the most horrific apocalypse ever. If an apocalypse were to happen, it would probably be a plague probably as a result of terrorism. My motto is "Enjoy everyday because who knows what tomorrow will bring."
(Monica Vargo 3:31pm November 10, 2012)
I LOVE READING BOOKS AND WATCHING MOVIES ABOUT THE
APOCALYPSE.

IF AN APOCALYPSE WERE TO HAPPEN, IT WOULD PROBABLY BE ALIENS
COMES AND KILL PEOPLE AND BLOW THE EARTH UP, GLOBAL
EXTINCTION THAT'S ONE THEORY.

IT COULD ALSO PROBABLY BE A VIRUS AND A SWARM OF ZOMBIES
THAT WOULD BE FRIGHTENING AND SCARY THE SWARM OF ZOMBIES.
(Shelly Caggiano 4:50pm November 10, 2012)
It doesn't sound like your trip included much pleasure during your visit to New York during Hurricane Sandy--more of a terrifying, stressful experience. I would have gone into panic-mode being in the dark in an unfamiliar place and with no way to contact anyone! I hate any kind of storms and have never been in a hurricane situation, but my heart goes out to all those suffering from what's happened to them as a result. I think some of life's toughest experiences make us stronger. Your books sound good. I just watched the true story movie, Clear Lake, WI. which was a little eerie. The town was evacuated in 1994 because people were dying from some strange epidemic and several turning up missing--they left everything behind. I'd never heard of this and was a bit surprised since I live in WI. It definitely grabbed my attention, and I'm sure reading your books will, too!
(Linda Luinstra 4:53pm November 10, 2012)
I think the reading books the have TEOTWAWKI includes such greats as A Brave New World, Farenheit 451 - amazing books that can make you think, others like the mix of Crichton and Rollins make the world feel as though it is too close. When reading books like The Strain, I feel my heart racing in a world of evil.
(Carla Carlson 5:58pm November 10, 2012)
ASHFALL by Mike Mullin is a favorite of mine.
(Mary Preston 9:59pm November 10, 2012)
I have never read an apocalypse book, because the thought of reading one has always been a bit too scary for me. My reasoning for an apocalypse would either be by virus or famine. I would like to give your book a try, though, and if I found it a bit hard to get through, I know that my Husband would enjoy it thoroughly. He tries to get my dander up, so to speak, by teasing me about it, but it's really not a laughing matter. These things are meant to be down the road, as far as my beliefs are concerned. Perhaps if I read about it more, I wouldn't be as afraid as I am now.
(Peggy Roberson 10:11pm November 10, 2012)
Linda Luinstra, Remember our history--"Roanoke" they have come up with a few ideas but nothing concrete as to where they all went, or what happened.Too many what if's there and in those years that was akin to apocalypse in response to the movie Clear Lake, WI.
(Holly Vanderhule 10:32pm November 10, 2012)
I enjoyed reading World War Z and I watch Revolution (which is filmed in my area). Apocalypse stories with viruses are the ones that grip me...because I just KNOW it could happen. I think back to Stephen King's The Stand...
(Catherine Lee 10:39pm November 10, 2012)
what can i say ..wow a great cover
(Kimberly Hoefs 11:06pm November 10, 2012)
It all depends. I am liking Revolution & I liked Jericho. But not zombies. And
some aliens/sci-fi are ok too. Guess I'm just a mass of contradictions! ;)
(Penny Mettert 11:48pm November 10, 2012)
I haven't red any apocalypse books yet, and am not really into
the whole zombie fad. I do love the military hero books.
(Diane Sallans 11:53pm November 10, 2012)
I haven't read any apocalypse stories but have seen movies. The scariest ones are the ones that seem very possible like meteors or nuclear wars.
(Maureen Emmons 7:16am November 11, 2012)
Peggy, Diane--Heart of Danger isn't an apocalypse book. And
the trilogy skirts and averts the apocalypse. But still--
it's interesting to reflect upon. Our lives are made so
wonderfully safe and comfortable. It hurts to think of
reverting back to a more primitive time.
(Lisa Marie Rice 8:24am November 11, 2012)
I would have to say having a virus kill the world is my favorite .
(Danielle McDonald 3:00pm November 11, 2012)
I would have to say aliens or nuclear war for TEOTWAWKI would be my two favorites. I have watched apocalypse movies of which several haven't seemed too far fetched in reality. War of the Worlds really makes you think! I'm sure I'd enjoy reading all your books.
(Rich Cook 4:27pm November 11, 2012)
I haven't read collapse of the world books, but remember from a conference how to prepare for a disaster.
(Alyson Widen 5:47pm November 18, 2012)
Registered users may leave comments.
Log in or register now!