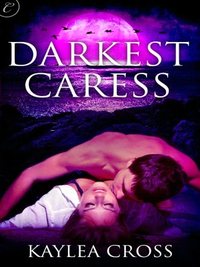 Purchase
Empowered #1
Carina Press
May 2012
On Sale: April 23, 2012
ISBN: 1426893663
EAN: 9781426893667
Kindle: B0070Y31KA
e-Book
Add to Wish List

Two-hundred-year-old Daegan Blackwell is one of the last remaining Empowered, an ancient magical race. Daegan's duty is to lead and protect his remaining Brethren in the coming war foretold by prophecy. The last thing he expects is to meet the one woman who will either save or destroy him—his destined mate.
Fiercely independent Realtor Olivia Farrell believes darkly handsome Daegan is simply a prospective client. Until she's attacked by a man with a strange aura—and Daegan fights him off, taking away her pain with just his touch. At first, Olivia refuses to believe she's part of a magical race, yet mounting evidence and her powerful chemistry with Daegan are too strong to deny.
But as Daegan's partner, Olivia becomes a target in the battle between good and evil that threatens her life, as well as the very existence of the Empowered. And the only one who can save her is the man claiming to be her destiny...
Comments
41 comments posted.
Re: Darkest Caress

I'm glad you shared your DNA experience... definite synchronicity heads up by powers that be!
(Susan Jeffers 3:52am May 4, 2012)
You live in such a beautiful place!
Paranormals are fun!
Blessings,
Marjorie
(Marjorie Carmony 6:48am May 4, 2012)
I love badass military background books. HA Thanks for the chance to win one of your books!!
(Bonnie Capuano 7:42am May 4, 2012)
I love books that are paranormal. the book looks so good
really cant wait to read it i really would love to win this
one
(Denise Smith 8:19am May 4, 2012)
I love paranormal books AND military romantic suspense, too. I love the background information on this - way cool! - and how fascinating that your DNA results showed that connection - another version of "de ja vu all over again!". We definitely write what we "know" - I wish I had an experience like that -

Thank you for the chance to win your book!
(Felicia Ciaudelli 8:59am May 4, 2012)
recently a new friend gave me a book of poetry about cats with illustrations by edward gorey...she did not know that I loved his artwork nor that I have a degree in English Creative Writing specializing in poetry! sort of freaked us both out!
(Angie Lilly 9:02am May 4, 2012)
I haven't personally had anything surreal happen, however, my husband was at this dinner event and someone took his picture and when they emailed him the pic there he was standing at a table talking with another "him" standing behind him with a light sort of shining down on it and the stance was different than the actual him! It wasn't double exposed as there was nothing else off anywhere else in the pic, very spooky and I still sometimes look at the pic and just shake my head baffled 0.0
I have read some of your other books and thoroughly enjoyed them. I'd be psyched to receive this new one it sounds ineteresting. Thanks for the giveaway opportunity ;D
(Cindi Mitchell 9:08am May 4, 2012)
Thanks for this chance to win.
(Mary Hay 9:41am May 4, 2012)
Unfortunately no, not experienced anything like that. However love the synopsis on this book - sounds great.
(Barbara Hanson 9:51am May 4, 2012)
This book sounds really interesting. I'd love to be a winner - but if not, I will definitely check it out on my own. Best of luck with it.
(Nancy Reynolds 10:38am May 4, 2012)
Not really... Very boring life... hence the need to read books! :) But love paranormal romance...
(May Pau 10:57am May 4, 2012)
What a cool coincidence that you happen to have the same lineage as your characters. I love interesting DNA facts. There was something in the news this week about a study that believes all blue-eyed people are descended from one single person with that eye color mutation. Very interesting.

I love PNR. The book sounds awesome!
(Stacie Deramo 12:11pm May 4, 2012)
Susan, yeah, it was pretty surreal. At least to me :)

Thanks, Marjorie!

Bonnie, me too. *drool*

Denise, thank you!
(Kaylea Cross 12:12pm May 4, 2012)
Felicia, it was definitely a moment I'll never forget! Sent a tingle up my spine.

Angie, she must have somehow known on some level then. Great story :)

Okay, Cindi, that's really creepy! You never did figure out what caused it? Weird...

May, ha! I'm a reading addict too, so I get it.

Stacie, I didn't see that story. So interesting! (I have blue eyes, so for me it's even cooler)
(Kaylea Cross 12:16pm May 4, 2012)
Sounds interesting. So glad not to have another lawyer or doctor heroine! I'm sure I have had them but just shrugged my shoulder, it was just a coincidence!
(Lisa Elwood 2:24pm May 4, 2012)
Love the sound of this book! I have had a few times of Deja Vu... really odd to see yourself having the same conversation in the same exact setting... makes you stop and wonder... as for spooky coincidences, I can not recall at this moment...
(Colleen Conklin 2:40pm May 4, 2012)
I really appreciate it when an author does research & I learn
some things while reading. Thanks for all your had work on
this series. I really believe that things turn out as they
should, we just can't anticipate those strange paths where
life leads us.
(Diane Sallans 3:32pm May 4, 2012)
Thanks for a fun post and giveaway! I'm too pragmatic to
believe in coincidences. So maybe that's why they never happen
to me :) Your book sounds fabulous! Definitely on my wishlist
:)
(Erin Fender 3:47pm May 4, 2012)
Hi, Lisa. I wanted Olivia to be very a "normal"/"girl next door" kind of gal to help contrast that with her Empowered connection.

Thanks, Colleen. It's so weird when you remember the conversation and even know what's going to be said before someone says it!

Diane, thanks! I'm a nerd, so I enjoy learning new things and slipping a few of them into the book I'm working on.

Erin, too funny! You sound like my husband :) (he's an accountant, if that gives you any indication of how imaginative he is, lol)
(Kaylea Cross 4:10pm May 4, 2012)
From the minute I saw this title I knew I had to get my hands on this one. I have it on my have to but list.
Thanks for the post now I really really want it bad. I think it is awesome what you found out after doing the dna research. Goosebump moments are so cool
(Patti Paonessa 4:54pm May 4, 2012)
i cannot wait to read this book
(Debbi Shaw 5:04pm May 4, 2012)
That really would have been a goose bump moment. I have felt a very close
connection to Native American sites we have visited. Both NAtive American
and Celtic music touch my soul. Family lore says there are both Native
American and Celtic blood lines our past. I hadn't considered a DNA test to
find out for sure what our background is. This does sound like an interesting
world you have created. Will keep my eyes open for this series when I go
book shopping.
(Patricia Barraclough 5:31pm May 4, 2012)
I've neverhad a surreal experience.
(Pam Howell 5:56pm May 4, 2012)
Ooo, that is so cool about the DNA match. It's like your writer self just knew and wove it into your story. When I was a teen I was travelling with my family. I woke up in the middle of the night with a clear picture of my boyfriend at the time. I KNEW he had just had a huge emotional shock. When I returned home I told him about my waking vision. It turns out, I described exactly what had happened to him. Way goosebump!
(Jennifer Beyer 7:04pm May 4, 2012)
Patti, I'll admit this is my favorite cover I've ever received. The hero is so gentle yet sexy...

Thanks, Debbi! Hope you like it.

Patricia, you should get your DNA tested! It's so fascinating, honestly. You never know what you'll find out about your roots.

Pam, never ever? Not even a weird deja vu moment?

Thanks, Jennifer. Maybe some part of me knew on a subconscious level? *shrugs* I can't rule it out, can I? And your story? Maaaajor goose bumps. Unreal what our minds are capable of!
(Kaylea Cross 7:35pm May 4, 2012)
I frequently think of someone I used to have contact with then bump into them, get a call, an email or text message from them. Not sure what it all means and it's used to plague me but now I just take it in stride and NOT think about those people I don't want to hear from or see.

Good luck and happy writing!
(Tracie Travis 8:12pm May 4, 2012)
sounds great and i can't wait to read!!!
(Jennifer Beck 9:22pm May 4, 2012)
I once took a bad fall, which knocked the wind completely out of me. I could actually see myself rising above my body, which was lying on the floor!! Because I knew that I had so much more to do with my life, and obligations yet to fill, I asked God to please spare my life for now, and he somehow lowered me back into my body. It was the most surreal thing I've ever experienced!! I have to say that I'm disappointed that the contest is for a digital copy of your book, because I don't own a nook or reader of that type. I prefer the print copy of a book. I am in love with the cover of your book. It might sound weird, but there's a sense of calmness when you look at it, along with the sensuality, of course. Congratulations on your latest endeavor!!
(Peggy Roberson 9:30pm May 4, 2012)
I'm a firm believer in ESP so there have been moments when I am sure that somebody has tuned into vibes. Congrats on the new book, looking forward to reading it, really enjoyed "Deadly Descent".
(E Felder 9:46pm May 4, 2012)
Just finished your CIA series which I loved - can't wait to read Darkest Caress!
(Mary C 10:09pm May 4, 2012)
I don't I think I have a surreal moment. It is more like a deja vu moment. I was just having this weird moment where I was just restless and edgy. Anyway, I finally decided to tell a friend of mine not to go on the helicopter tour in Hawaii. My friend didn't believe me and thought I was trying to ruin his trip. He didn't bother to say bye to me when he left on his trip. So I thought our friendship was over.

A few days later, he called me and asked how did I know that the helicopter was going to crash. I told him I don't know and it was just a hunch. It turned out on the day he called me, he cancelled at the last minute to go on the helicopter tour of Hawaii. The helicopter he was supposed to be on crashed and there was no survivors.

I was hoping I was wrong. It was just a one time fluke.
(Kai Wong 11:16pm May 4, 2012)
My older sister and I both got pregnant and were due on the same day. The crazy part of that is that I wasn't even trying to get pregnant and my sister was 37 and I was 35. Turned out she had her daughter a week early and I had my daughter a week late but they were born exactly 2 weeks apart and were both girls. They are now the best of friends (9 yrs old) and it brought my sister and I a lot closer.
(Denise Boyd 11:21pm May 4, 2012)
I've had a number of deja vu moments; the earliest one I remember is when I was around 10 years old. Your book sounds really interesting.
(Janie McGaugh 11:40pm May 4, 2012)
Tracie, heehee! I'm glad it works out both ways :)

Thanks, Jennifer.

Peggy, what an incredible story! That must have made quite an impression on you. I can't offer a print copy of the book because there isn't one available. My publisher has released it only in digital and audible. Sorry about that.

Thanks, E! Deadly Descent is one of my favorites. I have a crush on Cam :)

Mary, thanks so much. I'm glad you enjoyed the first series and I'm madly working on the second of the Bagram Special Ops books.

Okay, Kai, the hair on my arms just stood up. I'm terrified of flying, and had to be dragged on a plane to GET to Hawaii last year. When we got there we wound up under emergency evacuation in the middle of the night from the Japan tsunami. Fun times. Then I got dragged on a helicopter tour. The week we got back, that same company had a fatal accident. I wonder if it was the same accident that your friend was talking about?

Denise, very cool! I grew up very close to my cousins and they're still some of my best friends. I hope your daughter will have the same experience.

Thanks, Janie. Deja vu is so bizarre, isn't it?
(Kaylea Cross 12:06pm May 5, 2012)
Surprising DNA...
(Roxana Perez 11:10am May 5, 2012)
I don't think i've ever had a surreal moment. Darkest Caress sounds really good!! Thanks for the chance to win!
(Natasha Donohoo 4:28pm May 5, 2012)
Roxana, yes it sure was a surprise to me.

Thanks, Natasha! Now that you've said that, I bet you have one :)
(Kaylea Cross 12:53pm May 6, 2012)
Connections we don't expect to find are fun discoveries in our family trees. A lot of times when studying and doing research, what's in the books turns out to have relevance to our own history and makes us richer in knowledge. As a lifelong learner, I devour background information and have grown to love history and the how-to-do-it with writing parts of stories.
(Alyson Widen 8:11pm May 6, 2012)
Alyson, I've already asked my family to pay for a professional genealogist as my Christmas gift this year. I so desperately want to track down all my long lost ancestors, but have hit a few brick walls in my own research. I'm hoping a pro will help bust through those walls!
(Kaylea Cross 10:10pm May 6, 2012)
That's a wonderful cover and I wish you luck with your new venture, I am sure your talent will carry across.
I occasionally have conincdences occur, no prophesy of doom so far... I can tell you that several years ago I was with a group of people who had special permission to walk among the stones of Stonehenge, the ancient stone circle in south England. Normally people are not allowed in in case of damaging the stones and a small number are allowed to perform druidic rites at various dates - not my group! We had to arrive at dawn, I suppose so all the other visitors wouldn't see us and want to get inside too. When we'd enjoyed sunrise and been told the history of the stones, we were given metal rods and told about ley lines. Supposedly ley lines cross the earth and carry power, and dowsing rods react to them when you walk across them. Several people walked around with no reactions. When I had a turn I held a rod lightly in each hand and cleared my mind, just enjoying the early morning. As I walked inside the circle, suddenly both rods turned themselves and pointed inward so that they crossed each other. I had not done this and it occurred just where the ley lines were supposed to meet. I don't konw what it proves, except that we do not know everything.
(Clare O'Beara 6:21am May 7, 2012)
I've read Darkest Caress and really enjoyed it. Have you
published any other books in the Empowered Series yet or do
you plan to as I really would like to know the other brothers'
stories
(Anne Major 6:39pm June 23, 2014)
Registered users may leave comments.
Log in or register now!