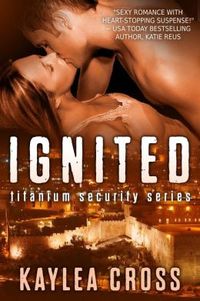 Purchase
Titanium Security #1
Author Self-Published
June 2013
On Sale: June 15, 2013
ISBN: 001647774X
EAN: 2940016477749
Kindle: B00DFJE2UM
e-Book
Add to Wish List

When her father is murdered by a Taliban cell in the tribal regions of Pakistan, Khalia Patterson reluctantly steps into his shoes to carry on the legacy of Fair Start Foundation, a non-profit group dedicated to furthering the education of girls. There she meets Hunter Phillips, the ex-SEAL and head of her Titanium security team, and quickly learns that coming to Pakistan might prove to be a deadly decision.
Battling demons of his own, Hunter grudgingly leads Khalia's protective detail as a favor to his boss. From their first meeting it's clear she's going to be trouble, and that the cell that killed her father is hell bent on taking her out as well. Keeping her alive is one of the toughest assignments he's ever faced, yet through one harrowing situation after another she continually impresses him with her strength and inner courage. Even though he fights his feelings for her, it's a losing battle. And when the job is over, he doesn't know how he'll let her go.
Titanium Security
Comments
24 comments posted.
Re: Ignited

I'm anxious to read your books, because even though I know they're out there, they keep slipping under the radar (no pun intended). Congratulations on all of your awards!! With everything that you have your hands into, it's amazing that you find the time to write award-winning books!! I'm looking forward to reading them during the Summer, and have them down on my TBR list!!
(Peggy Roberson 7:25am July 12, 2013)
these books look really amazing i cant wait to get started on
reading all of these
(Denise Smith 8:57am July 12, 2013)
Loved your post today - and have to say the books in this new series sound wonderful. AND I feel like a winner already because I've never read any of your books but based on today's post, I'm going out to search for some to read right away. Thanks for the chance to win. Best of luck with this new series - it sounds like a winner.
(Nancy Reynolds 9:38am July 12, 2013)
Love the post! I heard lots of good news about you.
(May Pau 10:33am July 12, 2013)
Wow, Congrats on your book: IGNITED and I love the book cover
too. Your book seems fascinating and I would love to win it
and read it this summer. Thank You very much. Cecilia CECE
(Cecilia Dunbar Hernandez 11:44am July 12, 2013)
Hi, Peggy! Thank you so much, I hope you like the books when you finally get the chance to read them :).

Thanks, Denise, happy reading!

Nancy, thank you! This new series is really exciting for me because I get to write what I want and focus on specific issues I want to highlight.

Thanks, May!

I love the cover too, Cecilia. Thanks for coming by today!
(Kaylea Cross 11:58am July 12, 2013)
Oh, Kaylea, I do love me a romance with intrigue or suspense. My fave for storytime! So glad I "met" you on this blog so that I have a new author to feed my reading habit. :-) Congrats on your release.
(Janice Hougland 1:05pm July 12, 2013)
Congrats on your new book and series... love the sound of it! Wrote them down on my want list!
(Colleen Conklin 1:08pm July 12, 2013)
It sounds like a great book, I'd love to read it.
(Wilma Frana 2:40pm July 12, 2013)
Well done, you must do a lot of research and address some difficult topics.
(Clare O'Beara 2:45pm July 12, 2013)
Cool sounding books. I'm so glad they are coming out so close together.
Where do you get your research on military life?
(Laura Gullickson 4:49pm July 12, 2013)
Your books sound great! Enjoy suspense books of this type. Thanks!
(Rich Cook 5:27pm July 12, 2013)
Love your books - just downloaded IGNITED and SINGED - can't wait to read them!
(Mary C 5:33pm July 12, 2013)
PTSD has been in the news more nowadays and also the
difficulty veterans have accessing service for mental issues.
Your books are right on trend and thanks for highlighting an
issue many troops face abroad and at home.
(Alyson Widen 6:20pm July 12, 2013)
enjoy reading your books!
(Lynn Anderson 7:52pm July 12, 2013)
Sounds like a great read read!
(Cheryl McEwen 8:02pm July 12, 2013)
Your book sounds great! What authors do you enjoy reading?
(Sarah Bauman 10:02pm July 12, 2013)
Sounds intriguing. Definitely want to read this one.
(Diane Teunessen 10:51pm July 12, 2013)
I love the book covers and the military theme for both books. I also have been a military brat. I just love hanging around with veterans from the WWII to the Vietnam War listening to their war stories and experiences. It was more of a hobby to me. Thanks for the pricing on the ebooks.
(Kai Wong 1:33am July 13, 2013)

(Kaylea Cross 10:33am July 13, 2013)
Hi, Janice! Thanks very much and I'm glad I "met" you too :).

Thanks, Colleen. I'm pretty pumped about this new series.

Thanks, L and Wilma.

Clare, yes, I love reading up on things I include in my books.

Laura, mainly non-fiction book written by Spec Ops members, documentaries and I now have a small network of former military people I can turn to with specific questions. That's my favorite part :).
(Kaylea Cross 10:35am July 13, 2013)
Thanks, Rich!

Mary, awesome! Hope you enjoy them. Gage is my favorite character from the series.

Alyson, thank you. It's such a serious issue and it seems to be getting worse, not better.

Thanks, Lynn and Cheryl!

Sarah, I love Linda Howard, Suzanna Brockmann, JR Ward, Anne Calhoun, just to name a few ;).

Thanks, Diane!

Kai, I bet you've heard some amazing stories then. Lucky you :).
(Kaylea Cross 10:38am July 13, 2013)
What an exciting series this promises to be.
(Mary Preston 6:10am July 14, 2013)
Hi, Mary, thank you!
(Kaylea Cross 12:32pm July 14, 2013)
Registered users may leave comments.
Log in or register now!