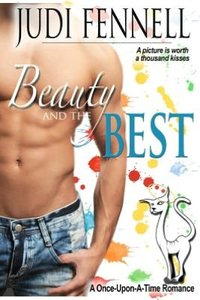 Purchase
A picture is worth a thousand kisses
Once-Upon-A-Time Romance #1
Author Self-Published
April 2012
On Sale: April 6, 2012
Featuring: Jolie Gardener; Todd Best; Jonathan Griff
286 pages
ISBN: 1475162383
EAN: 9781475162387
Kindle: B007S5PV4A
e-Book
Add to Wish List

Can she cook up a recipe for love?
Jolie Gardener, personal chef by day, aspiring romance writer by night, likes to talk and does it a lot. She has to because if she stops, all the pain, disillusionment, and abandonment of her AWOL mother, question-mark father, and foster-care childhood will rise up like a chocolate soufflé on steroids, sweeping away the fragile infrastructure of her life.But she's fine. Really. She is.
Or so she thinks.
Todd Best isn't fine. He knows it. And doesn't care.
After his wife died—the woman who believed in him when he was a struggling artist—he put painting aside, moved from their home, and lost himself in the minutiae of daily life.
Alone. Private. The way he likes it.
The last thing he needs is some chatty cook seeping into the perfectly bland canvas of his life.
Or so he thinks.
So when Jonathan, a guardian-angel-in-training, turns himself into a kitten to help these two lonely souls find a happily ever after together, it ought to be a piece of cake.
Or so he thinks…
Comments
43 comments posted.
love the book cover cant wait to read it i hope to win thanks
(Denise Smith 12:08pm April 30, 2012)
Thanks so much, Denise. Kim Van Meter did the cover and I utterly love it, too! Best of luck!
(Judi Fennell 12:14pm April 30, 2012)
I don't think that I have a story that I can share to top Todd's.
Blessings,
Marjorie
(Marjorie Carmony 12:26pm April 30, 2012)
Love the basis of your characters. Hope I win!
(Lisa Elwood 12:28pm April 30, 2012)
I love your stories and look forward to reading this one!
Thank you
(Betty Mileti 12:32pm April 30, 2012)
Interesting! I hope I win it.
(Anna Speed 1:01pm April 30, 2012)
I went to my housecleaning job it was at my mom's friends house-been doing it for months, anyways, I started cleaning and was playing the stero loud ansd so i didn't hear her son come into the kitchen with only a towel round him, I screamed so loud that Tommy losted his towel, I grabbed the towel and gave it back to him-we both started laughing so hard the Eileen came in and was wondering what was so funny...I was red as a tomato...I have 4 brothers so it wasn't the first time i've seen a naked body..the last time I saw Tommy we still talk and laugh about it! carolefiore@yahoo.com
(Carole Fiore 1:02pm April 30, 2012)
The book sounds great. Thanks for giving me a chance to win it.
(Linda Hall 1:09pm April 30, 2012)
Thank you, Judi. "Beauty and the Best" sounds like a fun read.

I've had an experience similar to one you described. A few months ago I googled myself. I was looking for a job and wanted to know what a prospective employer might find if he entered my name in a search engine.

When I checked Google Images for my name, guess what showed up first. A mug shot!

A little research revealed that there is a career criminal in another state with almost the same name as mine. She spells her middle name "Ann" rather than the way I do, "Anne". But to Google both names are the same.

My name-twin has quite a rap sheet. If anyone were to see her picture and mine, it would be obvious we're not the same person.

But what about a potential employer who hasn't met me? Someone who knows me only from an application and resume I mailed or emailed? Such is life in the Information Age!

Good luck with your new and upcoming releases.
(Mary Anne Landers 1:16pm April 30, 2012)
I worked in a university athletic department with lots of male coaches... I had no idea that so many men in shorts would walk up and down the halls --'adjusting themselves' - ... it got so that all of us women would just look at a spot above their heads... I was just glad I didn't work near their locker rooms!!
(Cate Sparks 1:32pm April 30, 2012)
I was a Realtor and had to show a house belonging to Marine who I was
assured was out of town and therefore I should feel free to take my client into
the house. So after knocking just in case, in we went...me a Chaplain's wife
and my Chaplain client. We looked at the main floor rooms and headed
upstairs to check out bedrooms. Imagine our embarrassment when we
walking in on a very beautiful naked lady in one of the bedrooms! Who had
had time to call her Marine... who was now stomping up the stairs with
murder in his eyes. He gave us seconds to get out of his house before he
called the cops. Tried to reassure him that we were legit and so sorry but he
was not about to listen as his girlfriend sobbed and my Chaplain client
ducked out the door so no one could see him break up in laughter. Oh me...
never again I prayed. After that I not only knocked on supposedly empty
houses's door but I yelled when we entered. If you've ever encountered a
young Marine with combat mode in full gear you can understand...
(Jeannine Meador 1:36pm April 30, 2012)
Wow, what a Hot Dish in the Kitchen with reading about Jolie
and Todd Best. Sounds like a very hot and sexy book for sure.
I would love to win this great prize. Thanks very much and God
bless everyone too! Cecilia CECE
(Cecilia Dunbar Hernandez 1:53pm April 30, 2012)
Definitely grabbed my attention! ;)
Love the cover and really liking the sound of your book!
(Colleen Conklin 2:01pm April 30, 2012)
what a attention getter! I'd love to win.
(Mary Hay 2:13pm April 30, 2012)
Nothing as good as your story or Jeannine's marine. I used to work with some third world co-workers who bathed once a week, OMG the smell after 4 or 5 days!!! (And we worked with the public.) One of them was married to the sister of one of the other guys who looked like a much shorter version of Tom Selleck (when he looked his best). He showed me a picture once and I almost fainted. She looked JUST like her brother, honestly, I thought it was him in drag. They also lived in a really remote part of an eastern european country and she was wearing a dress circa 1875. Honestly, I don't think I was ever more stunned in my life.
(Anne Muller 2:16pm April 30, 2012)
Sounds exciting, I'd like to see that.
(Wilma Frana 2:46pm April 30, 2012)
I haven't read your books yet but this definitely inspires me to get started.
(Jann Adams 3:03pm April 30, 2012)
I used to work in a department of my university that specialized in continuing education in the arts, and my boss was in charge of the music area.

We made educational music videos, and took them to trade shows for marketing. I dearly loved my boss (and still do - he and his family are good friends!), but he has one really bad fault - he loves to schmooze!! Given that we were there to sell stuff, that wasn't so bad a fault, except for the way it ALWAYS played out!

We'd get to the show, get the booth set up, and go out for dinner. Next morning, we'd both appear at the booth at the opening time. Within ten minutes, we would have already had multiple friends from around the country stop by to start the "catch-up" going. My boss would turn to me and say, "I'm going to go have coffee with So-and-so. I'll be back in 10 or 15 minutes."

Well, the first time that happened, I believed him. Problem with that was, he didn't get back until lunchtime!! And by then, I was practically jumping up and down, I had to pee so badly! He just started laughing, apologized, sent me off to the bathroom and lunch, and when I got back, he was off again, for "10 or 15 minutes." Needless to say, I had learned my lesson, and had brought a soda back with me, so I didn't die of thirst in the afternoon.

It's not really a "horror" story, as I enjoyed standing in the booth (I became quite the tie connissouer!), and I got to travel and get paid at the same time. It also gave me a chance to see friends that I usually only saw at these conferences/conventions/shows, so I really can't complain.

The memory still makes us both laugh when we start talking about such-and-such a conference!

Love the books of yours I already have, and would love to win this one too!

Later,

Lynn
(Lynn Rettig 3:03pm April 30, 2012)
Sounds good. Would love to win this!
(Amanda Tonar 3:14pm April 30, 2012)
Sounds like a fun read!
(Kelli Rolvaag 3:20pm April 30, 2012)
Sounds great!
(Cheryl McEwen 3:28pm April 30, 2012)
This is the first time I have read anything about your writing. I certainly would like to win and see what you write.
(Jane Squires 4:39pm April 30, 2012)
Looks good! Would love to win.
(Sharon Engel 5:04pm April 30, 2012)
Sounds like a good read. Fingers crossed.
(Liesl Lane 5:42pm April 30, 2012)
Sounds really good! Thanks for the chance to win!
(Natasha Donohoo 5:55pm April 30, 2012)
The cover is great and sounds like a wonderful read
(Shelly Itkin 7:14pm April 30, 2012)
Hi Judi! I love your books! Beauty and the Best looks and sounds like another must read.
(Cathy Phillips 7:20pm April 30, 2012)
Looks likre a great book.
(Kiki Winn 7:21pm April 30, 2012)
Looking forward to reading more about his "nice" parts.
(Cynthia Heness 7:37pm April 30, 2012)
love the cover!!!! can't wait to read!!!
(Jennifer Beck 8:04pm April 30, 2012)
I was filling in for the VP's secretary while she was out to lunch The VP was in a meeting and not to be disturbed with the exception of five people. A man poked his head in the door and wanted to know if the VP was available. When I informed him the VP was in a meeting and did not wish to be disturbed, the man asked me to let the VP know he had stopprd by. I asked for his name - he was the President ogf the organization1 How was I to know - I'd never seen his picture. I informed him that I would let the VP know he was here. The President said it wasn't necessary and to let the VP know after his meeting. Fortunately he was a nice man and was not offended by the fact that I did not know who he was. When I told my boss, she laughed.
(Mary C 8:21pm April 30, 2012)
Sounds like a fun read! It seems as though there's a horror story on a regular basis where I work but nothing that really stands out.
Good luck and happy writing!
(Tracie Travis 8:39pm April 30, 2012)
Love the range of your characters and the awkward and fun situations that they attract somehow.
(Alyson Widen 8:49pm April 30, 2012)
The only "embarrassing" moment is when my water broke early while pregnant and I christened the new carpeting at work.
(Alyson Widen 8:51pm April 30, 2012)
Hi everyone and thanks for stopping by! LOVE the stories!!! That poor marine's girlfriend... oh, my. And the water breaking!! i sooooo wanted that to happen with mine, but I didn't feel like going in to work the day it finally happened - guess that's why I didn't feel like going in. Funny thing was, my water would have broken just as I'd gotten to my desk. Ah, for missed opportunities!

The contest is open until Wednesday, so feel free to tell your friends to share their stories. And if you want to get Beauty and The Best for 2.99, you have to hurry and get it from Amazon. It's already up to $4.99 at B&N and Smashwords. And I'm thrilled to say that it's also available in print (I have my copy and it's so pretty!). It's on sale at B&N cheaper than on Amazon. Or, you can always pay the $888.00 (+$3.99 s/h) someone is selling it for on Amazon. Yes, $888.00 Funny since Amazon is selling it for only $12.98...
(Judi Fennell 9:19pm April 30, 2012)
Sounds like a fun read... :)


But luckily, no embarrassing moments for me yet.
(May Pau 10:13pm April 30, 2012)
love to read
(Brenda Hook 10:17pm April 30, 2012)
I'm still thinkin' about the low cut jeans under Todd's
gorgeous abs!(on the cover girls) :)
(Leah Dearborn 10:34pm April 30, 2012)
Interesting title.
(Christine Cushing 11:43pm April 30, 2012)
I love the idea of magic to make magic work between lovers. I have no story to
tell that I can remember but with age they disappear. My kind of book! Keep up
the good work.
(Sandra Spilecki 12:44pm May 1, 2012)
Sounds like a really fun book.
(Shirley Nienkark 5:19pm May 1, 2012)
Sounds great. Count me in.
(Helen Livermore 10:32am May 2, 2012)
Thanks for stopping by everyone! Can't wait to see who wins.
(Judi Fennell 11:57am May 2, 2012)
Registered users may leave comments.
Log in or register now!