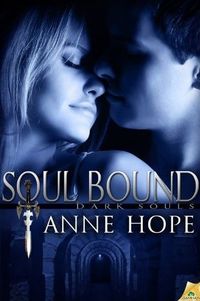 Purchase
The one man she wants is the one man destined to destroy her.
Dark Souls #1
Samhain Publishing
June 2012
On Sale: June 5, 2012
Featuring: Jace Cutler; Lia Benson
427 pages
ISBN: 160928948X
EAN: 9781609289485
Kindle: B007HCWHAK
e-Book
Add to Wish List

Sooner or later we all end up dead. Jace Cutler doesn't have the luxury of staying that way. After receiving a fatal stab wound, he awakens in a hospital room in Portland, Oregon, with no memory and a big hole where his soul used to be. Worst of all is the glow. Everyone is surrounded by a strange white aura he hungers to possess, none more compelling than the one enveloping Dr. Lia Benson.
Lia has always been ruled by reason, refusing to put stock in such nebulous things as destiny. Until Jace dies in her arms, then miraculously comes back to life. Whenever he's near, her soul responds and her body burns. And she's consumed by odd dreams she's convinced are Jace's lost memories.
When Lia is kidnapped, Jace tracks her and discovers a shocking explanation for who—and what—he is. Something no longer human, a dark legacy that until now has lain dormant within him. Something that could destroy the one woman he'd sacrifice everything to protect.
Comments
8 comments posted.
Re: Soul Bound

I am afraid I would have to say there is a limit to how bad a hero I would pull for.
(Gladys Paradowski 12:47pm June 5, 2012)
The anti-hero doesn't do it for me. But a young man (the older one is too set in his ways) can easily fall into bad behaviour through boredom and the wrong friends, and something can happen to change his life all right. I would not be so sure that a girl could do this. Maybe, but aren't men going to be doing the macho posing bit in front of other men? Author and former soldier Andy McNab has told of how he was a teenaged young offender and he got told he could go to Army cadet training or go to jail. He chose the army and it changed his life immeasurably. He also became an asset to society. However he did not improve his romantic life greatly as he was still inclined to make rash decisions without consulting his wife; while being sent abroad for six months at a time, leaving his wife in a small barracks town with three shops, meant that he came home one time and his wife had left. Some women would say that he was a hero, others would say, not for me thanks.
(Clare O'Beara 6:18am June 5, 2012)
I have always felt that way about The Phantom of the Opera. When I saw it live I was crying at the end feeling bad for the Phantom! Best of luck with your new book!
(Renee Pajda 8:09am June 5, 2012)
I like bad boy heroes, can't seem to help myself and like you I found Raoul in Phantom of the Opera to be quite boring and other than the fact that the "Phantom" was too intense and a little on the homicidal front- I would have rooted for Christine to pick the "Phantom" for a change of pace. Good post.
(Maria Durst 3:03pm June 5, 2012)
I'm an anti-hero type too. Han Solo is kind of one.
(Lisa Elwood 3:43pm June 5, 2012)
I loved Han Solo. He's the perfect example of a bad-boy hero
who can be redeemed--a little rough around the edges but with
a strong, heroic core.
(Anne Hope 4:14pm June 5, 2012)
There have been times where I, too, have rooted for the bad guy, for I feel that deep down inside everyone, there lies that good person who is screaming to get out. The secret lies in how to reach inside and reach that person, so that he can emerge. I've heard it said that a lot of women gravitate to what is called the "puppy dog" person, who is someone who is wounded, so to speak, in some way, and needs someone to help make them a better, and whole person. I suppose that is part of our reason for being here on this Earth. Your book sounds hauntingly good, and I can't wait to read it.
(Peggy Roberson 10:13pm June 5, 2012)
Change is a redeeming quality I'm always looking for in characters I meet on the pages and in daily living. I like being surprised by how deep one reaches inside to understand and knnow the truth, since it finds a way out usually.
(Alyson Widen 4:12pm June 10, 2012)
Registered users may leave comments.
Log in or register now!