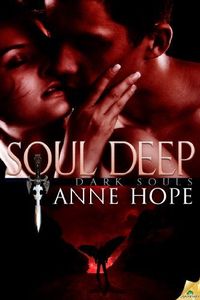 Purchase
Save her life...or save mankind. His choice could cost him his soul.
Dark Souls #2
Samhain Publishing
February 2013
On Sale: February 5, 2013
Featuring: Regan; Marcus
373 pages
ISBN: 1619212501
EAN: 9781619212503
Kindle: B009ZCG07Q
e-Book
Add to Wish List

Romance Paranormal | Fantasy Urban
For nearly two centuries, Marcus has been the Watchers' most faithful soldier. Sworn to protect humanity, driven by an unrelenting compulsion to atone for past sins, he has rarely found a compelling reason to question his mission, let alone defy his leader.
His partner, Regan, is his exact opposite, an enigma he longs to solve. A free spirit and reckless to a fault, Regan acts first and thinks later. Her smart mouth and tender heart have fascinated Marcus for decades, but the Watchers' strict vow of celibacy has forced him to ignore the sizzling attraction between them. Until now.
When Regan goes rogue to protect a very special little boy, Marcus is forced to make an impossible choice—commit an act of treason or watch the woman he secretly loves die.
On the run, hunted by enemies and allies alike, Regan and Marcus fight to thwart an age–old prophecy and guard a boy whose destiny may very well be to destroy the world...or save it.
Comments
24 comments posted.
Re: Soul Deep

I can totally see the draw of best friend stories just as much
as any other.
(Vanessa Primer 3:20am February 4, 2013)
Best friend, respect, and love, what a combination!
Blessings,
Marjorie
(Marjorie Carmony 6:27am February 4, 2013)
I think breaking the vow will be hard to resist, but duty and honor will win, hopefully there will be a HEA for them~
(Sumiyati Monoarfa 7:28am February 4, 2013)
Now this is a book I'd love to read...thanks so much!!!
(Bonnie Capuano 9:49am February 4, 2013)
I do like best friends story actully...
(May Pau 10:25am February 4, 2013)
I can't wait to read it! :)
(Melissa Roma 10:46am February 4, 2013)
As someone who married her best friend, I can totally relate! Thanks for the chance to win!
(Angie Lilly 11:23am February 4, 2013)
Best friend stories are great... to build on a great foundation that you already have...
(Colleen Conklin 12:01pm February 4, 2013)
Sounds like a compelling story of friendship and love. Can't wait to read it!!
(Tarah Petersen 1:32pm February 4, 2013)
I would like to think I am not shallow enough to say I couldn't have a friendship with an ALPHA male, but I Am shallow so "best friend" stories attract me like a magnate (haha) but alpha males as friends...of course but I am afraid I would treat our friendship like a scratch and sniff book....I told you shallow!
(Sheila Schwartz 3:14pm February 4, 2013)
When I first started reading I was "Who says a best friend can't be alpha?" then I read on. I do love the best friend or best friend of a sibling romances.
(Anne Muller 3:32pm February 4, 2013)
Most of my best friends have been male. I would consider them mostly alpha and that at one point or another we have found each other irresistible just at different times. Timing is everything. I love the storyline idea, afterall with male friends over time the question of what if can and does pop up.
(Carla Carlson 3:48pm February 4, 2013)
Can't wait to read it. Thanks for a chance to win.
(Linda Hall 4:06pm February 4, 2013)
i cannot say what they will do , but it will make an interesting book. thanks.
(Debbi Shaw 4:09pm February 4, 2013)
can't wait to read this. Best friedn & love is a great combo.
(Christine Schultz 4:35pm February 4, 2013)
A lot of friendships develop into love relationships in the work place. Over the years, I have witnessed this where I worked for 20 yrs. Some, even married. Most did not last long and they did not stay together--even the married ones! For some reason, it's all fun and love-struck at work, and when together in real daily life, it's not anymore, and they quickly grow apart. I think in a book, it's romantic when they become a couple and we're left with the HEA ending--because that's what we're wanting for them. Would love reading your book very much!
(Linda Luinstra 5:18pm February 4, 2013)
I just commented on a blog post about how I love the romance stories where friends fall in love. I'm definitely keeping my eye on this story!
(Candace Hawkins 11:18pm February 4, 2013)
Best friend storylines are one of my favourites and
unfortunately one of the harder ones to find. I love reading
about the clueless friends falling in love and not noticing
the signs, such as jealousy and people asking how long they
have been a couple. The fact that you made Marcus and Regan
almost completely opposite of each is a great twist. I'm
looking forward to reading about them in Soul Deep.
(Lisa White 11:51pm February 4, 2013)
Soul Deep sounds great! Since my husband and I met when we were in Junior High School and became very good friends long before marrying this story sounds s bit like our story and I definitely recommend knowing each other well before tying the knot.
(Gladys Paradowski 12:24pm February 5, 2013)
The quote sounds so much like "A man and woman can never be best friends" from When Harry Meets Sally. That was one of the best movie about friends becoming lovers. I wonder where the Alpha Male falls in with friendship.
(Kai Wong 12:46pm February 5, 2013)
It is rather fun to watch two friends find that they are a
love match.
(G. Bisbjerg 1:06am February 5, 2013)
I was good friends with my husband before we became a couple. We just got on so well and found each other interesting. We had books in common! I think that has to be a good sign, rather than just a hormonal rush of fancying someone who turns out to be less fascinating in a few years' time.
(Clare O'Beara 6:32am February 5, 2013)
I agree about the clueless aspect. Friends to lovers stories
are rather wonderful.
(Mary Preston 5:59am February 6, 2013)
I've truly enjoyed reading all your comments! My husband is my best friend as well. We've been together for over twenty years, and we still like each other! I can't imagine making a relationship work without that crucial ingredient of friendship. Friendship is what gets you over all those hurdles life flings your way.
(Anne Hope 9:08am February 6, 2013)
Registered users may leave comments.
Log in or register now!