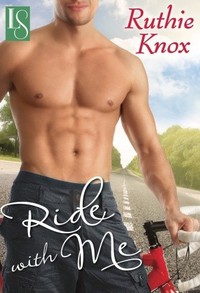 Purchase
Loveswept
February 2012
On Sale: February 13, 2012
Featuring: Lexie Marshal; Tom Geiger
ISBN: 0345534506
EAN: 9780345534507
Kindle: B0061C1OQ0
e-Book
Add to Wish List

In this fun, scorching-hot eBook original romance by Ruthie Knox, a cross-country bike adventure takes a detour into unexplored passion. As readers will discover, Ride with Me is not about the bike!
When Lexie Marshall places an ad for a cycling companion, she hopes to find someone friendly and fun to cross the TransAmerica Trail with. Instead, she gets Tom Geiger — a lean, sexy loner whose bad attitude threatens to spoil the adventure she's spent years planning.
Roped into the cycling equivalent of a blind date by his sister, Tom doesn't want to ride with a chatty, go-by-the-map kind of woman, and he certainly doesn't want to want her. Too bad the sight of Lexie with a bike between her thighs really turns his crank.
Even Tom's stubborn determination to keep Lexie at a distance can't stop a kiss from leading to endless nights of hotter-than-hot sex. But when the wild ride ends, where will they go next?
Comments
19 comments posted.
Re: Ride With Me

I would say they call them Suicide Peppers. They are so Hot that I don't know how you don't die after eating them. My husband tried them and the sweat was running off his face. He loves hot things but these are killers.
(Cheryl English 5:16pm February 13, 2012)
My husband's always talking me in to stuff, usually about riding ATVs or motorcycles. Or getting closer to the edge of a drop-off. After 29 years I've learned to resist dares!
(Lisa Elwood 5:23pm February 13, 2012)
AWESOME RUTHIE! BUT I STILL WANT MORE! WELL THE BOOK DARN
IT. LOL

HAPPY V-DAY TO YOU!
(Linda Bass 5:24pm February 13, 2012)
That description cracks me up! I survived a number of dares over the years, but I don't think I could have met this one! Hope I win this book. I've read several excerpts and I know I will like it.
(Dolores Feagin 5:37pm February 13, 2012)
This 'nibble' cracks me up! It would be so fun to see it in a
movie... who would you pick as your actors? Thanks, Ruthie,
this was fun.
(Susan Jeffers 5:44pm February 13, 2012)
A friend wanted me to try those crackle pops candy,I had to wait for the poping to stop,before I could ask. "What was that?"
(Deb Pelletier 6:25pm February 13, 2012)
I have very sensitive taste buds, can't eat anything remotely spicy. So I have never dared anyone about food but sex is another thing entirely.
(Kathleen Bianchi 6:31pm February 13, 2012)
When we were in Japan, every single day brought things we'd never seen before and that no one could translate into English - or tell us whether this was 'animal, vegetable or mineral'! My oldest son will try ANYTHING - the rest of us are timid by comparison - but I still can't shake the memory of this one thing which did not feel or taste the way it looked....
(Beth Fuller 7:26pm February 13, 2012)
I am a wuss when it comes to spicy foods so that's one dare I
wouldn't even think about but I like the way it was written.
(Karen Gales 7:26pm February 13, 2012)
I don't like very spicy foods. I would never dare anyone to eat anything.
(Wilma Frana 8:27pm February 13, 2012)
I've never dared anyone to eat anything that I would never eat; I tend to be the most adventurous of my friends. However, they dared me to eat escargot and chocolate caviar mousse, which they wouldn't DREAM of eating!
(Jt Powell 9:44pm February 13, 2012)
Hi Ruthie! I have been waiting for this book to come out. I love hot foods, but my stomach doesn't. Lexie and Tom's story is a must read.
(Cathy Phillips 9:55pm February 13, 2012)
This was a great intro... but I'm not good with reallllllllly hot foods... But the book sounds like a lot of fun...!!!
(Cate Sparks 10:06pm February 13, 2012)
Grrr I am seriously going insane waiting to read this book!!! I have a hard time eating new to me food and my hubby once took me to a sushi restaurant and I tried it. I think just the first taste earned me big loving kudos from the man. :)
(Patti Paonessa 10:21pm February 13, 2012)
I am not really adventurous but I keep trying to slowly expand my horizons because I don't ever want to be stagnant.
(Jennifer Beyer 10:24pm February 13, 2012)
I am not an adventurous eater and would never dare anyone to eat anything odd or unpalitable. Let's face it, I'm a chicken in real life, but I did enjoy the small taste you gave of your book. Looking forward to reading it.
(Carol Woodruff 11:43pm February 13, 2012)
I can't think of a time i've ever dared anyone to eat something. Although I have a nephew who from a very young age, always loved peppers, the hotter the better.
(Lisa Kendall 2:32am February 14, 2012)
I don't dare, I cook. My hubby doesn't know the
difference when I use lamb anymore (oh, but he
never tried it and didn't want to), he didn't like
"hot" food until I fixed cajun. I think if given a
chance to taste without knowing people would
enjoy more foods.
(Carla Carlson 4:28am February 14, 2012)
Exotic foods are nature's aphrodisiacs and when tryng out a new restaurant tend to pick something new on the menu. I do have a fave place and order my usual when there.
(Alyson Widen 5:43pm February 15, 2012)
Registered users may leave comments.
Log in or register now!