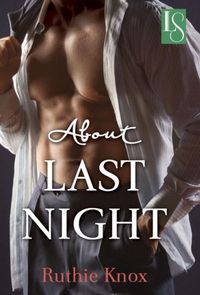 Purchase
Loveswept
June 2012
On Sale: June 11, 2012
ISBN: 0345535162
EAN: 9780345535160
Kindle: B006XWY424
e-Book
Add to Wish List

Sure, opposites attract, but in this sexy, smart, eBook original romance from Ruthie Knox, they positively combust! When a buttoned-up banker falls for a bad girl, "about last night" is just the beginning.

Cath Talarico knows a mistake when she makes it, and God knows she's made her share. So many, in fact, that this Chicago girl knows London is her last, best shot at starting over. But bad habits are hard to break, and soon Cath finds herself back where she has vowed never to go . . . in the bed of a man who is all kinds of wrong: too rich, too classy, too uptight for a free-spirited troublemaker like her.

Nev Chamberlain feels trapped and miserable in his family's banking empire. But beneath his pinstripes is an artist and bohemian struggling to break free and lose control. Mary Catherine—even her name turns him on—with her tattoos, her secrets, and her gamine, sex-starved body, unleashes all kinds of fantasies.

When blue blood mixes with bad blood, can a couple that is definitely wrong for each other ever be perfectly right? And with a little luck and a lot of love, can they make last night last a lifetime?

Includes a special message from the editor, as well as excerpts from these Loveswept titles: Because of You, Ride with Me, and Doc Holiday.
Comments
24 comments posted.
Re: About Last Night

It was a great excerpt and the book looks like a fun story.
(Maureen Emmons 2:42pm June 9, 2012)
Thanks for sharing the excerpt... I enjoyed it! Sounds like a book I would enjoy!
(Colleen Conklin 2:49pm June 9, 2012)
Can't wait for Monday. This is an amazing book!!!
(Gina Wachtel 3:35pm June 9, 2012)
this book is so awesome would love to read
(Denise Smith 4:42pm June 9, 2012)
This book sounds really good and I am looking forward to reading it.
(Chelsea Knestrick 5:25pm June 9, 2012)
Have the book preordered - can't wait to read it!
(Mary C 8:14pm June 9, 2012)
Sounds like a great story. I look forward to reading the whole thing!
(Michele Hayes 9:34pm June 9, 2012)
How I wish this wasn't an e-book!! I don't own a kindle, and would give my eye teeth to be able to read this book!! What an amazing excerpt!! You have me totally hooked, and now I'll never know the whole story!! It's like eating a Tootsie Roll Pop, and having someone take it away from you before you can get to the center!! I did want to tell you that I thought the story line was quite unique, and you have a wonderful way with words that draws a person in immediately!! If I ever acquire an e-reader, your books will definately be on my list!!
(Peggy Roberson 9:49pm June 9, 2012)
it sounds like a great read and when you use the ebook it is an instant thing, pretty cool stuff!
(Darci Paice 10:06pm June 9, 2012)
WONDERFUL THANK YOU!!! Loving this
(Mary Preston 10:42pm June 9, 2012)
I love the excerpt! What a delightful approach. I would fall for it, too. LOL
(Gladys Paradowski 10:54pm June 9, 2012)
I am really excited about this book. It sounds like a really fun read.
(Jennifer Beyer 10:59pm June 9, 2012)
Sounds like great character interaction and tension.
(Janea Carrell 11:19pm June 9, 2012)
What a sweet excerpt! Loved the courting with junk food!
(G. Bisbjerg 1:24am June 10, 2012)
What a pity it's not in paperback as I don't yet do e-books (though I'll probably end up with two e-readers, one each for my husband and me while on holiday) but it does sound an interesting read. Could you tell us the advantages and disadvantages of publishing in e-book for you, in your next blog post?
(Clare O'Beara 5:25am June 10, 2012)
Sounds like a wonderful read, I do not do e-books yet either I still like holding the book but am thinking seriously about getting an e-reader
(Shirley Younger 11:57am June 10, 2012)
You've got me extremely curious - How in the world did Nev Chamberlain get the nickname "City"?!? And aside from the crisps/chips intermingling (one or the other, please!), this was a great excerpt.

And for all those bemoaning the fact that this is an e-book, you can get FREE downloads of all THREE of the major e-reader applications for either platforms.

Yep, that's right. Get your FREE Kindle app at Amazon, your FREE Nook app at Barnes & Noble, and your FREE Kobo app at kobobooks.com.

And no, I don't work for any of these companies. I just get tired of seeing so many people claiming they can't read e-books without an e-reader, especially since I used to be one of you, until one of my book groups called me on it, and told me to put up or shut up.

Later,

Lynn
(Lynn Rettig 12:51pm June 10, 2012)
Got to love a book where opposites attract. Looking forward
to this book coming out tomorrow. I loved "Ride With Me"
and I know I'll love this one too. Congratulations on this
latest release.
(Lynn Reynolds 2:42pm June 10, 2012)
Lynn Rettig:
I don't think many would want to sit at their computer reading a book (I know I wouldn't)!!! I don't have an e-reader and I'd prefer to read my book(s) in book form, so your alternative advice to people that state they don't have an e-reader or can't afford one really isn't even an option, as far as I'm concerned...but thanks for the advice that most of us already know. My eyes couldn't take reading that way for hours!
(Linda Luinstra 3:01pm June 10, 2012)
I like the clash of the classes and the reference to junk food to travel with. This looks like a read that will hold the readers' interest all the way through.
(Alyson Widen 3:57pm June 10, 2012)
book sounds great!!!!!!
(Barbara Studer 4:19pm June 10, 2012)
I loved the excerpt and I'm looking forward to reading About Last Night.
(Barbara Elness 11:31pm June 10, 2012)
Hi Ruthie! About Last Night sounds like fun. I am looking forward to reading it.
(Cathy Phillips 3:36am June 11, 2012)
This looks so cute! I hope I win but you've sold one more if not.
(Lisa Elwood 12:08pm June 11, 2012)
Registered users may leave comments.
Log in or register now!