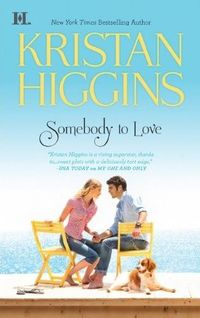 Purchase
Gideon's Cove #3
HQN Books
May 2012
On Sale: April 24, 2012
Featuring: Parker Welles; James Cahill
384 pages
ISBN: 0373776586
EAN: 9780373776580
Kindle: B007BBVCH6
Paperback / e-Book
Add to Wish List


After her father loses the family fortune in an insider-trading scheme, single mom Parker Welles is faced with some hard decisions. First order of business: go to Gideon's Cove, Maine, to sell the only thing she now owns—a decrepit house in need of some serious flipping. When her father's wingman, James Cahill, asks to go with her, she's not thrilled…even if he is fairly gorgeous and knows his way around a toolbox.
Having to fend for herself financially for the first time in her life, Parker signs on as a florist's assistant and starts to find out who she really is. Maybe James isn't the glib lawyer she always thought he was. And maybe the house isn't the only thing that needs a little TLC….
Gideon's Cove
Comments
54 comments posted.
Re: Somebody To Love

I'm not sure I'd do so well in a circumstance like that -
prone to panic so reading about brave people helps a lot.
(Susan Jeffers 3:04am April 24, 2012)
I have had to start over a few times in my life. My husband and I both lost a job we had for twenty one years boy was that a rude awakening.
(Gail Hurt 6:00am April 24, 2012)
The closest thing to starting over that I can think of that I have ever done is when I started college because I was new there and did not know anyone but I was at least still in the same area I grew up in and outside of school nothing had really changed so it did not really seam like a big change.
(Chelsea Knestrick 6:05am April 24, 2012)
There have been several times in my life I've needed to start
over. New place, new job, new friends. Scary and exciting.
(Donna Antonio 6:46am April 24, 2012)
I am so fortunate that my life has been so very stable. Wonderful parents, childhood, school, that first job, and then a marriage of 50 years. I can only wish for others that great a life.
Blessings,
Marjorie
(Marjorie Carmony 6:51am April 24, 2012)
Well, right before I was supposed to head home after my
junior year abroad in Paris, I found out my french boyfriend
(of only a few months) and I were expecting! Talk about
turmoil. It all worked out though. Me and frenchy have been
married for nine years, live in France and have three
franco-american daughters:)
(Katie Mills 7:10am April 24, 2012)
I've had to start over, but didn't like it. Thankfully I had my trusty hubby by my side - wouldn't want to do it without him. Just got my pre order of Somebody To Love and am really bummed that I have to go to work! I loved Parker's character in The Next Best Thing. Looking forward to tonight's reading!
(Rosie Carroll 7:11am April 24, 2012)
I have started over numerous times in my life. Life has not been one straight line. Now it is all good!
(Deanna Stillings 7:24am April 24, 2012)
i think i would be afraid at first expecially hving a small child so the heroine of the book is admirable to me i dont think i could be as strong at least at first as her. i have a wonderful husband that is the best dad and husband since we have a 8 year old and a 12 year old daughter so my life is more stable but not without differcult things since our 8 year old is serverly autistic and has alot of differculties so i can adenify with parker alot.
(Denise Smith 7:33am April 24, 2012)
I can understand starting over...I had to do that once in my life after a bad divorce and it is not easy but I did it while taking care of my Mother. Power of prayer!
(Bonnie Capuano 7:44am April 24, 2012)
My fresh start wasn't unfortunate circumstances (thankfully!). After 15 years of living in a tiny house my family was able to move into a nice house with a really big kitchen. I thought I always hated cooking until I got this big kitchen and found I love it and I'm pretty good at it. My family is so happy and I'm proud of myself!
(Renee Pajda 8:01am April 24, 2012)
I haven't had to start over. My childhood was smooth, my
growing up came early with meeting my husband of 46 years in
my teens. But our marriage has lkasted and our 5 children are
all to be proud of. Now our 6 grandchildren are growing up
nicely, too.
(Mary Hay 8:33am April 24, 2012)
I was born and raised in the Philly area. However, at the age of 19 and engaged to be married I move to South Florida with my family. WOW!! what a wonderful place to live. I did go back to PA to marry and we lived there until he graduated from college...then right back to sunny South Florida!! What a different life I have lived than the one I had planned.
(Betty Hamilton 8:36am April 24, 2012)
Well, I love Maine and have always dreamed of living there... and while Parker's change seems sudden and a little brutal, re-doing a house, falling in love, who wouldn't want a shot at that? Exciting, scary, never dull!
(Kathryn Weaver 8:50am April 24, 2012)
I don't think of it as starting over... more like changing directions. The past will always be there and it makes you the person you are today.
(Becky Darmogray 8:56am April 24, 2012)
I don't really count this as a fresh start (ok, maybe a
little), but when I moved to the area I now live from a
small town area in Ohio at 13, it was a huge step, and not
really favorable at first for me. Now, I am so glad to live
in this area because I never would have had the experiences
or the available things in that small town that I had here!
(Kayla Weiner 9:47am April 24, 2012)
I feel like I have started over in several ways... completely changed career pathways. Left my family and moved across the country (North to South) Got out of a bad marriage.... remarried and started a family....planning to move across the country again (East to West)
Looking back at all those interviews I ever did where I answered the "Where do you see yourself in 5 years...10 years..." I never dreamed I'd be where I am now.
(Leslie Davis 10:37am April 24, 2012)
We have moved 5 times and each time is a new chance. There is good and bad
about both so I just keep reading.
(Sandra Spilecki 10:41am April 24, 2012)
I did once when I was 11 yrs old. We moved to Canada. I was too small to worry about it though.
(May Pau 10:47am April 24, 2012)
I had to start over when my husband got a new
job, and it was tough, but also fun. I love going
new places & meeting new people but hate
leaving old friends.
(Rebecca Whitehead-Schwarz 11:13am April 24, 2012)
Congratulations on the new book! I would say when I changed jobs and moved a couple of times that was starting over but I haven't done that for many years.
(Maureen Emmons 11:35am April 24, 2012)
I have been very blessed with the people in my life and circumstances have always turned in our favor. I than God every day for my life and the people that surround me.
(MaryEllen Hanneman 11:38am April 24, 2012)
Not yet...I am graduating college this year (I'm 38) and will be in search of a job. My current job I have been at since I was in Junior High...I moved up as far as I could-it's a dead end. The owner is looking to retire in a few years and I will be in need of a new start! :)
(Amellia Hansen 11:44am April 24, 2012)
My husband and I, after struggling in our marriage (Got married at 18/21 years old) decided it was time to get up and move away from family and all interfering parties. So we up and moved to CO 6 yrs ago. Next month will be 9 years that we have been married. Fresh starts are amazing! I don't regret ours for a second!
(Stephanie Briggs 12:31pm April 24, 2012)
During the early years of my marriage, my husband and I moved a number of times due to job opportunities. I'm thankful to say we haven't had to do that in many years.
(Anna Speed 12:38pm April 24, 2012)
Many years ago I had moved away to go to college. I lived in a ratty appt. and it burned down one night. I lost mostly everything I owned. I then moved into a nicer apt. bldg with different friends and that is where I met my husband.
(Karen Gagnon 12:47pm April 24, 2012)
I haven't had a fresh start, but I count myself really lucky that life has been very good to me.
(Pam Howell 12:50pm April 24, 2012)
I did just that last Fall. After my divorce was finalized I packed up everything I own and moved to the other side of the country. I had no friends or family in my new city. After living here for a few months I have carved out a life for myself. More importantly, a life on my own terms. :)
(Stacie Deramo 12:54pm April 24, 2012)
I am not big on change so I think I would be very uncomfortable starting over, seems scary to me. I like to read about other people's adventures though.
(Wendy Hulbert 2:02pm April 24, 2012)
Twice I have moved to new states looking for a fresh start... it is a bit scary for one that is not a fan of change...
(Colleen Conklin 2:25pm April 24, 2012)
Sometimes "temporary" could end up being decades, mostly because I dislike change.
(S Tieh 2:39pm April 24, 2012)
Had to start over after a divorce, it's going to take a while to trust again. Would love to win your book.
(Amy Milne 3:04pm April 24, 2012)
I have not had a fresh start. Thanks for the chance to win!
(Natasha Donohoo 3:14pm April 24, 2012)
No, I never had to leave to start over. I have lived in the same place for over 30 years!
(Johanna Jochum 3:16pm April 24, 2012)
Next month I will be starting over, I am moving from Minnesota to Texas. I graduated with a Bachelor's degree in 2009 and haven't been able to find a job so I am looking forward to a different job market and a much warmer climate. I love Kristan's books.
(Leanna Hiner 3:49pm April 24, 2012)
The most I've done is moved to another state for about 9
months when my husband was in the service but other than that,
I'm close to where I was born. I've been hearing great things
about your book!
(Jeanne Sheats 4:01pm April 24, 2012)
I've had to start over a couple of times. Having to leave the country to get a full time job was one them.
(Cheryl McEwen 5:03pm April 24, 2012)
I had to start over and move to another state, when my husband found a new job. I had lived in MN. for the first 28 years of my life in a small town. It was an exciting change but we missed our families. Would not have changed anything, since I love this larger city and the friendly people I have met and worked with. Would love to win this book and am going to get your newest book, Somebody To Love, which is just what I'd like reading!!!!!
(Linda Luinstra 5:20pm April 24, 2012)
Back in 1999, my husband had been at the same job for 19 years, and another company bought the manufacturing plant where he worked. They didn't want the plant, they wanted the defense contracts. So, it was move or lose your job. I'm a social worker, so I can work anywhere. So, we moved. I was 42 years old at the time. I had never lived anywhere else than in the "Golden Triangle" in my life! It was a shock to the system. the kids were 11 and 13 years old. I loved my house and my friends back in Texas. My family was there. My parents were gone, so moving was easier than it could have been. Arizona was SO different! We had a custom home in Texas. We have a cookie cutter home here. A really funny thing happened, though. So many of the houses look exactly alike that my kids walked into the neighbors house thinking it was our house. Thank goodness we have a lovely neighbor. It was a great new start. I became closer to my kids and my husband. My priorities changed a lot. My family became my major priority. My kids had never had a mom who stayed home, so I did stay home for about 2 years. It helped us all through the transition. Now, I have been working for the state government for over 10 years. My kids are grown. We are all healthy, happy and successful enough. Life is good. Change is good, too, even if it is an unplanned change. :)
(Sandy Fielder 5:39pm April 24, 2012)
I've definitely had to start over before - not always a fun thing - but I've learned to have fun again. And I've learned who I am again. An that was definitely fun!
(Kelli Jo Calvert 5:53pm April 24, 2012)
I had to start over because of a divorce,and it was'nt easy.Thanks for giving me a chance to win your book.
(Linda Hall 6:07pm April 24, 2012)
I started over a couple times after failed relationships---I thought it was really hard. But sometimes, when you get in a rut---starting over does sound good.
(Sue Farrell 6:18pm April 24, 2012)
I've had to start over a few times mostly due to loss of a job and when my husband and I lost our parents within a year. It was tough but it certainly does make you stronger.
(Michele Hayes 6:27pm April 24, 2012)
Hi Kristen. You're a new author to me, but I seem to see your name everywhere! I think that's a good thing!!
(Molly Wilsbacher 7:51pm April 24, 2012)
The closest thing to a fresh start I have had is when my husband transfered to different places with his job and then having to move because his job was elimanated
(Sheila True 8:27pm April 24, 2012)
Hi Kristan, I guess I've been pretty lucky, the only thing I
had to start over was when I had to stop working too due
medical issues. It is very hard to get used to that loss of
income. I don't know how people start over with nothing.
(Tina Rucci 9:15pm April 24, 2012)
Starting over can be a plus or a minus you never know until you risk it
(Gary Bronstein 9:22pm April 24, 2012)
Hi Kristan!! I'm so thrilled that you stopped by today!! My Husband and I had to start fresh 4 years ago, after he lost his job, and we lost our house. It was difficult at first, living out of a pop-up camper with what belongings we could fit in it, along with our small pick-up truck. We also had our dog with us, and moved around to different campgrounds in our state, which gave us a chance to enjoy some scenery during a very stressful time in our lives. One day, in an area I particularly loved, we found an ad in the paper for an apartment that we could afford, and were able to move in. We are still there today, and I am so thrilled to be where I'm at!! All of my prayers were answered when we found this place!! We might still be rebuilding in the later stages of our lives, but with each passing day, I know it's going to be better. I would love to read your book, and congratulate you on your award!!
(Peggy Roberson 9:38pm April 24, 2012)
I divorced my husband of 21 years not so long ago so my daughter and I had to start over. It has been a really tough time but I have learned a lot about myself in the process. It is surprising what you can accomplish when you don't have any other options.
(Denise Boyd 11:28pm April 24, 2012)
I love your books and I can't wait to indulge myself in "Somebody to Love."
(Britney Barlow 4:43am April 25, 2012)
I seem to start fresh about every ten years. Life is certainly not dull.
(Mary Preston 11:10pm April 25, 2012)
I moved when I got married--about 45 miles from my hometown--but even that short distance was too mcuh for some of my friends to overcome
(Denise Holcomb 1:00am April 26, 2012)
I've kind of had to start over a couple of times in my life, but never so completely or so far from home. I don't know that I could be that brave.
(Penny Mettert 2:16am April 27, 2012)
Starting over is never easy, but each New Year's many make the point of trying to improve a bad habit. I never had to go someplace temporarily, but find strength and ability to clear my head going for long walks along trails. Being near water also has the power to rejuvenate whether natural like at the parks or manmade like the fountains at the mall.
(Alyson Widen 9:40pm April 29, 2012)
Registered users may leave comments.
Log in or register now!