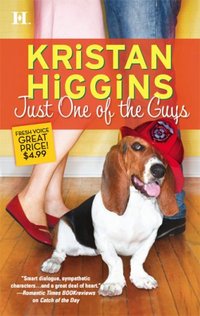 Purchase
HQN Books
August 2008
On Sale: August 1, 2008
384 pages
ISBN: 0373772998
EAN: 9780373772995
Mass Market Paperback
Add to Wish List

Being one of the guys isn't all it's cracked up to be…
So when journalist Chastity O'Neill returns to her hometown, she decides it's time to start working on some of those feminine wiles. Two tiny problems: #1—she's five feet eleven inches of rock-solid girl power, and #2—she's cursed with four alpha male older brothers.
While doing a story on local heroes, she meets a hunky doctor and things start to look up. Now there's only one problem: Trevor Meade, her first love and the one man she's never quite gotten over—although he seems to have gotten over her just fine.
Yet the more time she spends with Dr. Perfect, the better Trevor looks. But even with the in- your-face competition, the irresistible Trevor just can't seem to see Chastity as anything more than just one of the guys.…
Comments
1 comment posted.
I was always the tallest girl in class when I was younger. In 2nd or 3rd grade a guy I had a huge crush on was supposed to dance with me. He said, "I won't! She's tall, fat and ugly." In high school, he told me he had a tremendious crush on me when we were little. I told him he had traumatized me...reminded him of the mentioned incident. He said he did not remember. He said all he could remember was how cute a kid I had been. He sure had a weird way of expressing himself! By the way, we never dated. I just couldn't get past the "tall, fat and ugly" comment!
(Sandy Fielder 2:09pm April 4, 2011)
Registered users may leave comments.
Log in or register now!