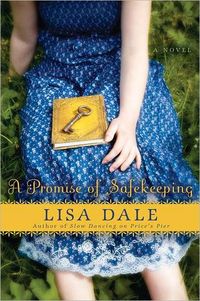 Purchase
A Promise Of Safekeeping
Lisa Dale
Berkley
January 2012
On Sale: January 3, 2012
Featuring: Lauren Matthews
352 pages
ISBN: 0425245144
EAN: 9780425245149
Kindle: B005ERIJPC
Trade Size / e-Book
Add to Wish List

Romance | Women's Fiction Contemporary
A beautiful new tale of redemption from the author of Slow Dancing on Price's Pier
Nine years ago, Lauren Matthews prosecuted the case of a lifetime. But her error in judgment sent an innocent man to prison for a long time. Now Arlen Fieldstone has finally been released, and Lauren has only one thing on her mind: asking forgiveness. How can she make up for nine years of his life?
To get to Arlen, Lauren must first get through Arlen's best friend, Will Farris. Will hasn't forgotten Lauren from those days, and he hasn't forgiven her for destroying his best friend's life. He is Arlen's keeper, protecting him from suspicious neighbors as well as from Lauren.
In the steaming summer streets of Richmond, Virginia, three people's lives collide. Lauren needs forgiveness. Arlen needs hope. And Will? He needs something too, something that no one can know-especially not Lauren...
Comments
51 comments posted.
Love the title -- Slow dancing on Prices Pier reminds me of growing up in the 50's and 60's. I graduated in 1964 and slow dancing was the big thing. Takes me back. Can't wait to read this
(Mary Branham 1:01am January 1, 2012)
I keep everything!!! I am a hoarder thru and thru.
My favorite thing to collect, one of many, is my
antique purses. But again, I hoarde!!!!
(Vicki Hancock 3:27am January 1, 2012)
I keep cards. Christmas cardc, birthday cards, valentine cards and a few St. Patrick Day cards. Someday I will find a use for them.
(Kathleen Yohanna 4:05am January 1, 2012)
I hoard books. In my small room alone, I probably have over 400 books. I can't
seem to give them away, including the books that I'm not too fond of. :)
(Hyunjin Jeon 5:23am January 1, 2012)
I started collecting stamps as a youngster and to this day, 50
years later, still tear all the stamps off the mail and throw
them in a box.
(Ole Sorensen 5:41am January 1, 2012)
I hoard memories, and anything to do with birds.
Blessings,
Marjorie
(Marjorie Carmony 6:05am January 1, 2012)
I usually save things from my family like pictures my kids made me when they were little.
(Maureen Emmons 7:34am January 1, 2012)
I hold on to things that bring back warm fuzzy memories when I look at them. I am also a book hoarder.
(Kathleen Jones 7:37am January 1, 2012)
I collect squirrel things. When I was young, a mother squirrel was killed and the baby was left all alone. We raised him and his name was Chippy. He lived to be 11 years old. He was friendly and would eat out of your hand and sit on your shoulder. At night he would sleep in his cage inside of a big jug that he would pull the blanket over his head so you couldn't see him. During the day we would let him out to feed him. I have statues,pillows,pens,stuffed animals,pins, etc.. I also feed the squirrels every day behind my house. I guess you would say I'm Squirrely!
(Cheryl English 7:41am January 1, 2012)
I keep alot of unusual things. For example, I found a 1870's metal butterdish at an estate sale. It is dented, but I know the story behind it. I collect things that have stories with them.
(Debbie Penny 7:45am January 1, 2012)
I COLLECT GEMS AND JEWELRY..THOSE MAGNIFICENT GIFTS FROM MOTHER EARTH!
(Silvana Moscato 7:59am January 1, 2012)
I throw everything away much to my husband's dismay. He keeps everything and has had a need for something he thought we still had that I threw away and it's gotten me in trouble! I do treasure keeping cards or recipes that have my grandparent's and other relative's handwriting on them. Happy New Year!
(Renee Pajda 8:52am January 1, 2012)
Thanks for your comments all! It's so great of you to take a
moment out of the first day of the new year to hang out with
me! I'll stop back again later this evening: I'm spending
the day with my family. But....to answer my own question, I
collect green elephants! They've always seemed lucky to me.
...Happy New Year!
(Lisa Dale 10:07am January 1, 2012)
I keep cards and letters. I have a whole box of cards and letters from a long time ago. It is fun to look in that book every now and again. Happy New Year.
(Dawn Staniszeski 11:19am January 1, 2012)
I collect things my son has made for me. Even at 22, he still will give me something like a picture he has sketched or a small poem.
(Cindy Murphy 12:03pm January 1, 2012)
I collect books, special cards and other items given by my sons and grandchildren, and pictures of family members. The books bring hours and hours of pleasure and the others items bring back special memories.
(Anna Speed 12:28pm January 1, 2012)
I hold onto every project my children have ever
made. It sits behind glass and in 2 trunks..one
for each. I think I do it because when I was little I
would go through a draw in my grandmothers
house and it had all my handmade things,
letters, cards, projects. I still go into her house
and open the draw occasionally and the latest is
sitting on top, makes you feel loved and
treasured.
(Carla Carlson 12:35pm January 1, 2012)
I hold onto pillowcases my Grandmother embroidered and then add to the collection at yard sales. I can't believe people don't cherich what someone worked so hard at.
(MaryEllen Hanneman 1:00pm January 1, 2012)
I collect horse statues... I have held onto some of my childhood toys and some items my grandmother gave me years ago... Happy New Year!
(Colleen Conklin 1:03pm January 1, 2012)
I've collected many things over the years. Right now I love sheep!
(MaryAnne Banks 1:07pm January 1, 2012)
I like old books. Books with history, not necessarily valuable books but books that are pretty, maybe that someone cherished.
(Renee Brown 1:19pm January 1, 2012)
I collect a few things. Keychains, cookbooks, Lladro's, and music boxes.
Thanks for your post and giveaway.
(Patti Paonessa 1:22pm January 1, 2012)
I collect thimbles, pigs, and books. The pig collection got out of hand and then I started with the thimbles because they are small and I sew. Love to get them from different places. Books I will always collect. Love getting the autograph and try to keep all that is.
(Gail Hurt 1:31pm January 1, 2012)
I collect anything to do with dolphins. I think they're a beautiful, majestic animal. I love the beach, which is always so peaceful to me.
(Tabitha Monroe 1:32pm January 1, 2012)
I collect books. My new years resolution is to go to kindle only because i am drowning in books.
(Kathleen Bianchi 1:53pm January 1, 2012)
P.S. with the exception of autographed books - I love autographed books. I pay extra to get them. There is just something special to me about having an authors signature on there book.
(Kathleen Bianchi 1:55pm January 1, 2012)
I collect books, and bears. I started collecting teddybears several years ago. They are so soft and cuddly. I have a large collection of both books and bears, and won't part with any of them.
(Mary Christian 2:05pm January 1, 2012)
I collect books,I love them. I also collect angels,they are so beautiful. Book sounds great,thanks for giving me a chance to win it.
(Linda Hall 2:10pm January 1, 2012)
I collect books and boxes. I love boxes! I love how different they are and they come in different sizes and yeah...The book sounds wonderful and I would love a chance to win it.
(Mattie King 2:36pm January 1, 2012)
I'm a hoarder of books. I can't give them. Even if I've read them I just have to have them! I also collect Owls, Wolves, Fairies, Dragons, all mystical things.
(Amber Hall 2:38pm January 1, 2012)
Well, Lisa, you asked a loaded question. A simple answer would be memories. To break it down would be Oriental items which I adore - Hakata dolls, Ginger jars, Panda figurines, etc. I have a small collection of crystal figurines and pyramids in a cabinet, because I love the burst of color that comes through when the sunlight hits it. I also own a few animal figurines that were hand carved in Uruguay. I'm a huge animal lover, and they were unique. Where I live now, in the country, I've been finding old bottles and other types of glass that I've been keeping. During the different stages of my life, my needs tend to shift slightly, and I add to the collections of my life. It's a bit ecclectic, but yet it blends together to tell the story of who I am. That doesn't even put into account all of the books I have. Some are quite old. I hope to add yours to my collection!! Have a Happy New Year!!
(Peggy Roberson 3:45pm January 1, 2012)
I hoard and protect anything to do with fairies and foxes. I have a beautiful collection of antique fox figurines that everyone in the family has been most wonderful in finding for me. The fairy collection started with my mother-in-law years before she passed away. She collected angels. But one day came upon two different fairies which she gave me to me. That in turn started my collection. Of course there are the books, many of which are quite old, but that is another tale.
(Angee Bartlett 4:20pm January 1, 2012)
I keep all the little things my sons made for me when they were young. I also keep cards...birthday, Mother's Day, Vaneltine's Day. Each and every one is a special reminder of a loved one.
(Robin McKay 4:23pm January 1, 2012)
I keep the truth, but even the truth today is found to have a slight twist to it later in life because we continue to learn and discover new items or literature or medically it was assumed but proven to be wrong now. How many times does the truth change over one life time?? Yet I collect useful things that I fell one of the family might need in the future. But the most important item I keep is my heart and the love stored and given to my heart or shared with someone else. Without Love, there is nothing else worth having in my opinion.
(David Christian 4:42pm January 1, 2012)
Picture frames, but not just any old ones. The unique and funky ones. They can hol a drawing, or words, a card, or nothing - just waiting to be filled.
(Debra Simning-Chapman 5:36pm January 1, 2012)
I keep jewelry that I have had for years and don't wear.
And I keep clothes that don't fit because one year I
might actually lose weight and get back into them. And
most of all, I keep projects I have downloaded from the
Internet. There is no way I can live long enough to make
all of them, but I can't bring myself to throw any of them
away.
(Linda Howell 5:39pm January 1, 2012)
I keep old family pictures, my niece's drawings, and of course, books!
(Mary C 6:39pm January 1, 2012)
Depression glass creamers. Love the pinks, greens and gold colors.
(Maude Allen 7:16pm January 1, 2012)
Sounds like a really good book, Happy New Year. Hope to win.
(Debbie Ellis 8:16pm January 1, 2012)
Some might think this would be strange but if you are in my family you would think it is normal. I am not one of those that collect dogs/cats/figurines things. I collect children. I have 51 and growing. If there is a lost child look at my house it mostly likely will be there. I have 33 grandchildren and growing. I am a foster mom.
(Tina Ullrich 8:20pm January 1, 2012)
I keep book autographed by author or just books I know I'll read again. Odds and ends from my life a favorite piece of clothing or something that people have given me.
(Theresa Norris 8:58pm January 1, 2012)
I have kept a lot of sentimental things over the years, but now that I am retired, I am trying to "weed out" as I know what i think is meaningful, my children won't. But books---they are staying, yet!!!
(Barbara Studer 9:00pm January 1, 2012)
Happy New Year Lisa. I have a funky sort of collection, it's old fold-out road maps of the states. When I get a duplicate map, I use them for wrapping paper with a little toy car attached to the bow. I think my brother likes the paper and car more than my gift-----hummm.
(Rosemary Simm 9:50pm January 1, 2012)
I've collected ticket stubs from concerts that I've attended since I was a teenager. Pictures of friends from pre-concert parties/tailgating and concert memorabila are part of my collection.
(Joanne Hicks 10:26pm January 1, 2012)
I am very sentimental. I keep old cards and letters. I treasure all my books. And
I have a cute Snoopy collection too.
(Tammy Yenalavitch 10:42pm January 1, 2012)
When I was a girl, I collected matchbooks. No one really makes them
anymore. Today I collect hand painted wine glasses and quills.
(Anna Mekus 7:15am January 2, 2012)
Oh, my. Where to start? Special occasion cards from friends and family, my kids' school projects, gifts from some of the first graders I used to teach, thimbles, dolls, Little Golden Books,....you get the picture, I'm sure.LOL
(Dolores Feagin 9:31am January 2, 2012)
I keep things that belonged to my relatives--jewelry of my mother and grandmother, newspaper clippings, pictures, family Christmas ornaments---probably too many things, but it keeps their memories of them alive.
(Sue Farrell 10:37am January 2, 2012)
I have never been able to let go of a book. To me they are the most precious
things ever because an author created it through literal blood, sweat and
tears. I love and treasure my books.

Old keys are fascinating. Just think how the old skeleton key was used as a
door lock to keep people out. Today, we would laugh at that especially with
the sophisticated locks and security systems we have!

I'm certainly looking forward to reading your novels. Happy New Year!
(Connie Fischer 10:46am January 2, 2012)
Collections and treasures I hold onto and collect are music boxes, teddy bears, porcelain & glass bells and small glass baskets w/handles, old vintage crocheted doilies and books (which fill my bookcases surrounding my fireplace on both sides). Your novels sound wonderful and I think old keys are neat (I recall skeleton keys from when I was a little girl)! Looking forward to reading these books.
(Linda Luinstra 5:17pm January 3, 2012)
Books right now in the romance or mystery persuasions.
(Alyson Widen 4:26pm January 5, 2012)
Registered users may leave comments.
Log in or register now!