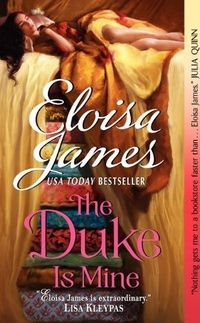 Purchase
Destiny will be decided between the sheets in this all-new tale of ?The Princess and the Pea.?
Fairy Tales #3
Avon
January 2012
On Sale: December 27, 2011
Featuring: Olivia Lytton; Tarquin, Duke of Sconce
384 pages
ISBN: 0062021281
EAN: 9780062021281
Kindle: B005AJY8RC
Paperback / e-Book
Add to Wish List

For Olivia Lytton, bethrothal to the Duke of Canterwick— hardly a Prince Charming—feels more like a curse than a happily-ever-after. At least his noble status will help her sister, Georgiana, secure an engagement with the brooding, handsome Tarquin, Duke of Sconce, a perfect match for her in every way...every way but one. Tarquin has fallen in love with Olivia.
Quin never puts passion before reason. And reason says that Georgiana is his ideal bride. But the sensual, fiery, strong-willed Olivia ignites an unknown longing in him—a desire they are both powerless to resist. When a scandalous affair begins, they risk losing everything—Olivia's engagement, her sister's friendship, and their own fragile love. Only one thing can save them—and it awaits in the bedroom, where a magnificent mattress holds life-changing answers to the greatest romantic riddle of all.
Fairy Tales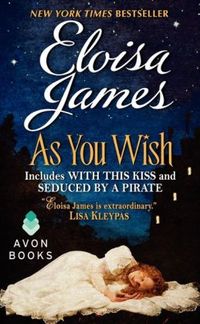 As You Wish
#0.0
Amazon.com | BN.com | | |
Comments
11 comments posted.
Re: The Duke is Mine

Cant wait for the book! Definitely on my wish list!
(Shelley Bagby 9:31am December 20, 2011)
For me, that has already been done with Gone With the Wind - I SO love everything about Rhett and Katie Scarlett!
(Felicia Ciaudelli 1:57pm January 3, 2012)
Often, when I cannot sleep, I plan Wuthering Heights out so that it has a happy ending. I know this ruins the whole gothic darkness of the book, but sometimes I think if people hadn't been such jerks to Heathcliff and if Catherine had had herself alittle come-uppance, perhaps life owuld have been less painful and horrid for all affected by those 2 and their terrible choices and behaviors.

I am also a huge fan of L.M. Montgomery, and I so long to see 'Rilla of Ingleside made into a movie ( following the book, CLOSELY ! ) that it pains me..lol.
(Rebekah Yoder 3:04pm January 3, 2012)
Definitely Viggo Mortensen's character, Walker, in the movie A WALK ON THE MOON. He was the interloper in the movie. I always imagine that he learned so much from his affair with Diane Lane's character, Pearl, that when he drove off to California he would settle for nothing less than forever from his next relationship. Definitely, the hero for his next go around :D
(Linda Walker 3:37pm January 3, 2012)
I have been in love with Mr. Darcy since I was 18! That is now almost 50 years ago. I read "Pride and Prejudice" on a lark during finals my Freshman year at college and by the time he came to propose, I was in love! Mr. Darcy was/is handsome, tormented and decidedly just what an 18-year-old college student needed and still does. Of all the features I've seen produced, the original "Masterpiece Theater" production in the 1970's captured the spirit of Jane Austen's book the best. I've measured every hero of every book ever since against Mr. Darcy, many have fallen short.
(Trudy Miner 4:36pm January 3, 2012)
I love all the Hallmark movies. I would use Merdith Baxter as she plays such good movies. She can be either good and bad and do a good job.
(Jane Squires 6:26pm January 3, 2012)
I love GWTW. I would choose Rhett and of
course he would be the hero.
(Carla Carlson 8:42pm January 3, 2012)
I read a book that made Rebecca a heroine because she was a take-charge modern woman and made the unnamed heroine kind of a villain because she was mousy and conventional. I hated it!
(Lisa Elwood 12:11pm January 4, 2012)
I enjoyed Masterpiece Theater's "South Riding" starring Anna Maxwell Martin as
Sarah Burton playing the role of Headmistress of a girl's school. I was very
impressed with her acting and how well she adapted to the role of a truly caring
teacher. I would love to see her character in a book featuring a strong governess
in charge of a bunch of unruly children.
(Connie Fischer 12:29pm January 4, 2012)
I like Les Roberts series of mysteries with a gumshoe detective who goes through rich settings while solving crimes and dipping in romance.
(Alyson Widen 1:18pm January 4, 2012)
I have terrible mid-term memory so I don't have a movie to
suggest...and my son & husband haven't picked movies lately
that are "romance friendly" to rewrite. What can I say, I'm
a reader of other's fiction - not my own. BUT that being
said, I love the "Castle" series on TV. I'd write myself
into Kate's character and fall REAL hard for Nathan
Fillion's Richard Castle. They've grown his character into a
real knight warrior.

I am looking forward to collecting your books now that I
have discovered you in the blog-o-sphere :-) glittergirl54
at ymail dot com
(Lenna Hendershott 2:24pm January 4, 2012)
Registered users may leave comments.
Log in or register now!