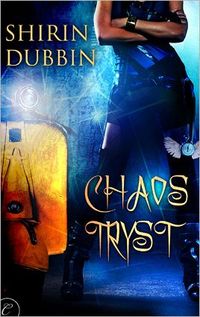 Purchase
A Cat Burglar Vespa Riding Goldilocks? Yup. Chaos Tryst is my [deep breath] urban fantasy, romantic fairytale-retelling, [exhale] featuring a cat-burglar Goldilocks and her shape-shifting Russian bear (woo, can he tango!). It's a rollicking romp, y'all.
Carina Press
October 2011
On Sale: October 3, 2011
Featuring: Ariana Golde; Maksim Medved
ISBN: 142689239X
EAN: 9781426892394
Kindle: B005JSK1BQ
e-Book
Add to Wish List

Romance Paranormal | Fantasy Urban
Ariana Golde may be known for breaking and entering but she's no thief, she's a returner. She retrieves stolen objects and gives them back to their rightful owners. Her latest job: retrieving a statue from the Medveds. But Ari is having an off night, and she's caught red-handed by the three brothers, who don't just get mad-they turn into bears.
Maksim Medved is outraged-the statue belongs to his parents. But Ari's returner magick doesn't lie: the heirloom has a new rightful owner. Ari is drawn to the surly, handsome Maks-maybe because he possesses the same chaos magick she does. But while Ariana enjoys a touch of chaos, Maks hates its destructive power.
When Ari and Maks team up to find her mystery client, their chaos magicks ignite even faster than their attraction. Can Maks learn to love a little chaos, or will the havoc they cause among the faebled creatures drive him away for good?
Comments
49 comments posted.
Re: Chaos Tryst

Can't wait to read this!
(Mary Smith 3:23am October 2, 2011)
Wow so excited to read the book...hope I win a copy........babyruthmac16@yahoo.com
(Lnda McFarland 3:46am October 2, 2011)
This looks good! I like humorous books, and am going to check this out.
(Kathleen Conner 7:13am October 2, 2011)
I'm sure another wonderful book to be read.Can't wait!
(Nancy Salerno 7:24am October 2, 2011)
How you managed to keep a straight face and not laugh I do not kknow!
(Barbara Hanson 7:26am October 2, 2011)
I've never had a date anywhere near that awful. Just a few people that didn't click for one reason or another.
(Pam Howell 8:06am October 2, 2011)
I was on my third date with a man when we were driving home from Boston. He looked at me and said "I've been very patient with you, I usually have slept with my dates by this time". May I say, Big yeww, gross me out. This was in the '70's and I know there was free love flowing but "patient"!!
(Kathleen Bianchi 8:52am October 2, 2011)
I have to say that I was fortunate with my dates. They all went pretty well.
There was one guy when I was much younger...high school..we'll we only
lasted a week because he was eager for something that I was not ready to
give. He broke up with me but I didn't think it was bad because I just started
dating someone else. Now I'm happily married :) Your book sounds great. I'd
love a chance to try out your read. Please count me in.
Tanyaw1224(at)yahoo(dot)com
(Tanya Wires 9:07am October 2, 2011)
Sounds like a fun read...not too many bad ones, but favorite memory of a "date" was the night I came home after a mammogram and my husband had flowers waiting for me and dinner ready to go. He told me he knew I must be sore and hoped this helped! (It did!)
(Diane Brixius 11:17am October 2, 2011)
Back in High School, I was in the Orchestra. We put school concerts on at different occasions. Afterward, we would go out to "celebrate," at the local restaurant. Because it was so strict at my house, this was a chance for me to let loose a little. My sense of humor was my source of getting through things. Anyway, there was this person that really liked me, and bought a ticket to the concert. He came back to the classroom where we hung out during intermission, to let me know that he was there, and I was a bit mortified at the time. He also came with us afterward for our celebration party, where we had pizza, and for the first time, I felt that I had to behave myself, since he sat next to me. He drove me home that night, talking about the wonderful night he had, and stating that he was going to marry me. He walked me to the door, and gave me a good-night kiss, which I must admit was very nice. After that, he didn't let me out of his sight. I really want to read your book more than anything, after reading your posting today. I have to say that I really led a sheltered life, compared to you, and this book would be a treat!!
(Peggy Roberson 11:32am October 2, 2011)
Sounds like a great book, I'd love to win it.
(Wilma Frana 11:56am October 2, 2011)
Cant wait to read this one! I think we can all relate to a "bad date"
(Julie Parrish 12:21pm October 2, 2011)
Not quite the same style of bad dates. The first time my now
husband had dinner with me and my son at dennys. My son
orderd and then didn't eat it then ate food from my plate
getting me the comment he's not eating his own food.Then the
standing on the seat and the back of the booth. I think his
face turned white. I didn't think we would ever go out
again. but he called again and here we are 19 years later
(Laurie Tilkin 12:43pm October 2, 2011)
As I think back on my dates (long time ago, I've been married almost 50 years LOL) I cannot remember any really bad, bad dates. I had a few that I felt were a waste of my time and did not go out with them again but nothing really bad.
(Shirley Younger 12:47pm October 2, 2011)
I only went on two dates before meeting the man I would marry (and still together after 35 years). Those two were just kind of meh. Sweaty hands, bad breath, talked football all night, and bored me silly. I kept wonderfing what the big deal was, I was better off home, reading a good book, lol. Then in he walked, and the rest has been just like a romance story...
(Cathy MacDonald 12:48pm October 2, 2011)
Thanks for all the wonderful comments, everyone. I'm very excited to
hear/read what you all think of the book.

@B@Barbara Hanson, I was too shocked to laugh. I would have stared at him,
mouth agape, but decided to keep it closed to protect myself. ;p

@Kathleen Bianchi, "Patient"? Wow, you were the patient one. Don't you wish
cars had an eject button?

@Diane Brixius, That's lovely!

@Peggy Roberson, Was this a good "didn't let you out of his sight" or a
stalker-type-thing? I hope it was the good version and he never let go of your
hand—as they say in Bollywood movies.

@Laurie Tilkin, Very cool! That's the kind of technically not perfect but really
great date I love.
(Shirin Dubbin 12:57pm October 2, 2011)
After reading your bad date, I am glad I met my hubby while a teenager. Greatest date for me was I was having a bad day, driving to work traffic was so bad that I couldn't even merge onto the interstate. I did get on the interstate a mile later, then since the driving gods were out to get me that day, as I was getting off the interstate, a oblivious police officer with a K9 officer in back crossed the road in front of me and stopped in my lane. I have never been so glad for strong brakes. I called my husband in tears, told him all that had happened and if one more thing happened during the last 5 miles of my commute, I was never driving ever again. LOL. By the time I got to work my husband had driven to my job and was waiting at my desk with flowers. Made everything else that had happened fade away.
(Chris Roberts 1:12pm October 2, 2011)
I was going out with a guy who did 'all the right things," including asking me questions about my day. But then he'd repeat the questions later in the evening- so he was asking but not listening! Needless to say, that relationship didn't go anywhere, LOL!
(Joanne Schultz 1:41pm October 2, 2011)
Oh wow... sorry can not compete with that! But I love that the idea would be put in a book... I would have loved to have seen his face after you said that!
(Colleen Conklin 1:48pm October 2, 2011)
I haven't had any truly awful dates, just meh. No one was as blatantly terrible as yours just a few induendos. Which is funny considering I'm an Asian American girl living in the Midwest. Maybe it's the misconception that all Asians know martial arts that kept them in check :)

Your book sounds fantastic! Thanks for the post and giveaway!
(Erin Fender 2:00pm October 2, 2011)
your book looks fabulous cant wait to read it and thanks sooooooo much for the giveaway
(Christina Williamson 2:05pm October 2, 2011)
I wish I had a story to share but I am amazed at how long you put up with him. Good luck on your book!
(TinaMarie R 2:17pm October 2, 2011)
Sounds great! Thank you for the giveaway!
(Renee Gschaid 3:09pm October 2, 2011)
One of my favorites was from a first date where the guy that gave the waitress his phone number when he paid the bill. He told me that just because things weren't going to work between us he didn't want it to be a wasted dinner. Truth is, I think she was about as impressed with him as I was...not so much.
Good luck and happy writing!
(Tracie Travis 3:16pm October 2, 2011)
A gal I worked with thought she was doing me a favor by lining me up a blind date with her single neighbor guy. She bragged him up to be a "Mr. Wonderful" so I gave in. He called and we went to dinner. He didn't seem to be my type, but I thought we're here now, and it's just a dinner. Then when we were almost finished, he announced he'd been in prison for seven years! He took out a red leather wallet to pay for our meal, and I nearly fell off my chair. I was totally turned off, and knew I just had to get out of there. He drove, so I had to get in the car with him, which I didn't care to do at that point (in the back of my mind I was thinking--is he a rapist)? He told me he robbed some guy coming out of a casino that he'd seen win in Las
Vegas--that was a slight relief, but I didn't want to be involved with anyone that did that either. It was quite an experience as he continued to brag about himself and never asked me much about myself. Then on top of all that he told me his occupation was a "repo-man". Seemed perfect for a guy with his past! This was one of my most awful dates. He even had the very nerve to tell me the last date he'd had was with a hooker he met in a bar in Chicago, that robbed him while he was sleeping (how ironic)! I almost broke out laughing! I couldn't wait to jump into my car which was parked outside his apt. and fly home! I was so grossed out! This is almost one you'd read as fiction in a book even though it's true.
(Linda Luinstra 3:21pm October 2, 2011)
Wow that date, as horrible as it was, sounded too funny! I would have died of embarrassment.
(Darlene Stewart 3:31pm October 2, 2011)
Wow.. what a date... Don't think I can top that... thank goodness. The worst that I can think of is when my date kept on checking out other girls while he was with me.... That should have been a BIG sign to me that he was a cheater...
(May Pau 4:19pm October 2, 2011)
My "bad" date was the day of 3 dates. One went off fine. But number 2 met number 3 at the door, since one liked being early (didn't know). It was all rather confusing.
(Alyson Widen 4:23pm October 2, 2011)
Gotta love it! Can't wait to see this in print! I MUST HAVE!
(Lisa Richards 4:39pm October 2, 2011)
Sounds great and I can't wait to read it!
(Trasina McGahey 4:54pm October 2, 2011)
I remember going out on a date with a guy who seemed perfect, took me out to a nice restaurant, then the movies, held my hand and then went for coffee then while we were talking decided to tell me he was engaged to be married but planned to break it off... Never saw him again!
(Diane Sadler 5:20pm October 2, 2011)
My bad date was finding out that he was still married during the first date, when an acquaintance of his stopped by the table in a classy restaurant and asked him how his wife is doing. AUGHHHHH!!!!

I just got up and left.
(Kai Wong 5:26pm October 2, 2011)
How you managed not to lose it laughing so hard you fell off you chair, I do not know, but I certainly wouldn't have been able to!!

My worst date story was a set-up by a co-worker also. All she told me about him was that he was cute and liked Italian food, so when he contacted me, we agreed to meet a local Italian restaurant for lunch. I got neatly dressed up, skirt, heels, make-up, the works. Got to Portabello, and met the guy in front, and two major things wrong, right off the bat. First off, the place is closed - it wasn't serving lunch that summer, for some reason. Second, the guy was short. Now, I'm 5'5" on my bare feet, but with the heels I was wearing that day, I was closer to 5'8". The guy? Barely made to the middle of my bustline. And since I fall in the "well-endowed" category, it was fairly obvious that there wasn't going to be much eye-to-eye conversation going on!!

Needless to say, that date not only went nowhere, it ended before it began, essentially!

Later,

Lynn
(Lynn Rettig 5:27pm October 2, 2011)
I would have to say the worst for me was when I went out with this boy in high school, and then found out a couple of weeks later that he ended up dating my cousin. I was very mad at them both. Mostly him because he never stated that we were dating other people, I thought we were exclusive. I was also mad at her because she new that I liked him.
Shirin is a new author for me and would love to win and read this book. Thanks for the giveaway and the chance to win.
(Chris Bails 5:43pm October 2, 2011)
Hi again, everyone, I definitely need to write this date into a book or
screenplay. It's too good not to see reenacted.

@Chris Roberts, That so sweet. You've got a good one.

@Joanne Schultz, Classic.

@Erin Fender, I was with an Asian American friend when we read your
comment. "Maybe it's the misconception that all Asians know martial arts that
kept them in check" gave us both the giggles.

@Tracie Travis, I read your comment aloud at yet another gelato/sorbet shop.
We all gasped and laughed. That's one of those "he said/did what now?"
moments. As a matter of fact, the girl behind the counter responded similarly.
Wow…just wow.

@Linda Luinstra, That would make a great set-up for a character and work
beautifully in a book or movie! Truly stranger than fiction.

@Alyson Widen, Three dates in one day? Whoa, =grin= that's serious
scheduling. You've got skills!

@Diane Sadler, @Kai Wong, Something similar happened to me. I met the most
gorgeous and interesting man who was totally into me; and then during one
of our conversations he tells me he's married…but just to stay in the country.
I wasn't sure what to believe. That one hurt.

@Lynn Rettig, LOL at "And since I fall in the "well-endowed" category, it was
fairly obvious that there wasn't going to be much eye-to-eye conversation
going on!!"

@Chris Bails, That's a tough one. I once walked in on the boy I liked and my
best friend making out. She and I were upfront about our feelings for him and
decided to let it play out but it still gut-punched me.
(Shirin Dubbin 6:33pm October 2, 2011)
Sometimes you just have to wonder why they think that behavior
will work - has it in the past? Can tell you have a sense of
humor & I always appreciate that.
(Diane Sallans 6:45pm October 2, 2011)
This looks like a good read! Thanks for the giveaway!
(Jennifer Langford 6:47pm October 2, 2011)
sounds good hope to win but will buy if not
(Brenda Hook 7:01pm October 2, 2011)
Hmmm... I guess the worst date is being asked out and then having to pay for my own meal. Otherwise, I have been lucky that has been the worst. This book looks great Shirin. I can't wait to read it.
(Christine Arcidiacono 7:08pm October 2, 2011)
I will never forget when a roommate talked me into a blind date. The poor guy was so not my type that I didn't even make it through the date. Somtimes honestly is the only policy. :)
(Sandy Fielder 7:44pm October 2, 2011)
I don't have anything quite as noteworthy as your story! Holy cow! I do have a friend who was told that the man she had always considered a friend thought being f***buddies would be a great idea since they were both in a dry spell. When she told me, we couldn't stop laughing. Such a romantic proposal!
(Jennifer Beyer 8:17pm October 2, 2011)
Worst date, Wow, it's a tough choice between the guy that dressed up as a clown to take me to a tractor pull, or the guy who's idea of a first date was to take me to church and sit me down right by his mother, afterwards he told me unless I went to his church he wouldn't date me. Well, I wasn't that much into the guy anyway, and wasn't it a little early to be introducing anyone to Mother? All very strange.

funny contest idea though.
(Heidi Durham 8:19pm October 2, 2011)
I was extremely sea sick on a first date. Not a good look at all.
(Mary Preston 8:21pm October 2, 2011)
guy picked me up and the shirt he had a big u on it with a screw in the middle of the u with maryjane leaves all around it.to meet me parents!!
(Jennifer Beck 8:53pm October 2, 2011)
I went out on a club-date and he proceeded to take his shirt off (a button up)to show off his shoulders...yep, just the shoulders, which were no big deal. I was creeped out by this move enough to walk away and catch a ride home with a friend instead.
(Jessica Badeaux 9:25pm October 2, 2011)
Way too funny Shirin!! I would of ran away long before you did but I can see why you stayed..you just can't make that stuff up..LOL
(Kelsey Opsahl 9:32pm October 2, 2011)
I have had a pervert magnet for years, its good to know I'm not the only
one experiencing these horrifying moments.
Once I went bowling with someone I thought was normal, after work,
met up with a few of my friends/co workers there. After being on my feet
all day than those bowling shoes, I needed to kick them off - next I know
he was taking off my socks, admiring my feet, rubbing them with his
hands and then, mind you first date, put my foot into his crotch where he
groaned..WTF.
Another was meeting a guy blind date, set up..he saw me,knew a friend
of mine ( who for many reasons including this, no longer is), I had to
meet him and pick him up at his apartment. No problem, until, he
answered the door with porn on the tv and it was him, his brother, a box
of Kleenex, lotion, and dirty socks that greeted me. Yuck!
I hate sitting across from a man, like you did, that has no other interest
in you therefore they make assine comments, smile, compliment you
and say let's get it on... Not in this lifetime, where are the good guys?
(Carla Carlson 10:35pm October 2, 2011)
Thanks for the giveaway.
(Kara Lepard 11:01pm October 2, 2011)
@Diane Sallans, I don't know whether these tactics have worked in the past or
if these guys keep fine tuning them in hopes "one day..." :D Thanks, a good
sense of humor helps the medicine go down.

@Brenda Hook, Very cool! Thank you.

@Jennifer Beyer, "Dry spell"? Yeesh, that must be "I'm lonely, you're lonely" on
level two. LOL.

@Heidi Durham, Yikes. I wanted to make a joke. Something like "Who was that
clown?" but the meet-Mother-at-church on the first date aspect has me wide-
eyed.

@Mary Preston, You poor thing. Did you have second date?

@Jennifer Beck, That sounds like something straight out of the movie Notting
Hill. Remember Hugh Grant's roommate? I think you met his inspiration.

@Jessica Badeaux, That's a good one! The only thing that would've made that
guy funnier is if he'd sighed when he revealed his shoulders and whispered,
"Be gentle." LOL.

@Kelsey Opsahl, I know! :) Like I said in the post, that guy was author gold.
Maybe I should see him again...just kidding.

@Carla Carlson, The foot-and-crouch story has me grimacing and giggling at
the same time. We must be distantly related. You're he pervert-magnate and
I'm the crazy-magnate.
(Shirin Dubbin 8:43am October 3, 2011)
Registered users may leave comments.
Log in or register now!