Shirin Dubbin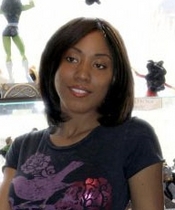 Photo Credit: Tom Cheney

Blogging at Fresh Fiction
Shirin Dubbin | A Terrible, No Good, Very Bad Date
October 2, 2011
Every time I tell this story jaws drop. I've been accused of making it up but my imagination runs closer to Read More...
Shirin Dubbin | Making Good, Casting Well
January 18, 2011
My mother made me an addict. She introduced me to comics and forced me to read books. My enrollment in drawing and photography classes came Read More...
Shirin Dubbin is a closet wallflower with an addiction to laughter whose alter ego is the orange, ass-kicking geek. Besides being a voracious reader and lover of storytelling, she hosts D.C.'s Fantastic Forum, a show celebrating comics, sci-fi and fantasy.
When not working in graphic design she's lost in writing: screenplays, novels, graphic novels and stage plays—all of which she adores, but her favorite genre to write is Urban Fantasy with romantic edge. Shirin's first novella, "Keeper of the Way," debuted in 2009 and she was overjoyed (and more than a little surprised) with the great response to the "modern Fae trapped in Washington, D.C., tale."
Culturally, she's half American, half British and very southern; right down to the accent and love of grits—they're great with shrimp...try it! Government reports show a residence in D.C., but Shirin spends most of her time on the astral plane and is certain she's seen you there.
Interviews for Shirin Dubbin
Daily Dose Holiday Blog Giveaway: Frolic and Play, the Paranormal Way
Keeper Of The Way
December 10, 2009
Log In to see more information about Shirin Dubbin
Log in or register now!
Series
Books:
Chaos Tryst, October 2011
e-Book
Keeper of the Way, September 2011
Aftermath Cleaners #1
e-Book
Dreams' Dark Kiss, December 2010
e-Book
Dusk Takes Dawn, October 2010
e-Book
Keeper Of The Way, June 2009
e-Book