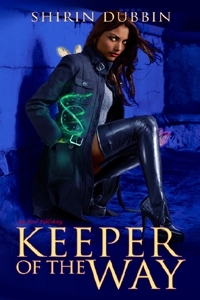 Purchase
Nia'Mora's caught between a harbinger and a jerk-face, both of them yummy. Too bad she's gotta die.
Red Rose Publishing
June 2009
On Sale: June 4, 2009
Featuring: Nia'Mora; Severin; Zan Wynn
ISBN: 1604353457
EAN: 9781604353457
e-Book
Add to Wish List

Aftermath cleaner, Nia Mora, is destined to die—tonight. Severin, the inscrutable and utterly delicious harbinger of death has already arrived to bear witness… but damn his duty. He will not stand by and watch. Not when Nia Mora may be the Fae's last hope of survival.
Damn Severin and his heroic delusions. Fae-tech mogul, Zan Wynn, is equally drawn to Nia'Mora and as the quintessential--yes, those are your panties dropping--bad boy he can't be bothered to play fair.
Oblivious to her doom, Nia Mora's concern is for the missing Way, the very essence of the Fae and the reason they are trapped in the mortal world. That and the small matter of remaining single when she can't deny Severin's power over her or Zan Wynn's hypnotic pull. But is the nefarious Wynn a second potential mate or the prelude to her destruction?
Interviews for Keeper Of The Way
Daily Dose Holiday Blog Giveaway: Frolic and Play, the Paranormal Way
Keeper Of The Way
December 10, 2009
Comments
12 comments posted.
These sound so cool! I'm thinking a friend of mine would really enjoy a break from the cold today, with titles like those!
(Anne Harris 3:59am December 10, 2009)
These sound great! My sister loves paranormal books!
(JoAnn White 8:01am December 10, 2009)
These sound great! My twin sister loves paranormal books. She has been so stressed so I am sure she would love to have these to help her unwind.
(Cherie Japp 10:02am December 10, 2009)
All of these sound great and I would love to give them to a friend who just loves paranormals. What a wonderful Christmas gift it would be for her.
(Gail Hurt 11:49am December 10, 2009)
To my husband's cousin in Canada who is house bound and loves to read.
(Karin Tillotson 1:16pm December 10, 2009)
Ooooh my sister would love this book... Thanks for the chance to win gifts for others! Happy Holidays!
(Colleen Conklin 1:18pm December 10, 2009)
I'd pass this along to my neighbor because she loves anything that has to do with Science-fiction
(Leni Kaye 1:41pm December 10, 2009)
I would love to send this book along to my dear friend who has just discovered the paranormal. She would enjoy having this as a surprise gift.
(Rosemary Krejsa 4:37pm December 10, 2009)
Sounds like a good read. I would give it to my daughter in law school for when she get to read for pleasure.
(Vikki Parman 5:11pm December 10, 2009)
These books sound like something my daughter-in-law would enjoy. A little something to keep warm with:)
(Theresa Buckholtz 5:12pm December 10, 2009)
I would send it to my friend, Flame. She is the only person that "talks books" with me.
(J H 6:43pm December 10, 2009)
Hi Everyone,

I am thrilled so many of you signed on to give this gift, both here and on the Daily Dose. Thank you!! And I want to thank Heather for giving me the opportunity to give a gift that actually does keep on giving! =grin=

@Lisa Pietsch *mwah!*

I wish I could give out a few more copies of my book but my publisher would kill me. So I'll just have to announce our winner.

[fanfare]

And the winner is: "What a great bunch of books! I would like to nominate my Mum because she never treats herself and is so caring for others. She definitely needs a nice surprise."
~Anna Shah Hoque


Happy Holidays to all! You've made my day.
(holiday rhyming can strike at any moment. please beware.)
(Shirin Dubbin 10:25am December 11, 2009)
Registered users may leave comments.
Log in or register now!