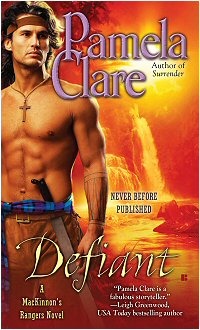 Purchase
MacKinnon's Rangers #3
Berkley
July 2012
On Sale: July 3, 2012
Featuring: Lady Sarah Woodville; Lord William Wentworth; Connor MacKinnon
ISBN: 0425246116
EAN: 9780425246115
Kindle: B005GSYXJA
Paperback / e-Book
Add to Wish List

Major Connor MacKinnon despises his commander, Lord William Wentworth, beyond all other men. Ordered to rescue Wentworth's niece after the Shawnee take her captive, he expects Lady Sarah Woodville to be every bit as contemptible as her uncle. Instead, he finds a brave and beautiful lass in desperate peril. But the only way to free Sarah is for Connor to defeat the Shawnee warrior who kidnapped her—and claim her himself.
Torn by tragedy from her sheltered life in London, Lady Sarah is unprepared for the harshness of the frontier-or for the attraction she feels toward Connor. When they reach civilization, however, it is she who must protect him. For if her uncle knew all that Connor had done to save her, he would surely kill him.
But the flames of passion, once kindled, are difficult to deny. As desire transforms into love, Connor will have to defy an empire to keep Sarah at his side.
Author Note
When I started DEFIANT, I had a very different story in mind. I wanted to write a tribute of sorts to Mary Jemison, a young woman who was taken captive by the Shawnee together with her parents and siblings and lived through the horror of having her entire family tomahawked behind her back. She endured watching as her family's scalps were stitched onto hoops, too afraid even to cry. She was later traded to the Seneca and lived out her life as a Seneca woman. Her courage amazes me. I have deliberately paraphrased some of what she said about her ordeal when she was interviewed late in her life by a curious reporter.
But when I sat down to write the story, it didn't move. I realized that I could not accomplish with the story what I needed to accomplish with a Mary Jemison–type character. I've known since I wrote the first word of Surrender what would happen to Lord William, and I couldn't make that happen unless the heroine was very important to him. So I went back to the drawing board.
When the pieces fell into place, I had a heroine that both I and Lord William loved —Lady Sarah Woodville. I suddenly found myself needing to do additional research about Britain's royal family, English estates, and the music of the period. This was no hardship, as I love research. Most of all, I love music, and it gave me the chance to delve deeply into the work of one of my favorite composers Georg Frideric Händel.
Known for his great oratorio, The Messiah, he was the favorite court composer of the day and composed many works, some of which are popular still and some of which are less known. As someone who loves music beyond all other things — if I'd had any true musical talent I never would have written a word — I indulged myself in hours upon hours of new Baroque music.
I also had the chance with this book to write to the soundtrack of The War That Made America, a documentary about the French & Indian War. It's a wonderful soundtrack and very evocative of the mix of cultures and the conflict of that war — arguably the most brutal ever fought on American soil. I bought the soundtrack at the Rogers Island Visitor Center in Fort Edward, N.Y., which made it even more special. Rogers Island — Ranger Island in the MacKinnon's Rangers series — is where this saga is centered. Having that connection was so valuable, along with the support of the wonderful people I met in Fort Edward, especially Eileen Hannay, who answered so many questions in my first four hours on Rogers Island that she may have set a world record for tolerance.
Defiant is the first book in the series written after I visited New York. I've been to most of the places in the stories now — Quebec and Montreal are still on my list, as is Crown Point — and the ability to relate what I'm writing to what I experience was wonderful. Coming from Colorado where fog is rare and no one has ever heard of let alone seen "mist," I had been amazed to see an impenetrably thick mist hanging just above the forest canopy. I hadn't included that in the first two books, but I was able to include it here. Having walked through the forests of upstate New York now, I wrote this story with a good feel for the landscape, not just in my mind but in the soles of my feet — slipping on a carpet of rain–soaked leaves, riverbeds of bare shale, gorges that echo with birdsong, and everywhere thick, tall trees.
The best part of writing DEFIANT, of course, was reuniting with the MacKinnon brothers, their families including Joseph, Lord William, Lt. Cooke, and the Rangers. These people are so real to me, like members of my family. It was wonderful to spend countless hours seeing the world through their eyes once again, listening to Joseph alternate between giving Connor good advice and taunting him, watching the Rangers react to Lady Sarah, seeing Lord William in a state I'd never seen him before—and watching Connor and Sarah fall deeply in love. It was all magical.
Until the end.
As I finished this book, parts of my life came apart. And although it was all for the best — I wouldn't change a thing now — it was very hard to write, especially when I didn't want to say goodbye to the characters. During those long hours, my sister stayed up most of the night with me, night after night, supporting me, encouraging me, talking me off the ceiling. Without her, I would have finished the book, but it would have taken longer.
This is the third book in the MacKinnon's Rangers series, but I am determined that it will not be the last. I'm not ready to leave these characters or this world behind. I've spent eight years now steeped in the history of the French & Indian War and Rogers' Rangers. It's not only my favorite period of American history, it's an obsession. Although my mind tells me I need to write stories set in other periods — medieval England and Scotland, Dickensian England, for example — I don't want to leave this period behind.
I hope my words carry you back in time to these magical places and bring this era alive for you.
Pamela Clare
June 6, 2012
Videos
MacKinnon's Rangers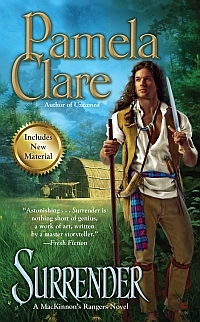 Surrender
#1.0
Amazon.com | BN.com | | |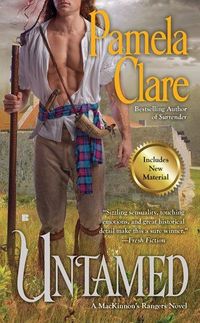 Untamed
#2.0
Amazon.com | BN.com | | |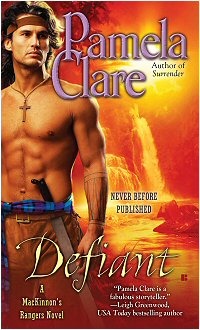 Defiant
#3.0
Amazon.com | BN.com | | |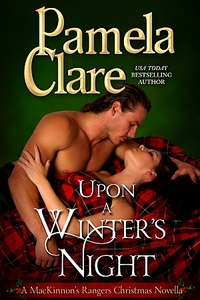 Upon A Winter's Night
#3.5
Kindle | BN.com | | |
Comments
1 comment posted.
Re: Defiant

I just finished reading "Defiant" of Pamela Clare. I loved her characters Sarah and Connor. Beautiful story filled with love and tenderness, intrigue and passion. I love her writing style. I hope she will write a fourth novel with Joseph, he must also meet a fascinating women... I prefer "Defiant" in this trilogy.
(Nicole Laverdure 11:30am July 11, 2012)
Registered users may leave comments.
Log in or register now!