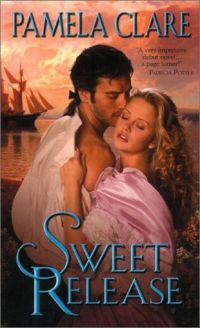 Purchase
When Cassie Blakewell buys a dying convict to spare him the indignity of dying in chains, she little suspects that he is truly a member of the English gentry who will survive to steal her heart.
Kenleigh/Blakewell Family Trilogy #1
Leisure
March 2003
Featuring: Alec Kenleigh (Cole Braden); Cassie Blakewell
384 pages
ISBN: 0843951699
Paperback
Add to Wish List

For five pounds, the convict was hers. Though Cassie hated the slave trade, her Virginia plantation demanded the labor, and she knew the fevered man would surely die if she left him. But as his wounds healed and his muscled chest bronzed from the sun, Cassie realized Cole Braden was far more dangerous than his papers had indicated -- for he could steal her breath with a glance or lay siege to her senses with a touch.
Abducted, beaten and given a new name, Alec went from master of an English shipbuilding empire to fourteen years of indentured servitude in the American colonies. There, he was known as Cole Braden, a convicted ravisher and defiler of women. And while he longed to ravish the auburn-haired beauty who owned him, he knew his one hope of earning her love -- and his freedom -- was to prove his true identity. Only then could he turn the tables and obtain his.. SWEET RELEASE.
Comments
No comments posted.

Registered users may leave comments.
Log in or register now!