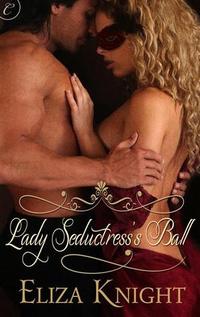 Purchase
Carina Press
December 2011
On Sale: December 19, 2011
Featuring: Olivia Covington; Tristan Knightley
ISBN: 142689290X
EAN: 9781426892905
Kindle: B005Z1BQBG
e-Book
Add to Wish List

Romance Erotica Sensual | Romance Historical | Erotic Historical
Invitation to Pleasure As the wife of the elderly Earl of March, Olivia Covington has never known the intimacies of the bedroom. Though her curiosity is piqued by the shocking whispers of society ladies, she is too wary of causing scandal to indulge in an affair. But Tristan Knightley, Earl of Newcastle, tempts her to throw off propriety. Tristan wants Olivia for his own, and has sworn off all others until he can rid himself of the obsession. He is sure once he has a taste, he will tire of her, and can return to his rakish existence. Unable to wait to have her in his bed, he invites her for a tryst at Lady Seductress's Ball...
Comments
48 comments posted.
My favorite cookie is Oreo... but if we are talking home made, then it would be Chocolate Chip or peanut butter surprise. I am currently reading a couple of books including Darn Good Cowboy Christmas by Carolyn Brown.
(Lisa Kendall 12:54pm December 19, 2011)
I love my mom's sugar cookies. She makes them with powdered sugar instead of granulated sugar. They melt in your mouth. I'm expecting a batch in the mail this week!
(Stacie Deramo 1:39am December 19, 2011)
Oh... love peanut butter cookies... but can't eat too much or I'll have to buy bigger size clothing... Reading Jennifer Ashley's The Many sins of lord cameron...
(May Pau 8:35am December 19, 2011)
My favorite cookies are chocolate chip. Also love rum balls that a friend makes this time of year. I am reading Inside the mind of Casey Anthony by Keith Ablow
(Timothy Younger 8:41am December 19, 2011)
My favorite are the ones my grandmother
makes, pizzelles. They are an Italian cookies so
thin yet filled with flavor. Just a couple drops of
anise makes the whole batch. Since they are so
thin, you can go through a dozen on a blink.
Greatest part is that they are homemade and
part of tradition, and of course that my
grandmother is still here making them out of
love.
(Carla Carlson 8:49am December 19, 2011)
I love the Neiman Marcus cookies. The recipe I have makes such a big batch, I
need my husband to stir the stiff dough because it's too hard for me to do it
alone. But I gotta say, it's a good thing it makes so many cookies because they
disappear so quickly, if there weren't so many, I'd never get to eat any! My
daughter also makes amazing ginger snaps that are sinful when you pair them
up with a great cup of coffee!
(Robin Kaye 9:02am December 19, 2011)
The cookies sound yummy, as does your book. Can't wait to read it. Good luck with the sales.
(Callie Hutton 9:37am December 19, 2011)
Chocolate chip are my fav!
We are just getting ready to do our major baking for Christmas - I love this time of the year.
(Barbara Hanson 10:41am December 19, 2011)
I must say that you're one busy lady, and I'm worn out already!! My favorite cookie is one that has been passed down through my Mother's side of the family. It might sound a little gross, but it's a prune cookie. I can't tell you what the technical name is, but it's a sweet flaky dough, shaped like a crescent roll. You roll part of a prune inside the dough which is partially coated in confectioner's sugar. If you don't care for prunes, even though you don't know you're eating them, you can take any flavor of preserves, and use them instead. This year I bought apricot to use when I run out of prunes. You can also use nut filling, which is very good. The other cookie I like this time of year are called Spritzes, which you use in a cookie press, and decorate with colored sugar or sprinkles. Then there's always Monster Cookies, which have everything in them but the kitchen sink!! Have a wonderful Christmas, and a very Happy and Healthy New Year!!
(Peggy Roberson 11:57am December 19, 2011)
I love white chocolate macadamia nut cookies, yummy!! I just got through reading an awesome Jade Lee book. Amazing!!!
(Vicki Hancock 12:09pm December 19, 2011)
I really like most all cookies. Cookie Monster is my hero! In fact, after reading
about all these cookies , I am going to bake some cookies this afternoon -
Chocolate Chip and Sugar.
(Tammy Yenalavitch 12:17pm December 19, 2011)
I forgot to write which book I'm reading. I'm currently reading Out of Oz by Gregory Maguire. Since I'm almost done with his book, and read all genres, I'd love to add your book to my TBR list!!
(Peggy Roberson 12:21pm December 19, 2011)
Wow, thank you for all the comments! I've got some more cookie ideas and books to add to my TBR pile!
(Eliza Knight 12:35pm December 19, 2011)
This time of year I love pumpkin cookies with lemon icing. As for reading, I just picked up The Distant Hours by Kate Morton.
(Robin McKay 12:40pm December 19, 2011)
I just love Russian Tea Cakes and I only get them during the holidays.
(Sue Farrell 12:51pm December 19, 2011)
I like peanut butter cookies with a chocolate kiss in the middle. I only get those at Christmas and I like to watch Little Women while I eat them. Waiting for 2 new books: Cinder by M. Meyer and Eloisa James' latest fairytale.
(Lisa Elwood 12:56pm December 19, 2011)
Lemon Bars does it for me!
Blessings,
Marjorie
(Marjorie Carmony 1:02pm December 19, 2011)
Love M&M cookies & White Chocolate Macadamian...yummy!
(Colleen Conklin 1:13pm December 19, 2011)
My favorite cookie is Sour Cream Sugar Cookies. Omigosh, I
love them!
Currently I am reading Tempting Evil (#3 in the Riley
Jensen, Guardian series) by Keri Arthur.
Your book sounds (and the cover looks) amazing! I would
love to read it!
Thank you for the giveaway opportunity! Congrats on the
release today!

Happy Holidays!

[email protected]
(Gena Robertson 2:12pm December 19, 2011)
OH my gosh I think I just gained 2 lbs just looking at all those wonderful cookies. I would so love to read this book. Cograts to whoever gets to be the lucky winner. Happy Holidays!

tammy [email protected]
(Tammy January 3:00pm December 19, 2011)
I love chocolate chip cookies and peanut butter cookies with my books!
(Susan Mahaffey 3:25pm December 19, 2011)
My favorite cookie is biscotti or shortbread. I just like the fact that they're not quite as sweet as others! I love the thought of curling up next to the fireplace with a plate of cookies and a good book!
(Marguerite Guinn 3:41pm December 19, 2011)
WOW! The table full of cookies looks wonderful! My favorites to make that I've always enjoyed and make for my assortments at Christmas are mini pecan pie tart cookies, date rice krispie fingers, caramel chow mein clusters, and spritz holiday decorated cookies. I'm currently reading a couple books: Susan Mallery's, 'Completely Smitten' and Carolyn Brown's, 'Love Drunk Cowboy' and 'Darn Good Cowboy Christmas'. I'm always into two to three books at a time, simply because, I have one in the car and several at home. I don't have an e-reader, and only read paperbacks. Another really good cookie that I love is the one with the piece of Snickers bar baked inside. YUM! Merry Christmas and hope everyone gets plenty of cookies to eat!!!
(Linda Luinstra 4:11pm December 19, 2011)
I have 2 packages of Oreos in my pantry -- hoping to make Oreo truffles... if someone else doesn't find them first...
(Cate Sparks 4:39pm December 19, 2011)
All these cookies sound absolutely delicious, just like your story, Eliza! My favorite Christmas cookies are pecan-shortbread balls (rolled in powdered sugar.) Right now I'm reading Margo Maguire's new Regency, Brazen. Merry Christmas to all.
(Barbara Bettis 4:49pm December 19, 2011)
I have a Forgotten Chocolate Chip Meringue cookie recipe that I make up after the grandaughter and I make her cut outs which is easy quick and you put them in the over turn the oven off and get them out the next morning.
(Norma Storms 4:51pm December 19, 2011)
My favorites are chocolate chip, peanutbutter, and oatmeal. I recently went to a cookie exchange at church and had a great time. As you mentioned, definite gym time is needed.

Right now I am reading Charlaine Harris's Sookie Stackhouse novel Club Dead. Her books are fun to read and hard to put down.

I am looking forward to reading Tristan's and Olivia's love story in LADY SEDUCTRESS'S BALL. It sounds really good.
(Cathy Phillips 4:56pm December 19, 2011)
I made cookies this week using a box of lemon cake mix, grated lemon peel, 2 eggs, 1 teaspoon vanilla, 1/2 cup of vegetable oil. Drop by rounded teaspoon onto a cookie sheet and top each with a pecan. They smell heavenly when baking and people will think you've fussed. Bake at 350 for 8 minutes. Keep a close watch on them. Take them out when they are pale yellow and don't appear done yet, because I had an extra crispy cookie at 9 minutes. Have fun with these Lemon Pecan Cookies.
(Alyson Widen 5:03pm December 19, 2011)
I love the Sweetheart/Thumbprint cookies with raspberry jam.
I'm currently reading Mary Balogh's 'A Christmas Promise'.
(Diane Sallans 5:12pm December 19, 2011)
For the cookies, my daughter and I made these meringue kisses, and I made the peanut butter kisses. It looks like a theme here doesn't it?! I love alot of cookies and kisses myself. I just checked out 2 books from the library, they are "Good Stuff, A reminiscence of my father, Cary Grant", the one after that is "Highland Hunger".
(Debra Simning-Chapman 5:17pm December 19, 2011)
More and more cookies! And more and more books! Yay! Keep 'em coming!
(Eliza Knight 6:00pm December 19, 2011)
Chocolate covered oreos.
(Jenny Finstrom 6:33pm December 19, 2011)
I love peanut butter cookies with one Hershey's Kiss on top of each cookie. Plus warm chocolate chips and Oreos with cold milk. I'm reading" Never been Bit" by Lydia Dare. But a few cookies will be.
(Deb Pelletier 6:53pm December 19, 2011)
There is a certain correlation between cookies and books! At holiday time, I make a lot of cookies that my mother used to make. Fortunately, each variety takes a while to bake. So I can spend the time they are baking to read. (Obviously I cannot get involved in something that would keep me from removing the cookies at just the right degree of doneness.) And once my cookies are finished, I naturally have to give them the taste test. My favorites are sandbakkels and meringue kisses.
(Irene Menge 7:05pm December 19, 2011)
I love cookies that contain lots of pecans. The cookies can be vanilla or chocolate, but I love crunching on pecans.
(Gladys Paradowski 8:01pm December 19, 2011)
There is something about munching on a good cookie while curled up on the couch with a good book. :) I love wedding cookies - the ones covered in powered sugar and crushed pecans.
(MaryAnne Banks 8:42pm December 19, 2011)
I love chocolate chip cookies and Snickerdoodles come in a close second, but in all honesty I never turn down a good cookie and have yet to meet a bad one. Right now I'm reading The Careful Use Of Compliments by Alexander McCall Smith and enjoying it.
Theresa N
weceno(at)yahoo(dot)com
(Theresa Norris 8:53pm December 19, 2011)
My favorite cookies...Millionaire Shortbread. Second best..Linzer Tarts...Hmmm.. I think I'll go bake something.....
(Kathleen Jones 9:22pm December 19, 2011)
Hi, Eliza,

I'm a cookie lover, too. Chcolate chips are my all time fave. ... sounds like you like choco hcips and lots of variations. Your book sounds yummy, too :D
(Laura Tilley 9:32pm December 19, 2011)
I am now living gluten free and haven't had the chance to try out my favorite recipes. But, pretty much anything chocolate! Right now I am reading Trace Of Fever by Lori Foster!
(Jennifer Beyer 9:45pm December 19, 2011)
chcolate chip with nuts.. reading awakened by p.c.cast and also keri author new one..
(Jennifer Beck 10:03pm December 19, 2011)
Love intensse gnger cookies and biscotti.
(Mary C 10:42pm December 19, 2011)
I love tons of different cookies but recently I have been addicted to Devil's Food Cookies. You start with a cake-like cookie and then melt marshmallow on top of it then dip the whole thing in dark chocolate...yummy
(Patti Paonessa 1:01am December 20, 2011)
I really like the candy cane cookies that look and taste like candy canes since they're rolled in crushed pieces of candy canes, and peanut butter cookies with peanut butter cups in the centers or the ones with the chocolate kisses. The chocolate creme de menthe brownies are great too, at Christmas...love those with the green layer and then the choc. frosting on top. Now, I'm hungry! Cookies go well with reading books, cause reading gives you the munchies, especially, since so many stories have chapters referring to food in restaurants, stores, gardens, carnivals or fairs, etc.
(Rich Cook 4:41pm December 20, 2011)
I made Chocolate/Chocolate Chip Cookies: to die for.
(Mary Preston 7:47pm December 20, 2011)
I make homemade brownies. Hershey's Best Brownies are great and the recipe can be found on their website. Monday when I was at Wal-Mart I bought some Keebler Grasshopper cookies and Fig Newtons. I don't make homemade cookies much.
(Michelle Fidler 4:15pm December 21, 2011)
I love the peanut butter kiss cookies. The peanut butter
cookie rolled in sugar with a Hershey Kiss places on the top
after they come out of the ove.
(Jennifer Denning 9:01pm December 21, 2011)
Definitely chocolate chip. I like to make up the batter and keep it the freezer and make up just a few fresh hot ones after dinner. I am currently reading The Constant Princess, Wolf Hall and A Storm of Swords #3 of Game of Thrones. Kind of a medieval theme right now. I just finished #2 in Game of Thrones, Bring on the Blessings and Sweetie. I usually juggle 3 or 4 books at a time with cookies and milk.
(Roxanne Larson 12:41pm December 22, 2011)
Registered users may leave comments.
Log in or register now!