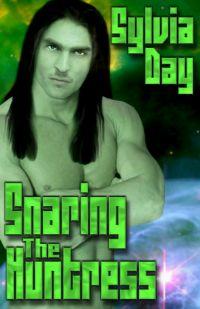 Purchase
Snaring the Huntress
Sylvia Day
Starlight Serenade, Vol. I AmberPax? Collection
Amber Quill Press
November 2005
ISBN: 1592794548
EAN: 9781592794546
e-Book
Add to Wish List

Star is an Interstellar Council judge. Her position requires her to pass sentence, hunt down the offenders, and administer punishments. She's considered one of the best, and if she plays her cards right, she just might become the first of the Hunter species to ascend to the Supreme Court— her life's goal. When she's ordered to hunt down a rogue Jacian ambassador in heat, the precedent is death. Sympathetic, but following the law she holds so dear, she pursues him with the intent to kill.
Roark has entered his mating cycle. By Council law, he should be locked in a room with his pre-assigned partner for a week of non-stop sex that will get him through his heat. But he doesn't want his pre-assigned. He wants Star, the luscious blonde judge whose compassion and intelligence has won his regard. The penalty for going rogue while in heat is death, but that's a small price to pay for a week of sensual pleasure with the woman he desires more than anything.
Now the huntress is the prey, and when she's snared by a man in heat, it's passion that rules, not the law. Or does it? Roark still has his sentence, and his lover Star is judge, jury...and executioner.
Comments
No comments posted.

Registered users may leave comments.
Log in or register now!