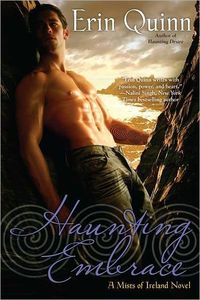 Purchase
Mists of Ireland #4
Berkley
October 2011
On Sale: October 4, 2011
Featuring: Meaghan Ballagh; Aedan
352 pages
ISBN: 0425243133
EAN: 9780425243138
Trade Size
Add to Wish List

ENDLESS LOVE
Within Meaghan Ballagh surges the blood of an ancient sorceress whose long ago love for the druid √Āed√°n ended in treachery'ÄĒa fate that ensnares Meaghan herself when she is thrust into the past. She can feel the desire between the sorceress and the handsome druid rise inside her. To ensure her survival, she must piece together the history of the woman who haunts her and the man who needs her.
ETERNAL BETRAYAL
√Āed√°n recognizes Meaghan. He always will. For the spirit of his one true love'ÄĒand immortal enemy'ÄĒis in her. A woman for whom √Āed√°n once risked everything he ever had only to be repaid with betrayal and eternal damnation. This time, he'Äôs not going to let Meaghan escape'ÄĒbecause together they have the power to change their destiny.
As the passion between them grows, so do their fears of arousing an ancient, haunted, and forbidden love, and for changing a past that could irrevocably destroy the future.
Videos
Comments
51 comments posted.
Re: Haunting Embrace

I read the first three tomes in this series via public library copies, LOVED them, and desire to own them.....one will do! We all time-travel in our dreams where our desires frequently enjoy more dramatic opportunity for fulfillment and the objects of our desire frequently reveal themselves more complicated and romantic than the counterpart population of our day lives. A heroine or hero is a heroine or hero in any point or transition of time. The struggle to commence and maintain relationships is ageless, timeless. Evolving character nuances and scenery enhance the landscape of an attractive story. Your novels have it all! Thank you for great entertainment!
(Carla Schuller 12:36pm October 22, 2011)
I love a heroine who has to tiptoe her way through another time period without too many blunders.
(Mary Preston 4:04am October 22, 2011)
√Āed√°n sounds yummy!

As for time traveling heroine, I've often wondered if modern
people can truly blend in with people of the past. There
are so many chores and jobs we just don't do anymore, let
alone trying to survive without tampons and contact lenses.
(S Tieh 4:17am October 22, 2011)
What a journey for Aedan.
Blessings,
Marjorie
(Marjorie Carmony 6:48am October 22, 2011)
Dark tortured heroes I think of Beauty and the Beast - the heroine's kindness, caring and compassion can turn the man's life around. It allows him to finally feel comfort and love and accept that he deserves it!
As for going back in time, it would take a lot of adjustments. However, due to all the knowledge you have from the future, I think you would be able to find ways to adapt that would make your life more comfortable. Ireland always carries an air of mystique. I'd love to share your love of Ireland. Thanks for the chance to win Haunting Warrior!
(Laurie Gommermann 7:06am October 22, 2011)
dark tourtured heroes add a layer of complexity rather than a boring perfect person. there is usually some growth in the character
(Pam Howell 7:47am October 22, 2011)
Tumbling through time would be difficult in either direction, either forwards
or backwards. So much changes- technology and culture, clothing,
hairstyles, even language. It would definitely be fascinating to do though!
I love an emotionally torn hero- it adds so much more depth to a story,
especially if he's a bad boy with a good heart. Thanks for the chance to
win! :)
(Debbie Burdeen 7:47am October 22, 2011)
I love the dark troubled hero who finally finds love and redemption. Time-travell is great fun to read and see how todays values are so different to before.
Your new book sounds wonderful!
(Barbara Hanson 8:52am October 22, 2011)
Dark tortured heroes intrigue me due to the challenge of it
all. Much like a virgin hanging onto their virginity when she
truly knows in her heart that resistance is futile...is the
man that that is desperately trying not to fall...delicious!
(Patti DelValle 8:54am October 22, 2011)
Love to win a copy of the book 'Haunting Warrior' by Erin Quinn...sounds very mysterious and [email protected]
(Lnda McFarland 9:02am October 22, 2011)
I like when the dark tortured hero meets someone who makes him realize that he has to decide to let go of his anger and hatred.
(Maureen Emmons 9:30am October 22, 2011)
Love when the "gorgeous hero" struggles just like the rest of us!! I look forward to reading all about him!
(Diane Brixius 9:52am October 22, 2011)
I love a hero with flaws!
(Dawn Howe 10:06am October 22, 2011)
I think romance readers have a built-in empathy for the tortured hero and a
slight bit of skepticism for the reluctant heroine. Some times we forget to accept
the human element in any story. Perhaps through time-travel we relearn that
every person is human and every one has dreams.
(Sandra Spilecki 10:32am October 22, 2011)
Love women who can bring a worthy man back from the brink...love the guys, too!
(Deanna Stillings 11:23am October 22, 2011)
I am so pleased to finally see "Haunting Embrace" coming
out, and I feel like a little piece of it belongs to me. I
enjoy reading about tortured heroes because it rounds them,
gives you a better understanding of their motivations and a
larger reason to cheer them on and delight in their
salvation and happiness in the end.
(Caroline Abreu 11:23am October 22, 2011)
I think perhaps the joy of reading about a dark, tortured hero is seeing him healed by love.
(G. Bisbjerg 12:07pm October 22, 2011)
I enjoy watching the dark, tortured hero travel through time to a new place where he can put his past behind him and find a reason to live again with a new love.
(Jennifer Kaleta 12:54pm October 22, 2011)
Thanks everyone for stopping in! Love reading all your
comments and thoughts on dark heroes and time travel!
(Erin Quinn 1:01pm October 22, 2011)
I love seeing the dark tortured hero find peace comet o terms with his past and find a love he truely deserves
(Wanda Flanagan 1:11pm October 22, 2011)
I really like this post Erin. I found Aedan to be a complex hero from when I first came across him and can't wait for his story. I prefer the dark, tortured them because I like to see them reformed and became better man. It's makes their journey more worthwhile.
(Na S 1:21pm October 22, 2011)
I love the idea of time travel. With my ancestors from Ireland this seems like the perfect book for me.
(Kathleen Bianchi 1:23pm October 22, 2011)
I enjoy the journey through time travel with a tortured hero, having empathy for his life's struggles he endures to find out what changes lie ahead for him. Forbidden love and romance in new surroundings and the outcome, makes it a truly engaging read! It would be fascinating if we could tumble through time, going back and forward, to see where we'd rather be in our lives!
(Linda Luinstra 4:07pm October 22, 2011)
i love the dark and tortured heroes because in the end love usually conquers all. They just need someone to so and care and let them know that they can love. They are so set on being alone and gloomy that they just need that one person to bring that out of them.
Love this series and would love to win this book.
(Chris Bails 4:21pm October 22, 2011)
I enjoy books that take place in another time. The book sound great. Thank You
(Amy Milne 4:39pm October 22, 2011)
I really love to read books that have a woman conquering the strong hero. Your covers are just so breathtaking!
(Julie Parrish 4:57pm October 22, 2011)
I was trying to think back to whether or not I've ever read a book where time travel was involved, and this one would be my first. It sounds like it will be a really good read for the upcoming Winter season, and I can't wait to sink my fingers into it!! It's a great cover, too!! Congratulations!!
(Peggy Roberson 5:32pm October 22, 2011)
I like the idea of time travel untill I think about hot water,microwaves,books ect. good luck
(Rhonda Laney 5:51pm October 22, 2011)
What I love about the dark tortured heroes is that they are looking for redemption for their mistakes or sins. They may be strong, protective, and arrogant but they have a soft spot which make them human.
(Kai Wong 6:34pm October 22, 2011)
My copy of Haunted Warrior is either 3rd or 4th in the upcoming read pile. If I won a copy I would pass it on to my niece to get her hooked! Why do I like dark heroes? I think they have so many depths to plumb. Who wants to love a one dimensional guy?
(Jennifer Beyer 7:44pm October 22, 2011)
Your book sounds great.
(Kara Lepard 7:47pm October 22, 2011)
Dark and Tortured heroes are usually MOODY. I love reading about them ,but I don't think I would want to live with one.
(Deb Pelletier 7:57pm October 22, 2011)
iwould love to read the book and blog on it and then
use the site to bog on it over and over lovethecover
(Desiree Reilly 7:58pm October 22, 2011)
I cannot wait to read this book! Love Love Love time travel!!
Thanks for the opportunity.
(Holly Collins 8:25pm October 22, 2011)
I just picked up HAUNTING BEAUTY. I look forward to reading it and the rest of the books in the series. I love reading about tortured heroes. They're my favorite because they're so broody and desperate for true love.
(Jennifer Langford 8:27pm October 22, 2011)
I have heard SO MUCH about this series! I adore tortured
heroes, they are so interesting and their redemption journey
is rewarding to read. Time travel brings so much confusion to
the traveler. I've often wondered how I would adapt :-).
glittergirt54 at ymail dot com
(Lenna Hendershott 8:38pm October 22, 2011)
I love a hero that fights for what he wants and a heroine that fights for what she wants, then stands beside him to fight together. Can't wait to read this series.
(Brenda Hill 9:04pm October 22, 2011)
This is the first I've heard of this series. It sounds very intrigueing. I'm going to have to look and see if my local library carries it.
(Rachel G 9:25pm October 22, 2011)
Who doesn't love a dark and tortured hero?? I love them because it makes them vulnerable and I love rooting for them as they overcome their own personal obstacles. I recently found myself in love with time travel romances and I love that aspect of the book. Seeing two characters bridge the gap of time to come together *swoon*
(Jolene Allcock 9:33pm October 22, 2011)
Love the series - happy book 4 is here!
(Mary C 10:12pm October 22, 2011)
sounds great i cant wait to read!!!!!
(Jennifer Beck 10:13pm October 22, 2011)
I love anything set in Ireland!
(Michelle Whitwam 10:49pm October 22, 2011)
Should be a great read.
(Patricia Mellert 11:11pm October 22, 2011)
I like reading about someone from my time trying to succeed in the past.
(Robin Daily 11:35pm October 22, 2011)
I love the fantasy of it all. To be brought back to another time and place with two worlds colliding. It's amazing how the author can blend both worlds and it's always extremely exciting to find how the characters react.
(Jeanne Sheats 1:25am October 23, 2011)
I love dark, tortured heroes... especially when the right woman comes along into their lives... add in a bit of time travel and I want to see what happens... thanks for sharing with us today!
(Colleen Conklin 1:25pm October 23, 2011)
Thank you all for stopping by! I loved reading your comments
and wish you all best of luck in the contest!
(Erin Quinn 2:19pm October 23, 2011)
I like heroes that are strong and it's fun to watch them go back in time, too.
(Alyson Widen 2:34pm October 23, 2011)
Hi Erin! I got my copy of Haunting Embrace in the mail yesterday. Can't wait to start reading it! Yippe!!!!
(MaryAnne Banks 6:08pm October 23, 2011)
I love your characters. I hope for more.
(Carla Carlson 10:03pm October 24, 2011)
I have the first three of this series on my Keeper shelf. I have Haunting Embrace on my Wish List..Thank you for writing such great stories..
(Leisa Prater 11:58am October 25, 2011)
Registered users may leave comments.
Log in or register now!