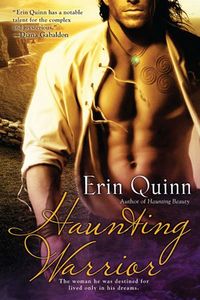 Purchase
The woman he was destined for lived only in his dreams.
Mists of Ireland #2
Berkley Sensation
May 2010
On Sale: May 4, 2010
Featuring: Rory McGrath
384 pages
ISBN: 0425234142
EAN: 9780425234143
Trade Size
Add to Wish List

A past he couldn't forget.
Rory McGrath's life changed the night his father mysteriously vanished after uncovering the secrets of the ancient Book of Fennore. The trauma turned Rory from an innocent boy into a troubled, cynical man. Leaving Ireland, he shunned his family, his heritage—and the very magic that has defined his people for centuries.
A dream he couldn't ignore.
Then the dreams begin…dreams of an ethereal beauty whose touch is more real that any he's known. And in these dreams, she has a message—a calling for Rory to return home to a destiny that will take him beyond the realm of anything he imagined.
A woman he couldn't resist.
Lured to the castle ruins where his father disappeared, Rory is plunged back in time, and into the body of another man—a man betrothed to the very woman of Rory's dreams. In possession of the secrets of his past, his family, and his identity, her hold on Rory is inescapable. For she is his doom. His salvation. And his destiny.
Videos
Comments
51 comments posted.
Re: Haunting Warrior

Erin, I can identify living in the high desert of CA. Spring has sprung & everything is blooming,too. I've longed to grow those lush tomatoes that I did in the mid-west, but as you said, if it's not desert hardy..it won't grow happily!
(Jean Merriott 10:58pm April 13, 2010)
Jean, I've lived in this climate for so long that I don't think I could go back to "real" weather. :) I do miss those tomatoes too.
(Erin Quinn 10:03pm April 18, 2010)
If I could travel through time ,I would go to Nashville and would love to meet Elvis!
(Cheryl English 12:16pm May 12, 2010)
I'd travel into the future and I'd go on a
spaceship to see the universe and hopeful
meet a yet unborn relation of mine.
(Sue Ahn 3:08am May 12, 2010)
I'd love to travel to Elizabethan times and meet Sir Francis Drake...oh my!!!

Thanks for giving us such yummy heroes to fantasise about.

Valerie
in Germany
(Valerie Bongards 6:24am May 12, 2010)
I would definitely travel into the future, and probably be grateful for the return trip. What a great cover!
(Joanne Reynolds 6:26am May 12, 2010)
Having ancester from Spain and day dreaming as a young girl. I always dreamed in meating Don Diego de la Vega (Zorro). Something about those men on horses with hispanic features. The women with the great gowns with pearl and lace and jewelry on there hair.
(Cynthia Plaza-Harney 8:22am May 12, 2010)
I would travel to Victorian times but in Scotland as I am a sucker for the Scots!
(Barbara Hanson 8:28am May 12, 2010)
I believe I would like to see of the wild western time.
(Sherry Russell 10:14am May 12, 2010)
I don't want to go forward or
backward in time. Now is hard
enough.
(Tanja Haack 10:40am May 12, 2010)
Oh I could fall for a man like that!!! I love the historcal romances and love a hero that is rugged and buff from work and those Scots could make aa girl go weak in the knees! So YES if I could go back in time it would be for a man like your Rory MacGarth in a New York min.
(Vickie Hightower 10:59am May 12, 2010)
Wow, what a diverse group we have here today. 1/2 would go forward, 1/2 would go back and one in the middle who's staying put, lol!
(Erin Quinn 11:14am May 12, 2010)
I'd want to go to the 1930's and meet some of my family members.
(Leni Kaye 11:19am May 12, 2010)
can't wait 2 read this 1
(Debbi Shaw 12:02pm May 12, 2010)
I'd like to visit the early 1940s and see our country in full patriotism mode.
(G S Moch 12:12pm May 12, 2010)
I would like to go to Scotland in the time of Robert the Bruce.
Blessings,
Marjorie
(Marjorie Carmony 1:35pm May 12, 2010)
Back to the 50s!
(Karin Tillotson 1:41pm May 12, 2010)
Ummm.... I would go back to 1400's Scotland and find a hot Laird in a Kilt.... or even earlier and go to Finland/Norway and find me a Hot Viking, lol
(Brandy Blake 1:45pm May 12, 2010)
Life was so hard in the past I don't think I'd like to be there,however, going with one of your characters is wonderful. They always pull me in and make it seem so real.
(Elizabeth Parzino 1:50pm May 12, 2010)
I would go to Scotland's distant past and hope to meet a gorgeous Highland Laird.
(Patsy Hagen 2:36pm May 12, 2010)
I'd love to go back to the Roaring 20's! Go to a speakeasy! That would be cool!
(JoAnn White 2:47pm May 12, 2010)
I would love to travel to ancient Egypt and meet a pharaoh or two and learn about their customs, beliefs and beauty secrets.
(Jane Cheung 3:19pm May 12, 2010)
I would travel to meet Nostradamus and ask him about 12/21/12.
(Vikki Parman 3:20pm May 12, 2010)
I would go back to my high school days, but I would hope not to be so bashful. I missed out on a lot that I could easily have been a part of.
(Gladys Paradowski 3:26pm May 12, 2010)
There are so many historical places & times that we all want to visit; but seriously....do without indoor plumbing or Toilet paper??? I have become a total wuss in middle age. All my time traveling will be between the covers of books, from the comfort of home. Easy access chocolate, guaranteed!!
(Susan Driskill 3:37pm May 12, 2010)
I'm staying put as my Mr. Right is even cuter than Rory.
Keep writing.
Pat P.
Smith Mt. Lake, VA
(Patricia (Pat) Pascale 3:39pm May 12, 2010)
Would love to visit any historical country
there is so much to see and learn
(Carole Lepore 4:00pm May 12, 2010)
So long as I could return whenever I wish. Regency England to meet MY Mr Darcy.
(Mary Preston 4:08pm May 12, 2010)
Hm, perhaps during Viking Age and tell those Vikings about Hawaii so they could leave all those cold places and the iffy food (lutefisk and hákarl? ew).
(S Tieh 4:22pm May 12, 2010)
Wow travel back in time... so many great locales and times to visit... I do not think one place would be enough... the old west, pagan Ireland and Scotland, victorian... I do not know!?!
(Colleen Conklin 4:28pm May 12, 2010)
I like where I am right now with my own Mr. Right of 36 years. If I could travel back in time, I would want to go wherever I would need to go to find him.
(Cathy Phillips 5:07pm May 12, 2010)
I would love to travel to a time when I have a family of my own. I can't wait to have a house full of kids and dogs with a dude.
(Caitlin Usignol 5:11pm May 12, 2010)
Thank you for your post, Erin.

I'd time-travel to the future. I'd probably really screw up there because I can't even make sense of all the technological changes in the present. Still, it'd be fascinating.

As for going back to the past, there are plenty of periods that interest me. However, I don't believe there's such a thing as "the good old days."

Therefore, traveling to the past would be for practical purposes only, such as trying to prevent something terrible from happening. But if my understanding of karma is correct, that wouldn't work, would it? All that has happened has done so because it HAD to happen.

BTW, Stephen Hawking says time travel may be possible at subatomic levels. Who knows, maybe it'll be possible someday on the human scale. But for now, I've got enough to work on right here in the present.

Keep up the good work!
(Mary Anne Landers 5:18pm May 12, 2010)
I like my own Mr. Right of 25 yrs also. If I traveled back in time I would want to find him when I was 17 yrs old. Before I married Mr. Wrong.
(Julie Swaney 5:29pm May 12, 2010)
If I could travel back in time I would go back 35 yrs when my husband use to look like that.
(Ellen Blakley 6:23pm May 12, 2010)
I'm not sure I would want to go back in time. I love my family and can't think about being without them.
(Diane Sadler 7:02pm May 12, 2010)
If I could travel back in time, I would frankly visit my younger self to give a few key pieces of advice on decisions I had to make.
(G. Bisbjerg 7:15pm May 12, 2010)
Who knew this was going to be such a fun topic?!? I love all of your answers. I don't know if I'd travel in time if it was my choice, but a part of me thinks I wouldn't be able to resist. Wouldn't it be amazing to see all the things we've read about?
(Erin Quinn 7:46pm May 12, 2010)
I would travel back to the first part of the 20th century and meet J. Gatsby (The Great Gatsbyzzzzzzzzzzz0
(Lisa Garrett 7:50pm May 12, 2010)
I would travel back to the mid 1800 Scotland I think. I would love to meet a highlander!
(Gail Hurt 8:38pm May 12, 2010)
If I could travel through time, I would go back to see my parents meet and fall in love.
(Rosemary Krejsa 9:47pm May 12, 2010)
I would travel back to King Arthur's time. The person I would really, really want to meet is Merlin. He is the catalyst that set everything in motion. That era is the most romantic and "magical" time.
(Kai Wong 9:58pm May 12, 2010)
I'm glad time travel isn't real, but if I could be around kings and knights and other royalty, I might pick up a few ideas about chivalry and loyalty to a sovereign country.
(Alyson Widen 10:50pm May 12, 2010)
What a tough decision... I think I would go forward in time and meet my daughter in 30 years to see if she's outgrown the horrible awful step-mom hating phase she's in right now that is breaking my heart. I'd want to ask her how long it took her to out grow it so I can know how many years I have to wait. LOL
(Donna Holmberg 11:20pm May 12, 2010)
I love to read about time travel! I love the cover of your book! Would really love to win it! Time travel, I'm not sure I would want to go forward, more about going back I think.
(Brenda Rupp 11:28pm May 12, 2010)
I love time travel book and that does look like a hot one.I agree whit the one that they would go back en time to meat a highlander that would be so sexy hot.But then i would change my mine because of no bath tissue and other inportent to me things like pads,clean water,Doctors and things.We live in a good time i think the future may be better.that is the ? is it not will it be better.
(Stacey Smith 11:32pm May 12, 2010)
Hello Erin, Please enter me in your fantastic contest and please let me know if I am a winner too! I love entering and winning contests from FreshFiction.com
God Bless YOU, Cecilia
(Cecilia Dunbar Hernandez 12:08pm May 13, 2010)
Would go to England when they were setting Stonehenge to see it when it was complete and in use.
(Lindsey Ekland 3:19am May 13, 2010)
i love this kind of story
(Debbi Shaw 12:15pm May 13, 2010)
I'd like to travel back to Ireland or the
Highlands prior to England taking over.
I'd just like to see my ancestors. That's
all. :D
(Molly Wilsbacher 9:27pm May 13, 2010)
I think your cover is one of the hottest and best covers out there.I'd take Rory every time lol lol
I'd also love to go back in time before I lost my brothers and Mother so I could be with them again.Thanks Erin.
Carol L.
[email protected]
(Carol Luciano 8:32pm May 17, 2010)
Registered users may leave comments.
Log in or register now!