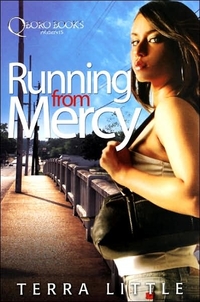 Purchase
QBooks
January 2008
On Sale: January 1, 2008
Featuring: Pamela Mayes
318 pages
ISBN: 1933967374
EAN: 9781933967370
Trade Size
Add to Wish List

Multicultural Contemporary Fiction
Pamela Mayes was a nobody who wanted to be somebody. At least that was the reason she told everyone she had to leave Mercy, Georgia, eighteen years ago. Back then it didn't matter that she was leaving behind the only family she had, her twin sister Paris. It didn't matter that she was headed for a destination she couldn't begin to imagine. She only knew she had to go and it didn't take her long to figure out she was never coming back.
"That gal went away from here and made it big." Minnie Peoples; town gossip.
She is a Mercy girl, though, and the drumbeat of the town has always been in her soul, right along with the special place reserved for her sister. When Paris is killed, staying away is no longer an option. Pam packs up her guitar, grabs the dark glasses she can't live without and starts the long journey home.
"Little Pam Mayes is finally home." Jasper Holmes; town patriarch.
They've all been awaiting her return. Some holding their breath and some sucking their teeth, but they've all been waiting. Pam is a recording star now, known around the globe for her smoky voice and sultry lyrics, but in Mercy she can't deny her past. It's all there, right where she left it. The gossips and critics, the secrets and lies, old lovers and new friends, all of it. The only thing missing is Paris and after a while it's hard for Pam to believe she's really gone.
"I didn't know Mom kept a diary." Nikki; Paris's daughter, Pam's niece and the cause of it all.
All the money and fame in the world can't help Pam run this time.
Comments
No comments posted.

Registered users may leave comments.
Log in or register now!