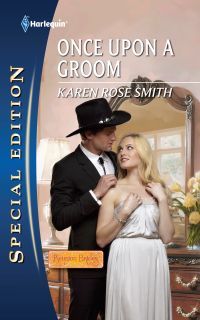 Purchase
Reunion Brides #2
Harlequin Special Edition
October 2011
On Sale: October 1, 2011
Featuring: Jenny Farber; Zack Decker
220 pages
ISBN: 0373656289
EAN: 9780373656288
Paperback
Add to Wish List

Romance Series | Romance Contemporary
Zack and Jenny fell in love in high school. But Zack intended to escape the Rocky D while Jenny craved the roots she'd found on his parents ranch. With resentment and bitterness toward his father, blaming him for his mother's death, Zack found a life as a movie director with wealth, fame and privilege. Now when he returns to Miners Bluff, his father isn't the man he once was. And Jenny has a secret she has never divulged. Old fires reignite as Zack and Jenny fall in love all over again. Will their differences push them apart once more? Or can love truly conquer all?
Comments
9 comments posted.
Yes, the princess mode is pretty strong for girls unless they're into tomboy stuff. I made a princess cake for my girls that had blue frosting, turrets make from sugar cones and chocolate kisses for decoration. Their lips and tongue turned blue and six months later, we were still cleaning up the confetti from a sweeping game with feather dusters.
(Alyson Widen 4:47pm September 22, 2011)
Alyson--That sounds like a great cake! My BFF's daughter would love it. We had pink and purple here for her birthday. Don't you just wish you could delve into their make-believe worlds?
(Karen Rose Smith 5:13pm September 22, 2011)
I think along with fairy tales, Disney, the Hallmark Channel..any female,
of all ages is succeptible to the belief of HEA, of being princesses- heck, I
named my daughter after one.
BTW, Happy Anniversary.
(Carla Carlson 5:48pm September 22, 2011)
I believe that there are men out there who think of themselves of Prince Charming. I don't mean that they're vain or anything. They found their Princess, and want to take care of them for the rest of their lives. Unfortunately, men like that aren't easy to find. There are a lot of users out there, and some with other plans, especially when things get tough. I'm not talking about personal experience, but from talking with other women. Congratulations on celebrating your 40th anniversary, and on your upcoming book. I'm looking forward to reading it. I know fairy tales can come true, after being married for 28 years myself.
(Peggy Roberson 8:37pm September 22, 2011)
I too believe in fairy tale ends. Unfortunately, you may have
to kiss a few frogs before your Prince Charming comes along.
One thing that does, though, is make you appreciate PC more.
(Lisa Richards 11:52pm September 23, 2011)
I like to believe that Cinderella IS still relevant, even though everything around me tries to tell me she's not. There is just so much hope in her story that it HAS to be relevant!!

Happy Anniversary from me also!

Later,

Lynn
(Lynn Rettig 12:14pm September 24, 2011)
I have no doubt that some young girls still dream of Cinderella-like lives. It mostly depends on the kind of life their parents and the families of own their friends have. If they watch a lot of TV, I think they must get a quite different picture. I regret the departure of the nuclear family. It hasn't really done us much good. Too many children no longer know what family is--outside of their gangs.
(Sigrun Schulz 12:48pm September 24, 2011)
By the way, happy anniversary to you!!
(Sigrun Schulz 12:50pm September 24, 2011)
As old as I am (and it's pretty old), I still sometimes indulge in the fantasy...a Prince Charming to be the responsible adult in charge for a change!! :)
(Penny Mettert 3:14am September 26, 2011)
Registered users may leave comments.
Log in or register now!